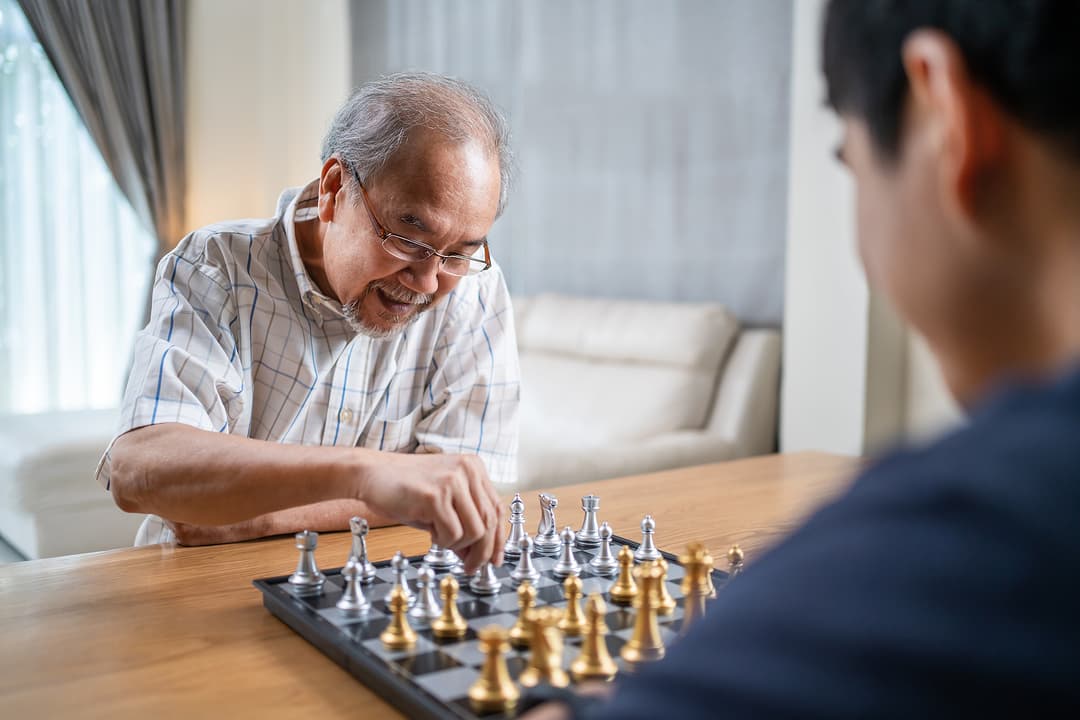 Are there ways to keep your brain healthy as well as your body? Scientists with the Rush Memory and Aging Project suggest that the concept "use it or lose it" applies to gray matter as well as muscle.
Staying Mentally Active to Keep Your Brain Healthy:
The investigators followed 1900 initially healthy older individuals for an average of 7 years (Neurology, July 14, 2021). The volunteers agreed to participate in periodic cognitive tests as well as a brain autopsy after death. In addition, they answered questions about activities such as reading, writing letters and playing games like cards or puzzles. The investigators also collected data about social engagement.
Cognitive Engagement Helps Older Adults:
Over 450 of the volunteers developed Alzheimer disease during the study period. In analyzing the data, the researchers found that cognitive activity late in life had a major impact on the risk for cognitive decline.
They wondered if perhaps this might have been merely a reflection of changes in the brain. However, levels of cognitive activity were not closely associated with post-mortem brain changes.
Indeed, the most intellectually engaged people seemed able to delay the onset of Alzheimer disease by up to five years. That represented a shift from an average age of 88 at diagnosis to an average age of 93. One possible explanation, to be tested in future research, is that staying mentally active offers the brain resilience. This could help you keep your brain healthy longer.
Could Supplements Help You Stay Sharp?
Q. What do you think about supplementing with Bacopa monnieri extract to keep your brain healthy? I have taken a number of anticholinergic drugs for years and I worry about the potentially negative impact on my brain. I have heard that this Indian herb might be beneficial.
Beware Anticholinergic Medicines:
A. You are correct that anticholinergic medications are not good for your brain. They have been linked to a higher risk for cognitive decline. You'll find a list of anticholinergic drugs here.
Bacopa Offers Neuroprotection:
We first heard about the Indian Ayurvedic herb bacopa from neuroscientist Dr. Dale Bredesen. He recommends it for some of his patients who are experiencing cognitive difficulties. There is growing evidence that this natural product has neuroprotective properties (Biomedicine & Pharmacotherapy, Sept. 2022).
Animal research suggests that bacopa reduces the accumulation of amyloid beta plaques in the brain. It has also been shown to improve memory in rodents (Frontiers in Nutrition, Aug. 18, 2022).  Before doctors embrace its use for treating Alzheimer's disease, however, we will need larger, well-designed randomized controlled clinical trials.
Eating Right to Keep Your Brain Healthy:
People who eat fruits and vegetables rich in flavonol compounds may lower their risk of Alzheimer disease. These data come from a community-based prospective study of 921 people, the Rush Memory and Aging Project (MAP). The volunteers averaged 81 years. They answered detailed dietary questionnaires in 2004 and investigators followed them up until 2018. Significantly, the participants consuming the most dietary flavonols were about half as likely to develop Alzheimer disease compared with those who consumed the least (Neurology, online Jan. 29, 2020).
What Are Flavonols?
The non-chemists among us may find some terminology confusing. Plants make a lot of compounds for their own uses. One large category is polyphenols. You might have heard them mentioned in connection with wine, coffee or tea. Flavonoids are another category under the polyphenol umbrella, and flavonols are a sub-type of flavonoids.
These plant compounds are found in richly colored fruits and vegetables. The MAP investigators found that kaempferol, iso-rhamnetin and myricetin all protected against Alzheimer disease. First, however, the scientists adjusted for factors such as physical activity, education and participation in cognitively challenging activities. They also took volunteers' Apo E4 genetic status into account.
What Fruits and Veggies Contain Flavonols?
Luckily, the vegetables that provided protective flavonols are readily available. The researchers report kale, beans, tea, spinach and broccoli provided the most kaempferol. Pears, olive oil, wine and tomato sauce were important sources of isorhamnetin, while myricetin appeard in tea, wine, kale, oranges and tomatoes. When the scientists looked for evidence that quercetin (sourced from tomatoes, kale, apples and tea) was protective, they found it neutral.
Importantly, the investigators point out that flavonols are particularly effective antioxidants that work both in the gut and the bloodstream.
In conclusion, they suggest that eating such produce can help keep your brain healthy:
"Our findings suggest that dietary intake of flavonols may reduce the risk of developing Alzheimer dementia."
Mediterranean Diet Against Alzheimer Disease:
A study in Neurology (May 5, 2021) suggests that a Mediterranean diet rich in vegetables, fruit and fish may help slow the accumulation of harmful proteins in the brain. These proteins, amyloid and tau, form plaques and tangles associated with Alzheimer disease. These findings help confirm the results from the Rush Memory and Aging Project.
The scientists recruited more than 500 older individuals. About 60 percent were at high risk of developing Alzheimer disease. The participants answered detailed questions about their eating habits and took tests that examined language, memory and executive function like planning. They also were tested for biomarkers for the toxic brain proteins.
Volunteers who reported eating more fish, vegetables and olive oil with less meat or sweets scored higher on their tests of memory. They also appeared to have lower levels of tau and amyloid in their brains.
The lead investigator commented that these
"findings suggest that people may reduce their risk for developing Alzheimer's by incorporating more elements of the Mediterranean diet into their daily diets."
More Evidence That a Mediterranean Diet Can Help Keep Your Brain Healthy:
A study from the Netherlands reinforces the value of a Mediterranean diet to protect your brain as well (American Journal of Clinical Nutrition, May 18, 2021).
The researchers recruited more than 3600 people between the ages of 45 and 75 years of age. They tested these volunteers' global cognitive function, memory, cognitive flexibility and processing speed. As part of the study, the participants took the tests every five years for up to two decades. They also supplied detailed information on their eating behavior. As a result, the scientists could see how closely people were sticking to a healthy Mediterranean-style diet.
The authors report that a healthy diet "was associated with better cognitive function and less severe global cognitive decline." The Mediterranean-type diet provides antioxidants, polyphenols and anti-inflammatory nutrients.
Previous Research on a Mediterranean Diet:
This is not the first study on the benefits of diet to help keep your brain healthy. One early publication from the Rush Memory and Aging Project investigated the Mediterranean diet among almost 4,000 older people living on the south side of Chicago (American Journal of Clinical Nutrition, March 2011). It showed you don't have to live in Greece or Italy to benefit. Those who ate a Mediterranean-style diet had the slowest rate of cognitive decline.
The study followed volunteers for an average of 7.6 years, testing them every 3 years. The investigators point out that the Mediterranean-type diet involves moderate consumption of wine as well as olive oil. Such a diet is also high in fruit, vegetables, legumes and fish. If you would like to learn more about a Mediterranean diet, you can find details in our book, The People's Pharmacy Quick & Handy Home Remedies.
Another Beneficial "Med"–Meditation:
While physical activity, a plant-rich eating plan and adequate sleep are critical to help keep your brain healthy, meditation is another simple but under-appreciated practice. In a recent review, the researchers focused on a meditative practice from the Kundalini yoga tradition (Journal of Alzheimer's Disease, April 27, 2021).
Practitioners of Kirtan Kriya take 12 minutes to sing the meditation from start to finish. Daily practice activates specific regions of the brain, including the prefrontal cortex, the frontal lobe and the anterior cingulate gyrus. These areas are important for memory and cognitive function. According to the authors, this meditation practice can improve spiritual fitness. In addition, meditation can reduce stress as well as help people with improved memory, mood and brain function. They expect that meditation can counteract the negative impact of stress on the aging brain.
Learn More:
For even more advice on how to keep your brain healthy, you may wish to listen to our interview with Dr. Dale Bredesen. It is Show 1214: How to Defend Your Brain During the Pandemic and Beyond.