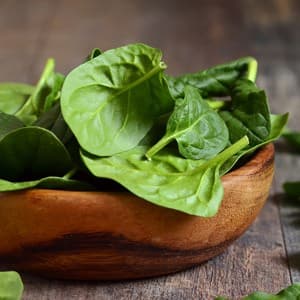 Do you know how to keep your brain healthy as you grow older? Often, people want to know what you should eat to reduce your risk of dementia. The Framingham Offspring Study offered some answers to that question. A more recent study supports the big picture.
High-Folate Foods You Could Eat to Reduce Your Risk of Dementia:
A new study in the journal Evidence-Based Mental Health tracked more than 27,000 older people for more than 10 years. The investigators measured blood folate levels and noted diagnoses of dementia (Evidence-Based Mental Health, March 15, 2022). People with a folate deficiency were 68 percent more likely to develop dementia. In addition, they had triple the risk of death from any cause.
What Is Folate?
Folate is a B vitamin found in leafy green vegetables such as spinach, romaine lettuce, kale and arugula. It is also found in asparagus, beets, broccoli, Brussels sprouts and beans. Don't overlook fruit. Citrus fruits, kiwis and pomegranates are also great sources.
The authors recommend that doctors measure folate levels in older individuals and take steps to correct any deficiencies. Presumably, they should recommend the produce you can eat to reduce your risk of dementia.
Does Diet Make a Difference for Dementia?
Q. I often see suggestions that certain foods could be effective against dementia. Are there any studies with results on this?
A. There are in fact some scientific data that support a produce-rich diet to reduce dementia risk. One of the most recent was published last month in the American Journal of Clinical Nutrition (April 22, 2020). The scientists used data from a very long-running study, the Framingham Offspring Cohort. People who consumed diets with the most plant compounds called flavonoids had the lowest risk of developing Alzheimer disease or other dementias.
Flavonoid-Rich Foods:
Where do you find flavonoids? Fruits and vegetables are the best sources. Americans get a lot of their flavonoids from apples, pears and oranges. Tea and cocoa are also good sources, along with blueberries, strawberries and red wine (in moderation).
Diets with lots of vegetables and fruits and very little processed food have also done well in studies of heart disease. You might recognize this as the backbone of a Mediterranean diet or the DASH (Dietary Approaches to Stop Hypertension) regimen. Both have been the subject of numerous randomized controlled trials. So far as we can tell, both your heart and your brain will benefit if you fill your plate with colorful berries, fruits and veggies. That offers a lot of leeway for you to choose what to eat to reduce your risk of dementia.
What Is the Framingham Study?
The Framingham Heart Study started in 1948. Researchers from Boston convinced the people of nearby Framingham, Massachusetts, that they could help the nation confront heart disease. At that time, cardiovascular disease had emerged as the number one killer of Americans.  As a result of this research, doctors now have a clearer understanding of the primary factors that can lead to heart attacks.
In the Framingham Offspring Study, the children and grandchildren of those participants participate in their own epidemiological investigation. They answer questions about their diets every few years. In addition, they provide information on their health problems and diagnoses. Although the investigators are still interested in cardiovascular conditions, they now include other diseases in the research.
Foods You Should Eat to Reduce Your Risk of Dementia:
The latest findings published in the American Journal of Clinical Nutrition reveal that people who consume foods providing the most flavonoids are least likely to develop dementia. In fact, their risk is approximately half that of people who ingest the fewest flavonoids.
What foods are helpful? Apparently, deeply-colored fruits and vegetables are richest in flavonoid compounds. That would mean foods like blackberries, broccoli, cocoa or cacao, cranberries and kale. However, other foods that are somewhat more popular contributed most heavily to flavonoid intake in the study. Those foods include tea, apples, pears, oranges, blueberries, strawberries and red wine. Apparently, people in Framingham eat more apples and oranges than cranberries or kale.
How About Cocoa or Chocolate?
Some scientists are quite enthusiastic about the potential for cocoa flavonoids to reduce your risk of dementia (Current Pharmaceutical Design, 2016). In particular, researchers have found that compounds from cacao can enhance memory and executive function, at least in the short term (Plant Foods for Human Nutrition, March 2020). We don't yet know which cocoa you should eat to reduce your risk of dementia.
The Framingham Offspring Study is not the first to point to flavonoids for protection against Alzheimer disease. For example, a review of research related to the Mediterranean diet points to polyphenols from fruits, vegetables and olive oil (Revue Neurologique, Dec. 2019). Moreover, the authors suggest that fresh fish contributes beneficial omega-3 fatty acids.
Learn More:
If you would like guidance on a diet rich in flavonoids, you might consult our book, The People's Pharmacy Quick & Handy Home Remedies. In it, we discuss some of our favorite foods and offer recipes from the nutrition experts we have interviewed. Most of our favorites are rich in plant compounds.