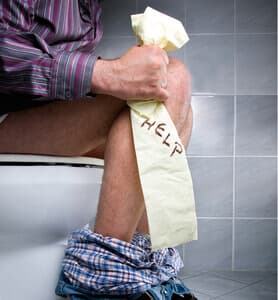 Do you ever become frustrated when you discover that something you've done to improve your health has caused trouble instead? Many people have encountered problems with sugar substitutes, whether they are using them to prevent dental caries or to avoid unwelcome blood sugar effects from ordinary sweeteners. These compounds can cause digestive symptoms.
Diarrhea from Sugar Substitutes:
Q. I am a diabetic and used to have diarrhea all the time. Then I read that sorbitol can cause diarrhea. I had been using sugar-free pancake syrup sweetened with sorbitol.
I stopped using it and immediately had no more diarrhea. I told my doctor about this and he agreed that sorbitol can cause diarrhea. Others may be suffering from this same problem.
A. You are not the only one to pinpoint non-sugar sweeteners as a potential cause of diarrhea. Here is a message from another reader:
"I read a question from a reader suffering from diarrhea and stomach pain. The reader wondered if the diabetes meds were causing this.

"Was that person eating sugar-free products with the sweetener maltitol? This sweetener can also cause digestive problems. Sensitive individuals should check the list of ingredients."
Sweeteners like sorbitol, maltitol and mannitol are frequently used in foods for people restricting sugar. They have calories but are absorbed much more slowly than table sugar. Because they can reach the large intestine without being absorbed, they may cause diarrhea.
Other Options Less Likely to Cause Trouble:
Xylitol:
Xylitol, also known as birch sugar, is a small molecule that seems less likely to cause bloating, gas and diarrhea (International Journal of Dentistry, online Oct. 20, 2016). It is similar to the other sugar substitutes because it is a sugar alcohol. In this case, the term alcohol does not refer to something you drink. It is a chemical term describing the chemical structure of the compound.
Xylitol is a fermentable polyol and should be avoided as part of a low-FODMAP diet. FODMAP stands for fermentable oligo-, di- and monosaccharides and polyols. The low-FODMAP is often recommended for the treatment of IBS.
Be very careful to keep xylitol and any xylitol-containing foods such as chewing gum, mints or peanut butter away from dogs. It is very toxic to canines.
Erythritol:
Erythritol is another sugar substitute. People tolerate it even better than xylitol, perhaps because the microbes in our digestive tracts are not able to ferment erythritol. Most people do not develop diarrhea or stomach rumbles after consuming erythritol, although taking it with fructose could trigger those reactions.
Stevia:
Another sweetener that is becoming popular, steviol, does not appear to cause diarrhea or other difficulties (Current Pharmaceutical Design, online Oct. 21, 2016). Stevia is derived from a South American plant, Stevia rebaudiana. Steviol might act as an endocrine disrupter at high doses (Molecular and Cellular Endocrinology, May 15, 2016). As a result, you might want to moderate your consumption of any non-sugar sweetener so that you eat only the minimum needed to make food palatable.
Revised 1/16/17