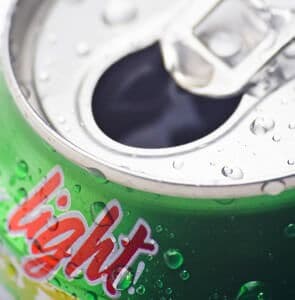 When people hear that sugar-sweetened beverages pose health hazards, some respond by switching to diet soft drinks. That certainly seems reasonable, but evidence now suggests it might not be the best strategy. Non-sugar sweeteners may not offer the expected advantages (The BMJ, Jan. 3, 2019). In fact, regular users may be at higher risk for cardiovascular disease (The BMJ, Sept. 7, 2022).
What We Can Learn from 100,000 French Men & Women:
NutriNet-Santé, a cohort study of more than 100,000 French adults, has uncovered risks of non-sugar sweeteners such as aspartame, sucralose and acesulfame potassium. When the volunteers entered the study, they answered detailed questionnaires about diet and physical activity as well as demographic and health information. In addition, they responded to dietary questionnaires approximately every six months. About 37 percent of the participants reported regular consumption of artificial sweeteners. Average sweetener intake among these people was about one packet or tablet daily (42 mg/day).
Over the course of ten years, people using sugar substitutes were slightly more likely to develop cardiovascular disease. In particular, aspartame users were about 18 percent more likely to have strokes, while those using sucralose or acesulfame potassium were 30 to 40 percent more likely to develop coronary heart disease.
According to the investigators,
"Our results suggest no benefit from substituting artificial sweeteners for added sugar on CVD [cardiovascular disease] outcomes."
What Are the Effects of Non-Sugar Sweeteners?
NutriNet-Santé was the largest study but not the first to cast doubt on the benefits of artificial sweeteners. In a previous analysis published in The BMJ in 2019, researchers reviewed 56 studies of non-sugar sweeteners. They found "no compelling evidence to indicate important health benefits."
In most of these studies comparing outcomes for people consuming artificial sweeteners to those for people consuming none, there were no significant differences. In a few small studies, people using sugar substitutes had lower fasting blood sugar and slightly better body mass index. However, these findings were statistically uncertain. Previous research has not shown strong evidence that such sweeteners help people lose weight.
Are Artificial Sweeteners Safe?
The researchers point out that these studies did not adequately address questions of safety. They call for longer-term, better-designed trials to establish clearer conclusions on safety and effectiveness of sugar substitutes. (NutriNet-Santé might have been designed partly with this request in mind.)
An earlier study found some unexpected effects of such sweeteners that may have a bearing on safety. In particular, these compounds may affect the balance of microbes that inhabit our intestines. This, in turn, could have an impact on inflammation.
Non-Sugar Sweeteners May Change Metabolism:
In addition, test tube research suggests that the artificial sweetener sucralose can alter the metabolism of stem cells from fat tissue. (Stem cells are capable of becoming many different types of tissue cells, for example, muscle or bone as well as fat.)
These human cells churned out more compounds associated with inflammation and fat storage when they were exposed to sucralose. The dose was equivalent to someone drinking four cans of diet soda a day. The stem cells also showed changes in their genes that indicate fat production.
Could Sugar-Free Drinks Be Counterproductive?
If these "in vitro" laboratory results hold up in animals and humans, heavy consumption of non-sugar sweeteners could lead to fat accumulation rather than fat and weight loss. The scientists also discovered other signs of metabolic disruption due to non-sugar sweeteners. They are concerned that these changes were most noticeable in people who are already overweight or obese.
The researchers note:
"we believe that low-calorie sweeteners promote additional fat formation by allowing more glucose to enter the cells, and promotes inflammation, which may be more detrimental in obese individuals."
Sen et al, Endocrine Society annual meeting, Orlando, FL, April 3, 2017