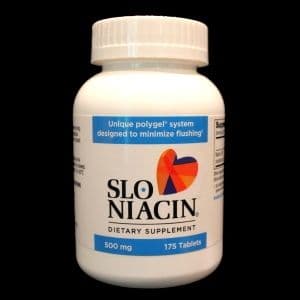 Slo niacin, cholesterol, HDL,
Cholesterol is only one of numerous risk factors for heart disease. However, physicians can't do much about some of your other risk factors, such as your family history. They can prescribe medications that will lower your blood lipids. Many people are reluctant to take a statin drug because they worry about possible side effects. Can you find other approaches to get your cholesterol down?
Will Niacin Get Your Cholesterol Down?
Q. My doctor prescribed niacin more than 20 years ago to lower my cholesterol and other lipid levels. I take a baby aspirin about half an hour before the niacin and it prevents flushing. Is this approach still considered worthwhile?
A. When your doctor first prescribed niacin, other drugs to lower cholesterol were more expensive or less accessible. Now that most statins are available in affordable generic versions, physicians generally prefer them over niacin. In part, that is because statins don't cause itching or flushing as niacin can. Moreover, niacin combined with a statin does not reduce the chance of heart attack or death (New England Journal of Medicine, Dec. 15, 2011).
Niacin does have a few advantages, however. In addition to lowering LDL cholesterol by 20 to 40 percent or so, niacin also reduces triglycerides and raises beneficial HDL cholesterol (Mini Reviews in Medicinal Chemistry, 2021).
Besides this, niacin also lowers a bad actor called Lp(a) which is responsible for heart attacks, strokes and calcification of aortic heart valves. Statins actually raise this risk factor.
Drawbacks of Niacin:
Not everyone can tolerate niacin. Flushing is the most noticeable side effect, but not the most serious. People with diabetes, gout, liver disease or glaucoma should avoid this approach unless a doctor is carefully supervising treatment. Niacin could make these conditions worse.
Can Supplements Get Your Cholesterol Down?
Q. My cardiologist tried to put me on two different statins, because my cholesterol was 210. I was so achy from each one I could barely move.
I decided to lower my count naturally. To do this, I take CoQ10, turmeric, red yeast rice and psyllium. I brought my cholesterol down from 210 to 178, and my primary care doctor was thrilled. There has been no more talk of statins!
A. Both red yeast rice (which contains natural statin-type compounds) and psyllium can lower blood cholesterol levels. Turmeric can also help (Nutrition, Metabolism, and Cardiovascular Diseases, May 6, 2021). In addition, psyllium seems to improve triglycerides, fasting blood sugar and hemoglobin A1c for people with diabetes (Phytotherapy Research, June 2020).
A recent review of 131 randomized controlled trials found that red yeast rice and possibly bergamot are the most effective nutraceuticals for lowering LDL and total cholesterol (Pharmacological Research, Sep. 2022).  Coenzyme Q10, on the other hand, doesn't lower these, but it appears to enhance the anti-inflammatory activity of beneficial HDL cholesterol (Nutrition, Sep. 2022).
How Can You Get Your Cholesterol Down?
We heard from another reader who tried red yeast rice and turmeric to lower cholesterol. Here's her report:
Q. Thank you for your advice on controlling cholesterol. I'm a 77-year-old woman of normal weight. My cholesterol hovered around 200, even with a strict diet and getting plenty of exercise. Total 197, HDL 77, LDL 101.
My primary doctor said this must be hereditary and wanted to put me on a statin. Instead, I started taking red yeast rice and sprinkled at least 1/2 teaspoon of turmeric and at least 1/4 teaspoon of black pepper (to improve absorption) on each meal.
After doing this for about four months, continuing my exercise and strict diet, my total cholesterol dropped to 162, HDL 77, LDL 76 and triglycerides 47. My pharmacist confirmed that red yeast rice would not interfere with any of my other medications. I hope this helps others.
What Red Yeast Rice Does:
A. We are impressed with your results. You were not in bad shape to start with. An HDL of 77 is considered excellent. So are your other lipid levels.
Not everyone agrees that, as an older person, you would need to get your cholesterol down as much as possible. However, you seem to have found the right approach.
Red yeast rice contains natural statins. A meta-analysis of 13 randomized, placebo-controlled trials concluded that "red yeast rice is an effective and relatively safe approach"  (Li et al, PLOS One, June 4, 2014).
The other agent you used to get your cholesterol down is also interesting. The active ingredient in turmeric (curcumin) has been shown to reduce triglycerides and raise beneficial HDL (Simental-Mendia et al, Critical Reviews in Food Science and Nutrition, online, Nov. 29, 2017). Analyzing randomized controlled trials revealed that turmeric or curcuminoid supplements can lower triglycerides, LDL and total cholesterol significantly while they raise HDL modestly (Advances in Nutrition, Sep. 1, 2019).
Learn More:
You can learn more about red yeast rice and other nondrug approaches in our Guide to Cholesterol Control and Heart Health. It was wise of you to check with the pharmacist about interactions. Many natural products can interact with prescription medications.