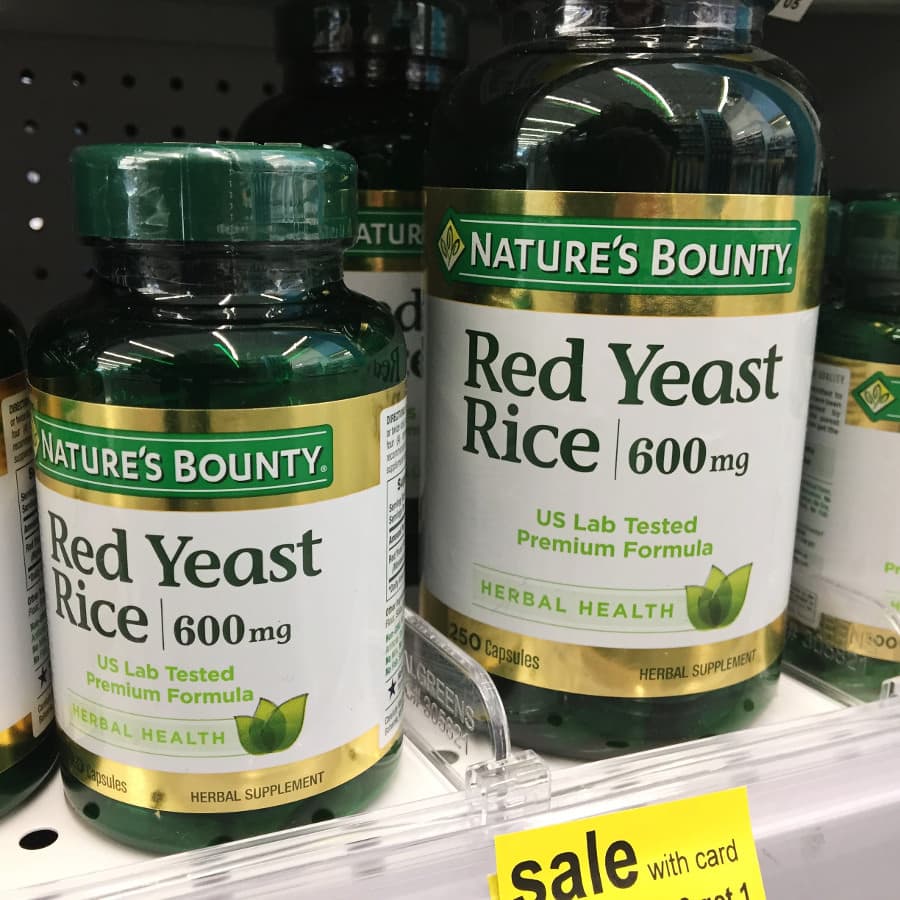 Statisticians have shown that people with elevated levels of LDL cholesterol are more likely to develop clogged arteries and coronary artery disease (Heart, Lung & Circulation, March 2018). If seniors also have high levels of lipoprotein a, termed Lp(a), the link is especially strong. Even individuals who have moderately raised cholesterol levels are at increased risk of heart disease compared to those whose levels are low (PLoS One, 2018). Doctors usually prescribe statins to lower cholesterol. However, some people don't do well with them. Can they take red yeast rice (RYR) instead? Readers share their questions and their experiences.
Should Woman Take Red Yeast Rice?
Q. My wife and I are vegans. We are very health conscious, so we were surprised when her doctor suggested that she start taking a statin. Her cholesterol is right around 200, which doesn't seem that high to us.

She would rather take red yeast rice than a synthetic drug to see if it would be helpful. Do you have any recommendations?
Another reader also wants to know if there is a safe red yeast rice supplement:
Q. I would like to take a Red Yeast Rice supplement for my slightly elevated bad cholesterol (LDL-C). A friend of mine said that I should choose a high-quality supplement made in a certified facility that meets Food and Drug Administration standards.

How could I determine this? Probably other consumers would also appreciate your guidance.
What Is This Supplement?
A. Red yeast rice is a traditional Chinese medicinal food that dates back over 1000 years. Chinese cooks have used it to flavor meat and fish, preserve food, and make rice wine. It is still widely consumed in China and Japan every day. Chinese healers relied on red yeast rice to improve blood circulation.
A number of Chinese studies showed that this product could lower cholesterol 11 to 32 percent and triglycerides 12 to 19 percent, while raising HDL cholesterol up to 20 percent. One can imagine the bureaucrats at the FDA looking down their noses at foreign research. But a double-blind, placebo-controlled, randomized trial conducted by researchers at UCLA School of Medicine also found that Chinese red yeast had a positive effect on blood lipids (American Journal of Clinical Nutrition, Feb. 1999).
They wrote:
"Red yeast rice significantly reduces total cholesterol, LDL cholesterol, and total triacylglycerol concentrations compared with placebo and provides a new, novel, food-based approach to lowering cholesterol in the general population."
The reduction in LDL cholesterol was 22 percent in those subjects taking a proprietary product called Cholestin.
One of the most fascinating discoveries about red yeast rice shows that one of its ingredients is lovastatin, the same chemical found in the prescription cholesterol-lowering drug Mevacor, made by pharmaceutical giant Merck.
So now you begin to understand why the marketed form of red yeast rice could be so effective. But in addition to lovastatin, it contains other "statins" and valuable natural compounds such as isoflavones, monounsaturated fatty acids and plant sterols like beta-sitosterol, campesterol, and sapogenin.
The FDA Creates Confusion and Controversy!
Q. I am a naturopathic physician and find the info in your column quite useful. Not long ago, you recommended HPF Cholestene brand red yeast rice in your column. Unless its position has changed recently, the FDA recommends people NOT buy this brand because lovastatin is one of the ingredients.
A. You are correct.
The FDA
"is advising consumers not to purchase or use Cholestene, a product promoted and sold for cholesterol management…FDA laboratory analysis confirmed Cholestene contains lovastatin, the active ingredient in the FDA-approved prescription drug Mevacor, used to treat patients with high blood cholesterol levels."
We have always found the FDA's position puzzling. It's OK for people to take lovastatin as a prescription drug, but they should not take red yeast rice precisely because it contains the same ingredient. A meta-analysis and systematic review of 30 studies of red yeast rice (RYR) preparations concluded that this natural product can reduce risk factors associated with heart disease (Frontiers in Pharmacology, Feb. 21, 2022). People taking RYR were less likely to die during the studies.
What Was the FDA Thinking?
You would think that with such compelling research behind it, the Food and Drug Administration would have been thrilled to see a natural product being sold in health food stores and pharmacies that could actually live up to the advertising. (Remember, it was the turn of the 21st century.) What's more, the manufacturer had gone to great lengths to standardize and sterilize the ingredients in Cholestin.
Would it come as a surprise to learn that on May 20, 1998, the FDA ruled that Cholestin was not a dietary supplement but rather "an unapproved drug"? That meant that the agency wanted to ban this formulation of red yeast rice:
FDA Speak, May 30, 1998:
"FDA today announced its decision that Cholestin, a product promoted as a dietary supplement intended to affect cholesterol levels, is not a dietary supplement, but is instead an unapproved drug under the terms of the Federal Food, Drug, and Cosmetics Act. This decision means that Cholestin may not be legally sold in the United States…

"FDA based its decision on the fact that Cholestin  contains lovastatin — an active ingredient in the approved prescription drug Mevacor used to lower cholesterol levels. Under the terms of the Federal, Food, Drug and Cosmetic Act, as amended by the Dietary Supplement Health and Education Act of 1994, Cholestin is not a dietary supplement because lovastatin was not 'marketed as a dietary supplement or food' before FDA approved Mevacor as a drug.

"The law is intended to maintain incentives for companies to establish the clinical safety and efficacy of drug products. FDA believes that today's decision furthers that result."
We were astonished to read that the FDA seemed to be siding with Merck. Since when does the FDA have a responsibility to incentivize drug companies?
Should People Take Red Yeast Rice? The FDA Said No!
So let's see if we've got this straight. Cholestin was derived from Chinese red yeast, a product that has been used in China for hundreds of years and has been written up in a pharmacopoeia from the Ming Dynasty (1368-1644). It has clear cholesterol-lowering power on a par with many prescription drugs. Moreover, people in China and Japan have been using it as both medicine and food for centuries. Those in the Asian American communities of the U.S. have consumed it at least since World War II.
The FDA has ignored thousands of products that have no quality control, no standardization, and no proof of effectiveness and complained that herb companies aren't spending money to do high-quality research. The manufacturers of Cholestin went to significant lengths to prove in a randomized, placebo-controlled trial that its product works. It also assured standardization and purity. Instead of cheering, the FDA slapped its wrists. Sound crazy? We thought so over 20 years ago.
A Federal District Court ruled on February 16, 1999, that Cholestin was a dietary supplement and not a drug subject to FDA approval. It could be sold legally under the Dietary Supplement and Health and Education Act (DSHEA) of 1994. The judge "held unlawful and set aside" the FDA's effort to ban access to Cholestin.
In 2001 the maker of Cholestin changed the formula to contain policosanol compounds instead of red yeast rice. We could not determine if the product is still available today.
We have written extensively about this red yeast rice controversy in our eGuide to Cholesterol Control and Heart Health.
So, Should People Take Red Yeast Rice?
A small randomized placebo-controlled trial in Japan found that RYR lowered LDL and total cholesterol as well as blood pressure (Asia Pacific Journal of Clinical Nutrition, Sept. 2021). A systematic review of 30 articles concluded that red yeast rice reduces mortality rates and major cardiac events (Frontiers in Pharmacology, Feb. 21, 2022). This research is much more recent than that supporting Cholestin in the late 1990s.
Finding a safe and effective supplement may be harder than you would think, however. The FDA does not regulate dietary supplements and provides no assurance of quality. The agency does not actually certify the manufacturing plants that make dietary supplements. It is difficult to determine the quality of such products.
Many studies demonstrate that red yeast rice can lower total and LDL cholesterol (Pharmacological Research, July 25, 2022).
According to the International Lipid Expert Panel:
"RYR [red yeast rice] preparations have been demonstrated to be safe and effective in reducing LDL-C and CV [cardiovascular] events."
What About Quality?
ConsumerLab.com is one of the few organizations that actually tests the quality of dietary supplements. ConsumerLab.com recently tested some RYR products and found that many did not contain adequate amounts of lovastatin. In addition, some products were contaminated with citrinin, which can be harmful to the kidneys. The analysis did reveal that HPF Cholestene had adequate levels of red yeast rice and no citrinin. To read the full report, visit ConsumerLab.com. There is a subscription fee.
Decision to Take Red Yeast Rice Yielded Success:
Q. I just want to let you know about my success with red yeast rice to lower cholesterol. I've always had excellent HDL (60-70) and triglycerides (50-75), but my LDL (129) and my total cholesterol (222) were too high. Those had been rising slowly over the last several years, regardless of my diet and exercise.

My physician was reluctant to put me on a statin because he did not want to lower my good cholesterol. He told me to take red yeast rice, and I have been on it for nine months. Total cholesterol is down to 165 and my LDL is now 83. I have had no side effects.
A. A recent placebo-controlled trial confirmed your observations (Nutrients, Oct. 14, 2020). In this study, RYR plus phytosterols, niacin and policosanols lowered LDL-C (LDL cholesterol) and total cholesterol significantly more than placebo.
In a different investigation, researchers tested RYR in combination with niacin, CoQ10 and a probiotic (Nutrition Journal, Feb. 22, 2019). This randomized controlled trial demonstrated significant improvement in cholesterol and LDL-C among those taking the nutraceutical.
Searching for Alternatives to Statins:
Other readers have also found red yeast rice helpful.
On the other hand, they worry about potential side effects.
Q. I am a 73-year-old woman with a long history of high cholesterol. I have had a severe reaction to all statin drugs and can't tolerate any of them.

My total cholesterol was almost 300. After taking red yeast rice twice a day along with Welchol for less than a year, my total cholesterol has come down to 184. My triglycerides are now 300, my HDL 44 and my LDL 80.

So far this has been the only thing that has worked. Even eating a healthy diet did not work. My question is: will I have side effects if I take red yeast rice long term?
A. Red yeast rice is an ancient Chinese food that was also used traditionally as a medicine. It contains compounds called monacolins. These are related to statin medications.
Many people appear to tolerate red yeast rice better than statins. That may be because the dose is generally lower.
What Are the Side Effects When You Take Red Yeast Rice?
Side effects of RYR are similar to those of statins (International Journal of General Medicine, April 30, 2019).  Be alert for muscle pain and weakness, elevations in blood sugar and nerve pain.
How Do Statins Compare to Supplements?
Q. I am a woman who had a heart attack and bypass surgery two years ago. I was then prescribed three different statins, one at a time. They all caused me severe pain. Nevertheless, I had to continue.

Last summer, I noticed that I could not use my right leg to get out of the pool. When I attempted to use my right leg, holding the handrail did not help. It was impossible. I mentioned it to the cardiologist, but he did not appear concerned. I just let it go and only used my left leg to get out of the pool at the gym.
Then last summer I fell twice with no warning. And I again fell during our summer vacation this year. I believe these falls are also related to the statin.

Finally the cardiologist agreed to place me on red yeast rice instead of a statin. So far, so good. I am regaining the strength in my right leg. I can now use it to get out of the pool.

My concern is that a friend took RYR for a few months and lost the strength in his arms. He stopped it and is in recovery mode now. Is muscle weakness a side effect of red yeast rice?
Muscle Reactions:
A. Statin-linked muscular damage appears to be, in part, related to dose. Red yeast rice (RYR) contains lovastatin, although it is present in lower doses than those found in conventional prescription drugs. There is evidence that it can lower LDL cholesterol (Cicero et al, Nutrition & Metabolism, Sept. 25, 2017). Adding phytosterols (plant compounds such as beta-sitosterol) may increase the effectiveness of RYR.
One small trial found that many people who don't tolerate statins do well on red yeast rice (Becker et al, Annals of Internal Medicine, June 16, 2009).  That said, some people are so sensitive to statin side effects that even RYR causes pain and muscle weakness (Philibert et al, Therapie, Oct. 27, 2016).
On the other hand, certain physicians are adamant that RYR is not an appropriate substitute for statin therapy (Dujovne, American Journal of Medicine, Oct. 2017). They may worry that such dietary supplements are not appropriately standardized or monitored for quality control (Current Atherosclerosis Reports, April 2015). As we pointed out above, that concern is appropriate.
Learn More:
You can learn more about cholesterol, red yeast rice and other strategies to reduce the risk of cardiovascular disease in our eGuide to Cholesterol Control and Heart Health.