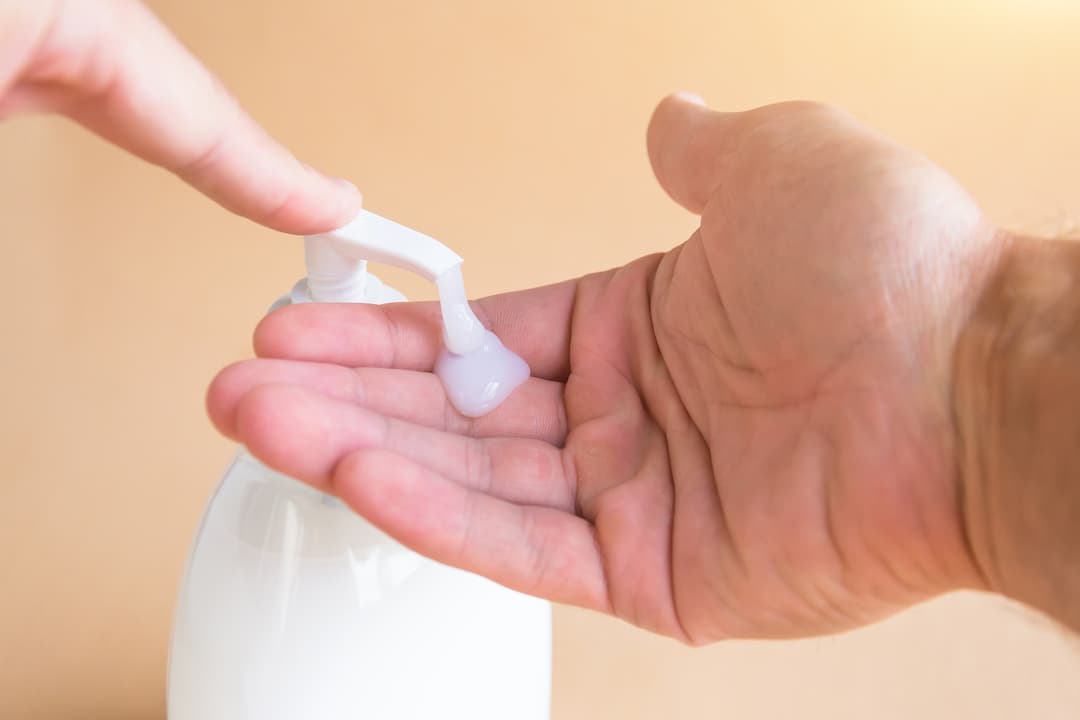 If you suffer from leg cramps that wake you up at night, you've no doubt sought some way to prevent them. Some people have been advised to take minerals such as magnesium or potassium to ward off leg cramps, and that may help. Others advocate stretching the calf muscles before retiring, and there is no harm in that. We also hear from many readers that a seemingly silly remedy works: a bar of soap in bed to keep leg cramps at bay.
Liquid Hand Soap Stopped Nighttime Muscle Cramps:
Q. You've written about soap chips or bars for muscle cramps. I discovered by accident that liquid hand soap works great for leg, toe and finger cramps. I couldn't find the bar soap and I was in terrible pain, so I grabbed the liquid hand soap and gave it a good pump. Then I rubbed and rubbed the soap into my leg and slowly the cramp dissipated. I now only use the hand soap.
A. You are not the first person who has reported that liquid soap can help alleviate muscle cramps. Perhaps the massage action may also have been helpful against your cramp.
Many people are skeptical about soap for cramps. Nonetheless, this is a low-cost, low-risk approach that may actually have a scientific explanation.
Does Soap Affect TRP Channels?
Nerve cells in many parts of our bodies have transient receptor potential (TRP) channels. Several different "flavors" of TRP respond to sensations like heat or cold, as well as to actual flavor chemicals like capsaicin (from hot peppers) or menthol (from mint).
We suspect that compounds in the soap trigger these TRP channels to reverse the inappropriate activation of nerves causing muscle contractions. Thanks for sharing your convenient strategy for solving a challenging problem.
You can learn more about TRP channels and cramp relief with mustard and pickle juice as well as soap in our eGuide to Favorite Home Remedies.
How Do You Use Soap in Bed?
Q. I read your article about preventing leg cramps with a bar of soap under your bottom sheet. As a cyclist, I often suffer from leg cramps in bed.
Can you tell me the specifics of the possible soap solution? Do you just slide a new bar of soap under your bottom sheet? Does it matter what type of soap?
A. What we hear from readers is that a wide range of soaps will work for this remedy. Apparently, French grandmothers have advocated this approach for decades if not longer.
To try it, unwrap a bar of soap. We think some sort of scent in the soap is essential for this remedy to work. Place the bar under your bottom sheet near where your legs will rest. When it stops working, either replace it or score the surface to help it continue to release scent.
Using Soap Against Muscle Cramps:
Nighttime leg cramps are not the only muscle cramps that have responded to soap. Some people have reported that holding a bar of soap can stop hand cramps quickly. A reader recently wrote about using soap for forehead muscle cramps.
Q. I read on your website that soap can help muscle pain. I have had trouble with muscle cramps on my forehead. So I took a bar of Irish Spring and wet it, then rubbed it on my forehead. (I made sure it didn't drip in my eyes.) This is a really weird remedy, but it did help resolve the cramping pain.
A. We've not heard of forehead muscle cramps before, but they certainly sound dreadful. Many readers have written about using soap against nighttime leg cramps, while others have used soap to combat hand cramps. You might not even have to wet the soap to get the benefit for your forehead pain. People with hand cramps simply hold a dry bar of soap in the affected hand.
Why Does Soap in Bed Help?
Limonene:
Limonene is a common component of some of the oils that are used to provide fragrance in soap. Studies show that it has "spasmolytic" activity–inhibiting muscle spasms–though this has been demonstrated mostly in smooth muscle like the airways and blood vessels of experimental animals (de Sousa et al, Natural Product Communications, Nov. 2015).  We suspect that people vary somewhat in their response, as many readers report benefit but some say soap in bed does not help them.
Glycerin:
Another reader experimented with glycerin, a common soap ingredient.
Q. I was troubled with severe leg cramps an hour or two after going to bed on the days when I'd exercised on the rowing machine. Then I read that people get relief by placing a bar of soap under the under the bed sheet near the legs. It worked, but the effectiveness of the soap seemed to diminish over time.
I wondered what might disappear from an ordinary soap bar. The one ingredient I could think of was glycerin. So I bought a bottle of it at the drugstore and tried rubbing some on the skin over my leg muscles, much like applying a moisturizing lotion. I found this eliminated cramping.
I even experimented by leaving one leg untreated; ouch, it cramped! Glycerin has been working for me about a year now. Perhaps others might find it as effective and more convenient than positioning soap bars in bed.
A. We appreciate home experimenters but we doubt glycerin would evaporate from your soap. Fragrance does dissipate and might explain why soap loses its cramp-relieving effects over time.
We have no idea how or why your approach would work, but glycerin is often used in skin care products and should not be harmful. Perhaps other readers will repeat your experiment and let us know how well glycerin works to prevent post-exercise muscle cramps.
Many other readers have described their experience with soap in bed.
Joy reported:
"I am an RN who travels from city to city by car. For years I suffered horrible leg and feet cramps after lengthy drives. I heard about the soap regimen and I tried it. To my surprise, it has been over two weeks and I have not had one nocturnal cramp! My cramps were very frequent and it was not uncommon to get 3 or 4 at the same time — feet, toes, and calves — but as mentioned, I have not had one since my first night! And, my cramps were so severe that my toes would actually fan out and would not bend! I don't know what ingredient is in the soap that causes this success, but personally, I don't care because it works!"
Brian M. weighed in:
"As a university professor of life science, and a chemist, I have followed this soap discussion for some time with interest. I also suffer from restless legs, and find soap under the bottom sheet helps, but it needs to be a fairly fresh piece.

"A couple of points:

"-Commercial soaps are pretty complex in composition. Some of the ingredients are from biological sources, and though purified, still are quite complex and varying from lot to lot. So it is going to be hard to point to one ingredient or another and say "That's it!" Also, it may very well be a combination of ingredients.

"-Possible effects of interest included fragrance (see below), but also perhaps some capacity to reduce static charge on fabrics.

What About Fragrance?

"-If it is a fragrance which works, why wouldn't soap on the night stand work best? Or does the odor (or other volatile substance) need to be concentrated beneath the sheets? does the "active ingredient" have to be smelled, or come into contact with the skin or the legs? Maybe someone should put a bar of soap in a heavy-duty zip lock bag and try inhaling the fumes given off after a few hours. Or put it in the bedside drawer and open it at bed time?

"-Fragrance can have powerful effects on people (obviously!). I think it was a study at the Monell Institute in PA which showed that prompt exposure to certain smells could abort panic attacks. The most effect substance? Baby powder.

"-Finally, why not dump part of a bar of fragrant soap in the rinse water when washing sheets? Changing to detergents years ago changed clothes washing, because soaps have a natural softening effect on cloth. Maybe wash the sheets (and pajamas) in a soap and see how it works?

"Lots to ponder and experiment with here!"
We haven't seen any such experiments published, but hope some readers will try one or more.
One reader was quite skeptical until trying soap in bed:
"I don't believe in hocus pocus but I was desperate. I had horrible leg cramps so I tried a bar of Irish Spring under the covers by my calves. To my disbelief, it works. No more cramps. When cramps start to threaten again, I replace soap with a new bar."
Learn More:
You can learn more about natural remedies for muscle cramps in our Guide to Leg Pain. Although readers report benefit from many different types of soap, we developed our People's Pharmacy Bed Soap specifically to go under the bottom sheet of the bed. From now through January 28, 2023, we are offering our Bed Soap at a 15% discount off the regular price. You do not need a discount code; the discount will be applied automatically at checkout.