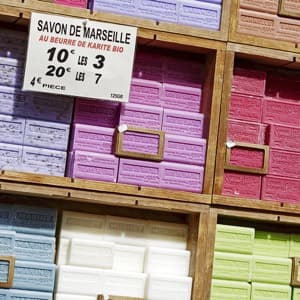 NICE FRANCE – MAY 11 2014: Marseille soap also called Savon de Marseille put up for sale at the market traditional soap made from vegetable oils under the same name produces for about 600 years
Leg cramps can be terribly painful. Athletes exercising in hot weather do all they can to avoid them, including sipping pickle juice. But ordinary mortals can get them, too, during daytime activities or in the middle of the night. Have you ever tried using soap chips to prevent muscle cramps? Some people find them very helpful. Others may be as confused as this reader.
How Do You Use Soap Chips in Your Socks?
Q. I've read on your website that people use soap chips in their socks to ward off foot cramps or restless legs. But I'm puzzled: just how do you place soap chips in your socks so you don't hurt your feet walking to the bathroom during the night…much less using them for airports and flights?
A. People place small soap chips in their socks so that they surround the ankles or lower calves. You're certainly right that walking on chips would be uncomfortable!
Here is a story from one reader who has used this remedy to good effect.
Soap Chips to Ease Leg Cramps:
Q. I have always gotten feet and leg cramps. I carry soap chips in my backpack when taking long hikes, so if my legs cramp, I can slip chips in my socks. Driving long distances after such hikes can also give me leg cramps. Soap in my socks works great in both situations.

Except during the hot nights of summer, I wear socks to bed to keep my feet warm. I like to put soap pieces in my socks to prevent foot cramps at night. A regular magnesium supplement also helps.
A. You are not the only person to find that soap chips in your socks help to prevent leg cramps. Many other readers like this remedy.
Soap in Socks for Restless Legs:
We first heard about this idea as a way of managing restless legs. Years ago, a woman who was making frequent trans-Atlantic trips for business found that her restless leg syndrome (RLS) made the flights challenging. She was able to calm the creepy-crawly feelings and urges to move her legs by putting bits of soap in her knee socks. We're always delighted when a remedy developed for one problem proves useful for another, so we're glad to hear you use it for cramps.
How Could Soap Chips Be Helpful?
There are a number of hypotheses about what causes muscle cramps, but none of them seem to apply in every situation (Sports Medicine, Dec. 2019). Instead, several different imbalances or malfunctions may trigger cramps. We suspect that soap chips work through transient receptor potential (TRP) channels in the nerves of the skin.
Athletes who ingested a beverage containing compounds that activate TRP channels recovered from cramps more quickly and with less soreness (Muscle & Nerve, Sep. 2017). These compounds included hot pepper, ginger and cinnamon.
Although these TRP activators were ingested, there are also TRP channels on nerves found in the skin, where they function to detect heat and cold. We suspect that the fragrances used in soap could be activating the TRP channels to reverse the hyperactive nerve signals that trigger the cramping.
Previously, readers have reported that aromatherapy works against nocturnal leg cramps. We don't know, of course, if scientists will ever complete a study to see if soap against the skin actually does activate TRP channels to counteract leg cramps.
Magnesium for Leg Cramps:
Magnesium is a popular approach for preventing leg cramps. Although many readers find it helpful, studies don't provide strong evidence to support its use (BMJ Clinical Evidence, May 13, 2015).
Keep in mind that too high a dose of magnesium (generally over 300 mg) could cause diarrhea. Moreover, people with kidney problems must avoid magnesium supplements, as they may put too much strain on the kidneys.
Easy Soap Chips:
It isn't difficult to cut soap up into small pieces, but we have made it much easier for you. We offer Leg Soap, small soap chips in a delightful tea olive scent. You may wish to consider them as an easy way to keep this leg cramp remedy handy.
Nighttime Leg Cramps?
Can putting a bar of soap between your mattress pad and your bottom sheet prevent nighttime leg cramps? Not everyone reports benefit, but we are always surprised at how many people do report success. Here is a link to one of our articles on this topic.
The first story starts this way:
"My husband is a born skeptic when it comes to home remedies, but he eventually allowed me to put a bar of soap under the bottom sheet to combat his frequent nighttime leg cramps. The soap worked. He has not complained about cramps for years thanks to the soap."
Read more SOAP STORIES at this link.
Want to acquire flat Bed Soap with a hint of lavender to help you fall asleep? Here's a link.