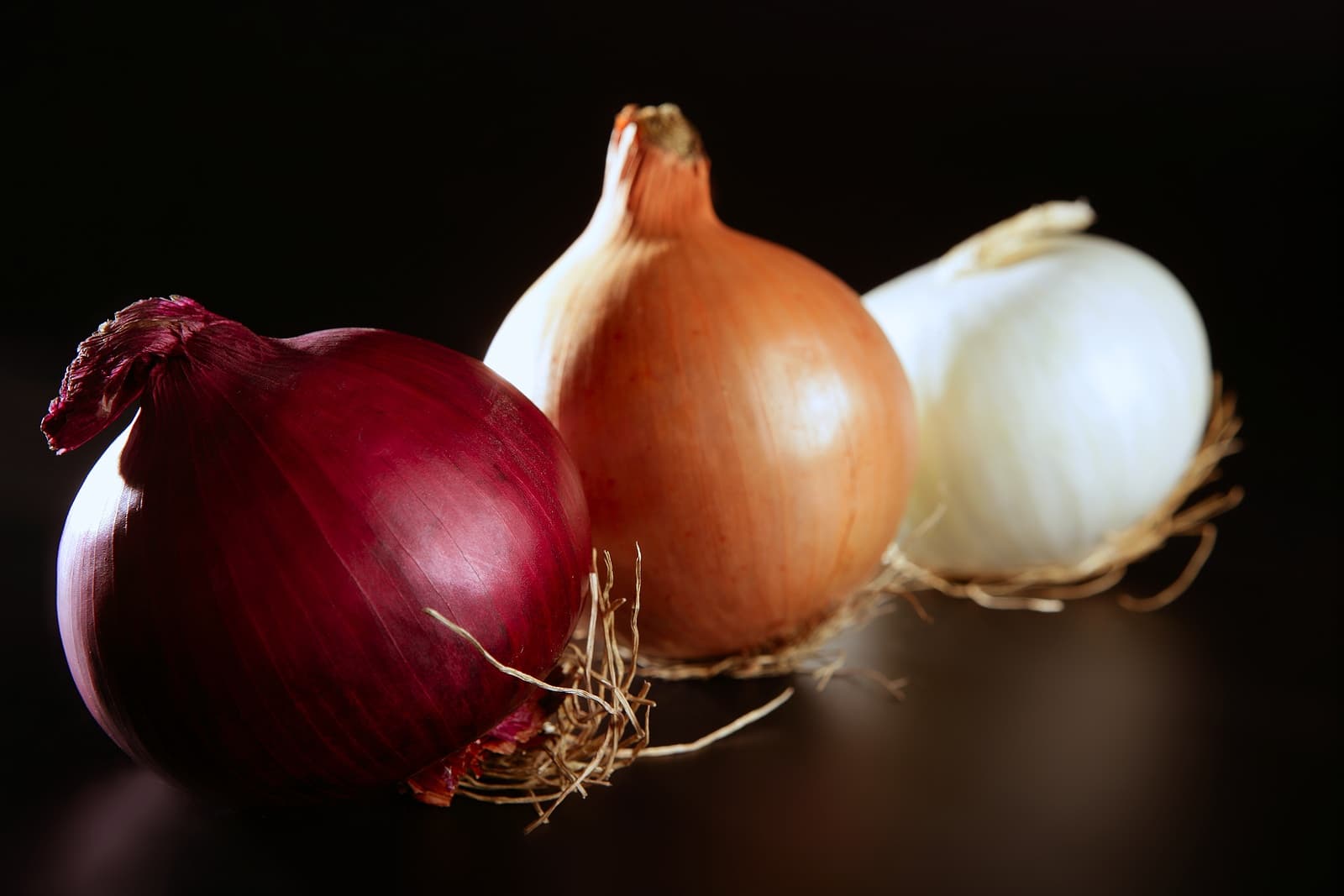 Three colorful different onion in varied colors over black
In the midst of cold and flu season, many people are troubled with lingering coughs. Are you barking like a seal? Is your cough keeping you awake at night? Luckily, there are a number of remedies that can be helpful. You might want to make onion syrup and try it out as cough medicine. One reader recently begged us to reprint the recipe.
How to Make Onion Syrup Cough Medicine:
Q. Would you please publish the onion syrup cough medicine recipe again? Years ago, my mother used to make it for us kids on the top of our old black cast iron stove in the corner of the kitchen. Not only was it effective, but it tasted so good that, unlike store-bought cough medicine, we actually enjoyed taking it!
When my mother died, somehow all her recipes were lost. I would love a recipe for this delicious remedy.
People Around the Globe Make Onion Syrup:
A. There are actually quite a few onion syrup recipes to choose from. We have been intrigued to discover that onion syrup has been used in India, Germany, Hungary and several other countries to help calm a cough.
One approach involves slicing a yellow onion and sprinkling sugar over the cut edges. The "juice" is collected after about 30 minutes and a teaspoonful is swallowed. A different recipe calls for slicing the onions and simmering them on low heat for 45 minutes to an hour in sugar-sweetened water. A teaspoon or two of the syrup is supposed to calm a cough.
Another reader wrote:
"my aunt would make a cough medicine of very soft-cooked onions with butter, brown sugar, ginger and a bit of vinegar. I liked it and I always stopped coughing."
Many people substitute honey for sugar. There is some evidence to suggest that honey has antiviral activity (Molecules, Oct. 29, 2020).
Here is one such recipe:
"Combine a half-cup of honey and a half-cup of water. Add in one whole chopped onion and one chopped clove of garlic. Add a dash of sage, thyme or oregano and allow to steep overnight at room temperature. Strain and use the liquid as a cough syrup. Store in your refrigerator."
A meta-analysis of six randomized controlled trials found that honey worked better than placebo to alleviate coughs in kids (Cochrane Database of Systematic Reviews, April 10, 2018). Honey should never be given to babies less than a year old because it might contain botulinum toxin. However, an onion syrup sweetened with a little sugar should not be dangerous. You can find additional natural remedies in our eGuide to Colds, Coughs & the Flu.
How Do You Make Onion Syrup?
Q. I read about onion syrup for coughs and colds. How does one prepare this? I have never seen it in a store.
A. This old home remedy is not difficult to make.
One reader described her approach:
"When my kids were babies and got croup, I made onion syrup on the stove. I cut a few onions in half and covered them with water. First I'd bring it to a boil, then simmer the mixture real low and slow with enough water just to cover for a couple of hours. The onions would get soft and the cooking water would be syrupy. I'd sweeten it with a little sugar or honey, depending on the child's age. Nothing worked better."
Another reader offered this:
"I really believe in the onion syrup. When my daughter was a baby, she had colic and was coughing all the time. A friend of mine sliced an onion, sprinkled sugar all over the cut edges, and waited about 30 minutes until the juice began to collect. Then we gave the baby a teaspoon with instant success. We continued to give it to her, and she slept well."
What Can You Take for a Cough Besides Dextromethorphan?
Other readers have shared their approaches:
Q. I survived flu season without getting sick, but now I have a terrible sore throat and am starting to cough. I hate the taste of DM (dextromethorphan) cough medicines. What else can you recommend?
A. When you start to cough and suffer a sore throat, you may want to get a rapid flu test to rule this out. The COVID variants common in the winter of 2022 often start with a sore throat, so you should also try that test.
Make Onion Syrup as a Home Remedy for Cough:
If you have a cold rather than the flu, there are several home remedies to control a cough. One is onion syrup. The onion is sliced thin and simmered in sweetened water until it is quite soft, 45 minutes to an hour. Many readers assure us that it is delicious. It does taste rather strongly of onion.
Those who can't abide onions may prefer ginger or thyme tea. You'll find recipes for both in our Guide to Colds, Coughs & the Flu. Some kids will do fine with onion syrup, while others will prefer honey or ginger tea.
Drinking Thyme Tea to Calm a Cough:
Q. I had the flu four weeks ago and still have a cough despite taking Robitussin DM. I tried drinking thyme tea this afternoon, and it has calmed my cough. Others might want to know.
A. A post-viral cough sometimes lingers for weeks after all other symptoms of the flu have gone. Calming such a cough can be challenging.
The Value of Thymol:
Experiments show that thymol, an active component of thyme, can reduce the urge to cough and the number of coughs (Gavliakova et al, Respiratory Physiology & Neurobiology, June 1, 2013).  Many people find that a cup of thyme tea made with a half-teaspoon of thyme leaves and sweetened with honey if desired is a pleasant way to control a cough.
Pamela reports:
"I found that drinking thyme tea during an active cold thinned and loosened the mucus, making it much easier to cough up. It seemed to do the same for sinus congestion as well."
Another way you can tap the power of thymol to calm a cough: smear Vicks VapoRub on the soles of your feet at bedtime. Be sure to put on socks, so you don't mess up the sheets. Thymol is one of the essential oils that give Vicks its distinctive aroma.
Another essential oil in Vicks is eucalyptol.
Glory from California get her eucalyptol in tea she makes:
"I drink eucalyptus tea. Made with 2 or 3 leaves, pour boiling water and steep for 5 min. Let cool some, then drink or add a touch of honey first."
Richard R. of West Palm Beach, FL, offers this testimonial:
"I have taken onions and honey for a cough and found it very effective. The cough medicine I bought in the store was not nearly as helpful.

"I have also found that applying Vicks VapoRub to the soles of one's feet really works to stop coughs at night. I found that remedy here on The People's Pharmacy."