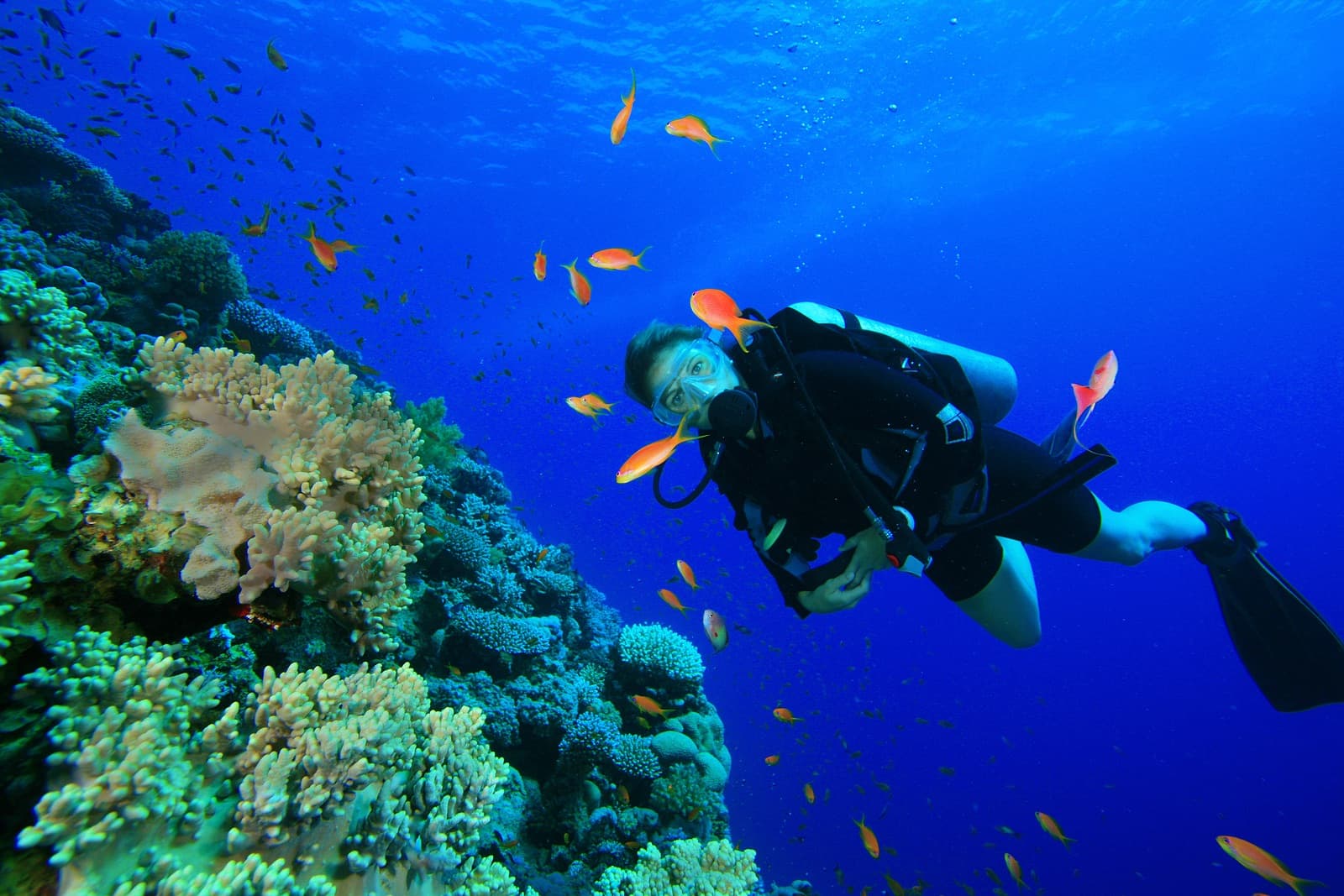 Young Woman Scuba Diver on coral reef in clear blue water
When a leg cramp strikes in the middle of the night, it results in a rude awakening. Sometimes the pain can bring tears to a person's eyes. Finding relief is just as urgent if you are in the middle of an important activity, such as running, biking or scuba diving. Consequently, a way to ease leg cramps quickly and effectively is most welcome!
Scuba Diver Uses Mustard to Ease Leg Cramps:
Q. I'm a scuba diver. During a second dive after the recommended rest period, I often get severe muscle cramps in my thighs and calves.
Now I take about two tablespoons of mustard before my second dive and have no cramps. I don't know why this works and don't care. Yellow mustard has saved me a lot of excruciating pain, sometimes under water and sometimes during surfacing. I hope other divers will try it.
A. Thank you so much for sharing your experience. We have heard from many readers who find that swallowing a spoonful or two of yellow mustard can ease leg cramps quickly.
Although you don't care how, others may be interested in the mechanism. We discuss it here. You can learn more about stopping muscle cramps and many other nondrug approaches to common problems from our book, The People's Pharmacy Quick & Handy Home Remedies. If your local library does not have a copy, you can find it here.
Mustard Miracle for Nighttime Leg Cramps:
Q. Thanks to whoever thought of using mustard for leg cramps. This remedy is totally awesome.
At 2 am, I had the worst leg cramp. My entire leg was screaming! I grabbed the bottle of mustard and swallowed a spoonful. My leg quit hurting within two minutes. I call it the mustard miracle.
A. We too have found that swallowing a spoonful of plain yellow mustard can ease leg cramps quickly. We don't know whether it is the vinegar or the turmeric included for yellow coloring in the mustard that works. Some people have used a small swig of pickle juice to achieve the same effect, so the vinegar might contribute to the benefit.
Other Ways to Ease Leg Cramps:
Not everyone wants to take mustard in the middle of the night, though keeping a packet of mustard in the nightstand can make it more convenient.
There are other suggestions for ways to ease leg cramps in our Guide to Leg Pain. They range from sipping low-sodium V-8 juice to tucking a bar of soap under the bottom sheet near the legs. The mustard remedy does seem to be a very reliable and quick way to ease leg cramps.