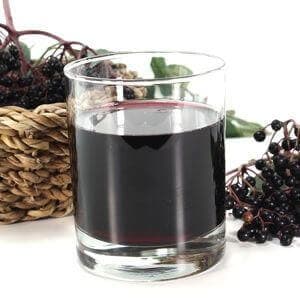 Elderberries and elderberry juice have long had a reputation for fighting the flu. Most physicians undoubtedly have considered this just another old wives' tale. One reader remembers how her family used elderberry products for healing and wonders whether they have gone out of fashion.
Elderberry Memories:
Q. I was a child in the mid-20th century, before the explosion of OTC and prescription drugs. We rarely went to the doctor except for real emergencies—certainly not for colds or flu.
My father kept a bottle of elderberry wine on hand for those ailments. If we got bad sore throats, flu, croup or cough, he would make us "hot toddies." He would mull the wine with cinnamon sticks and other spices (probably ginger and allspice) and add a shot of alcohol (bourbon?) before making each of us sip a small dose of it. I remember my parents also had a bottle of Sambuca syrup as well. Why don't people rely on elderberry any longer?
A. Some people still do rely on elderberries. The ripe fruits of the European black elderberry, Sambucus nigra, are known to have antiviral, antibacterial and antidiabetic properties (Plants, March 10, 2022).
Investigations have confirmed the benefits of elderberry extract combined with vitamins and zinc in strengthening the immune response among older adults (Nutrients, Aug. 24, 2022).  Children with recurrent respiratory infections got sick less often when they took a similar supplement (Allergologia et Immunpathologia, May 1, 2022).
How Does Elderberry Juice Help?
Scientists in Australia have recently clarified a mechanism (Torabian et al, Journal of Functional Foods, March 2019). They found that elderberry compounds have anti-influenza activity.
How Elderberry Juice Affects Influenza Virus:
Using juice from commercially grown elderberries, the researchers investigated the effects on human cells during the process of viral infection. The chemicals in the elderberry juice kept the influenza virus from getting into the cells to infect them. Moreover, after cells had been infected, exposure to the juice kept the virus from replicating and spreading to new cells.
Alerting the Immune System:
Even more important, in response to elderberry compounds, the cells released cytokines. These inflammatory chemical signals alert the immune system to the presence of a pathogen. Apparently the protective phytochemicals are anthocyanidins, compounds that give the berries their deep purple coloration.
This is not the first study to find that elderberry compounds prevent influenza infection (Roschek et al, Phytochemistry, July 2009). However, these are test-tube studies. We need more clinical trials.
Moreover, we need the scientists to reveal potential conflicts of interest, which these Australian investigators did not do. As a result, the university has retracted the publication.
Clinical Trials of Elderberry Juice:
In one previous pilot study, people who took elderberry syrup recovered from the flu four days sooner than those taking placebo (Zakay-Rones et al, Journal of International Medical Research, Mar-Apr. 2004). Beyond that, a systematic review revealed that elderberry reduces upper respiratory symptoms of influenza and colds (Complementary Therapies in Medicine, Feb. 2019). Perhaps that is because elderberry preparations, like certain other botanical medicines, can help improve the immune response to viral infection (Phytotherapy Research, June 2021).
Would You Take Elderberry Extract for Influenza?
Q. Why haven't you recommended elderberry extract against the flu? As I understand it, tests have proven it to be better than Tamiflu.
I never get flu shots even though almost everyone else in my retirement community gets them. Several still catch the flu.
At the first sign of a throat tickle, I start taking elderberry extract. I haven't had even a sniffle.
Scientific Studies of Elderberry Extract:
A. There is some evidence suggesting that elderberry has antiviral activity. One meta-analysis found that elderberry supplements (Sambucus nigra) can reduce upper respiratory symptoms such as congestion and cough (Complementary Therapies in Medicine, Feb. 2019).  Scientists have also found that a compound in elderberry, cyanidin 3-glucoside, acts in several ways to inhibit influenza infection (Journal of Functional Foods, March 2019). They found that it blocks viral surface proteins and boosts the body's immune responses.
We found only one trial comparing elderberry (in combination with Echinacea purpurea) to oseltamivir (Tamiflu) for treating influenza (Holistic Nursing Practice, March-April 2016). In this study, more than 400 people with flu responded equally well to both treatments. We would love to see further research on herbal treatments for influenza.
We would not suggest that you take elderberry extract instead of getting your flu shot. But having a backup treatment available is not a bad idea. We heard recently from a reader that elderberry extract helped her recover quickly from a cold.
Could You Take Elderberry Extract to Recover from a Cold?
Our reader said that she had seen our article on elderberry rob as a cold remedy. She purchased an elderberry product at the health food store, planning to keep it on hand. When she awoke one day with severe cold symptoms, she followed the instructions on the bottle. The following day, she noticed that her symptoms were very mild. By the third day she felt well, although she could still hear the effects of the cold on her voice. That was the last day she felt she needed to take elderberry extract, since the fourth day she felt entirely well. She told us that this was the quickest recovery from a cold she can recall. Perhaps we should all take elderberry extract at the first signs of a respiratory tract infection.
Does Elderberry Extract Fight Colds?
We have heard previously from readers who are convinced that taking elderberry products can clear up colds more quickly. Here's one person's story and our response.
Q. I have found that elderberry extract really helps against the common cold. If I start taking it soon enough, I can keep the cold from getting a foothold.
A. German researchers note that a standardized elderberry extract is active against bacteria and viruses that cause upper respiratory tract infections (Krawitz et al, BMC Complementary and Alternative Medicine, Feb. 25, 2011). Although the preliminary research is promising, scientists need to conduct more clinical studies (Vlachojannis et al, Phytotherapy Research, Jan. 2010).
MR is an elderberry enthusiast:
"Elderberry extract is by far my favorite cold remedy, or rather preventive remedy. I no longer get colds, because I always take elderberry extract at the first sign of one. I do not fear catching the flu, because elderberry extract is such a great anti-viral agent."
DP agrees:
"I take elderberry syrup and sometimes the capsule. Can't tell which is better. They both work if taken with the first sneezes and runny nose. I love the taste of the syrup. I also take Andrographis, Astralagus and Echinacea. Why these remedies work, I haven't a clue. But double-blind studies have been done on them. All I know is they have to be from a very reputable herb company or they may not be efficacious.

"I have stopped many a virus trying to make in-roads into my respiratory system. The trick is not to take these immune boosters unless you feel symptoms or have been severely stressed, i.e. lack of sleep several nights… Take every day and the body will adjust to them being on board and they will no longer work as well."
More About Elderberry:
The elderberry extract used in the studies comes from the European elder, Sambucus nigra. American elder, Sambucus canadensis, grows in many parts of the US. We like to collect and dry the flowers from our American elder shrubs in the summer. Then we use them in winter to make a soothing tea for coughs or colds. Be sure not use leaves, stems, bark or unripe berries, as they contain compounds related to cyanide.
However, you don't have to grow your own elderberry bushes. You could purchase commercial products such as Sambucol or Zand Zumka. If you are interested, you can learn about other herbal remedies for colds in our Guide to Colds, Coughs & the Flu.