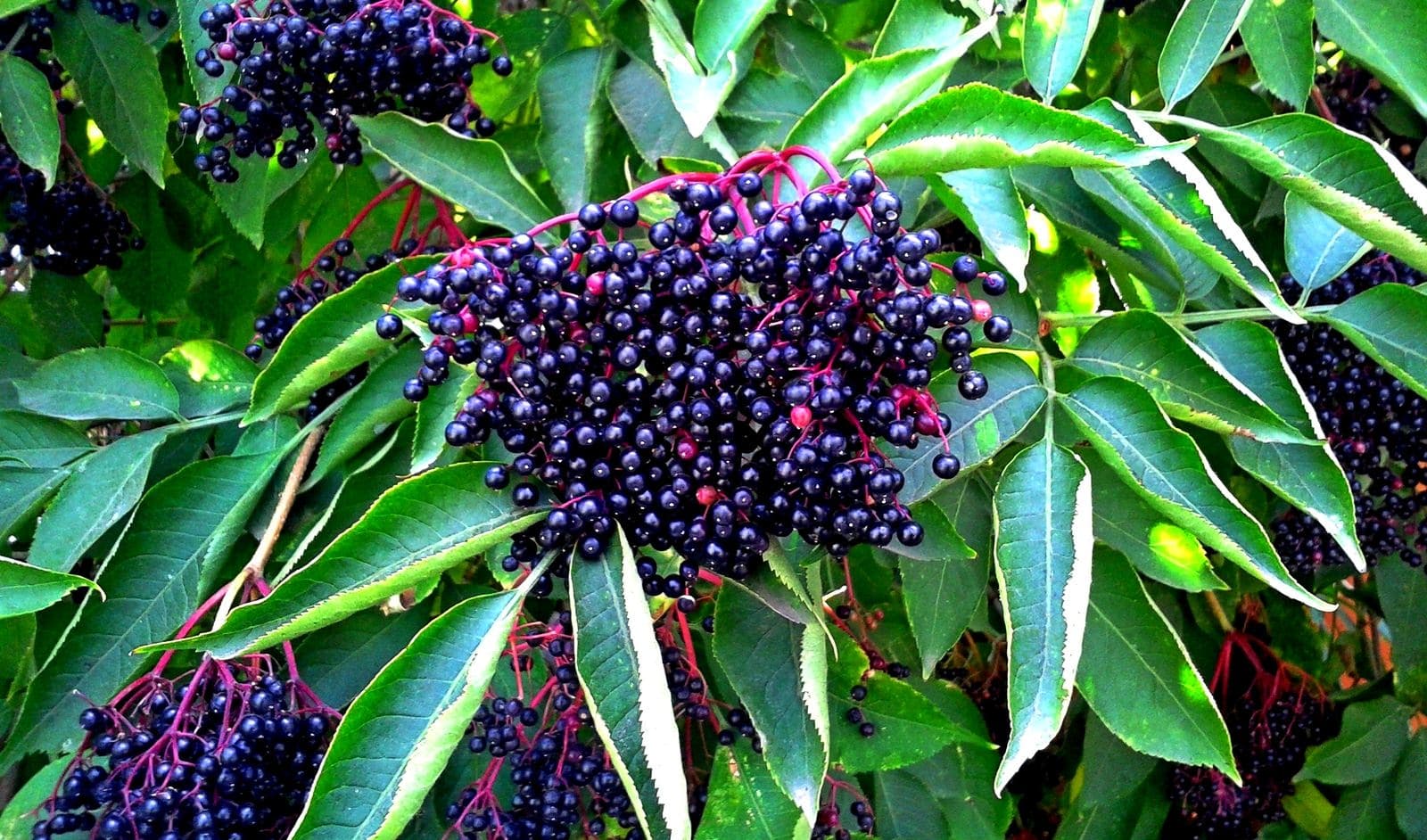 What is your favorite cold remedy? Sometimes people rely on drugstore products, but they may not be aware of the potential side effects from a multi-symptom cold product. As a result, we frequently prefer home remedies, such as chicken soup or thyme tea. Some readers are curious about herbs, especially elderberry (Sambucus nigra or Sambucus canadensis).  This botanical product has been used for decades or longer. Above all, it has a reputation for boosting the immune response. Here is a reader testimonial:
Herbs to Fight Colds:
Q. I know a lot of people who have had colds lately. When I start to sneeze or have a runny nose, I take elderberry in capsules or syrup. I also take andrographis, astralagus and echinacea.
Why these remedies work, I haven't a clue. But I have found they have to be from a reputable herb company, or they may not work. With these herbs, I have stopped many a virus trying to make in-roads into my respiratory system.
Do Herbs Have Anti-Viral Activity?
A. Modern medicine has not been very successful in combating the common cold. There are no FDA-approved drugs to speed healing of this condition.
Data suggest, however, that echinacea has antiviral activity (Virology Journal, Sep. 9, 2020).  So do elderberry and andrographis. Echinacea, andrographis and astragalus also appear to stimulate the immune system (Alternative and Complementary Therapies, Feb. 1, 2018).
We would love to see randomized clinical trials testing these herbs against viral infections. However, there are a lot of obstacles to this type of study (Pharmaceuticals, July 2011).  Many different viruses cause "cold" symptoms, and it is difficult to figure out which one may be responsible for an individual's misery. Moreover, as you have noted, the quality of herbal supplements can vary. That's one reason we are partial to our underwriter, Gaia Herbs.
You can learn more about ways to prevent and treat such viral infections in our eGuide to Colds, Coughs & the Flu.
Is Elderberry Syrup an Immune Booster?
Q. I am hearing about elderberry syrup as an immune booster. Do you have any pros or cons?
A. Elderberry juice or extract is a traditional tonic for colds and coughs. In fact, researchers have found that the extract from one Sambucus species has antiviral activity against coronavirus in test tubes (Frontiers in Pharmacology, Jan. 11, 2021).  Moreover, other laboratory research has found that an extract of the flowers, in combination with beta-glucan and vitamin D3, may help reduce inflammation (Biomedicine & Pharmacotherapy, Dec. 2020).
Can You Make Elderberry Syrup at Home?
Q. Is elderberry syrup good for the immune system and can it be made at home?
A. Because of COVID-19, scientists have examined a number of botanical products reputed to enhance immune response (Phytotherapy Research, June 2021). Although research is inconsistent, the authors conclude that elderberry does affect the immune response. Some of the effects may help people ward off viral infections.
In addition, elderberries can be used to treat a cough that lingers after a viral infection (Monaldi Archives for Chest Disease, Aug. 10, 2021). A review of clinical trials found that herbal preparations can reduce symptoms from influenza-like illnesses if taken within two days of the first sign of infection (Advances in Integrative Medicine, Dec. 2020).
If you have elderberries, it isn't complicated to make a syrup. Mix two cups of dried elderberries with four cups of pure water and bring it to a boil. Simmer for half an hour and take it off heat to steep for an hour. Strain and measure the liquid. Add half as much honey as you have liquid and store in the fridge. Here is a video in which Dr. Tieraona Low Dog demonstrates the technique.
A Warning:
Be cautious if you make your own elderberry extract at home, though. Unripe or uncooked berries, along with the rest of the plant, contain cyanide and are poisonous. There is more information in the next comment from a reader.
Elderberry Rob for Cold Symptoms:
Q. Now that we are into cold season, it's a pity that my favorite remedy isn't better known. Elderberry rob is a traditional treatment for coughs and colds. To make this, elderberries are boiled with honey, cinnamon and allspice and the resulting syrup is strained and mixed with a little brandy as a preservative. A few spoonfuls of this mixed into hot water usually reduces cold symptoms very effectively.
Elderberry (Sambucus canadensis) grows wild in many places in North America. I suspect that the homemade syrup probably retains more of the plant's properties than most over-the-counter Sambucus preparations.
A. Elderberry juice preparations have long been used to treat respiratory infections.
Although it is not well studied, an analysis concluded that
"Supplementation with elderberry was found to substantially reduce upper respiratory symptoms" (Complementary Therapies in Medicine, Feb. 2019).
An Australian study found that air travelers taking elderberry were less prone to colds and had milder symptoms (Nutrients, March 24, 2016). Some Sambucus compounds prevent viruses from replicating or attaching themselves to respiratory tract tissues (Virus Research, Nov. 2019). This research utilized an Asian species of Sambucus, while the clinical trial investigators used S. nigra, a European species. However, the American S. canadensis is similar.
Our reader is right that S. canadensis grows in many places, especially if they are a bit damp. Bushes in our yard bear lots of flowers that we collect and dry. In the winter, we use them to make a pleasant tea to calm a cough.
Whether making a rob as described or other any other elderberry preparation, be sure to use only ripe berries and do not include stems or leaves. Cyanide-related compounds in the stems can be toxic. You can learn more about this herb here.