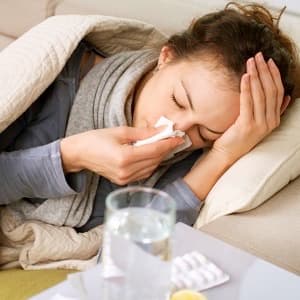 Influenza is on the rise! In Australia the recent flu season hit early and hard. Now, early indications are that a similar pattern is evolving in North America. The Health Commissioner for the state of New York describes this year's flu as "early and aggressive." The CDC's influenza tracking system is demonstrating a clear trend upward. This is happening at a time when most Americans are acting as if the COVID-19 pandemic is over. But the latest COVID data are discouraging. The number of cases and hospitalizations are no longer dropping at a reassuring rate. The average number of daily COVID deaths rose 5% over the last week. There were 626 COVID-related deaths reported on October 13, 2022. Could we be facing a twindemic over the next few months?
Rising Influenza Cases in the US:
The CDC is reporting significant numbers of cases of type A H3N2 in Texas, Georgia and the district of Columbia. Other states that are showing moderate levels of influenza activity include South Carolina, Virginia and Tennessee. We suspect that influenza is actually a lot more widespread than the CDC realizes.
Even though flu cases in New York are described as "minimal" by the CDC this week, health authorities on the ground there are reporting influenza cases in 44 out of 62 counties. The number of flu cases in New York are up dramatically over last year at the same time.
The AMA (American Medical Association) presented this question on October 13, 2022:
"Will there be a rise in COVID-19 and flu cases this fall and winter?"
In other words, will we be facing a "twindemic" in the weeks ahead?
An AMA delegate for the Massachusetts Medical Society, Dr. Christopher Garofalo, offers this insight:
"Because people are going to be indoors more and aren't masking as much, we could possibly see an increase in the number of people who are sick with COVID-19 or the flu," said Dr. Garofalo. "But we hope that we don't see a spike in people who end up in the intensive care unit or dying."

"They still will be there, but we hope that those numbers don't go up," he added, noting "we do have Paxlovid to treat COVID-19, and that has done a wonderful job. Even though it doesn't necessarily shorten your symptoms, it does a great job of keeping people from getting sicker and that's important."
What Happened in Australia?
Australia is has just emerged from winter. The Southern Hemisphere is always about 6 months ahead of us when it comes to seasonal respiratory tract infections.
According to public health experts there, this year's flu season was the worst they have seen in five years. It was also bad in New Zealand. Influenza cases peaked earlier than usual in Australia and were three times higher than the normal rate.
Why Did the Flu Disappear for Two Years?
If you dial back to the first year of the COVID-19 pandemic, influenza was incredibly rare. The disappearance of flu surprised many public health officials. Some were worried about a twindemic of COVID and influenza. It didn't happen, though.
Many people attributed the low levels of flu to isolation and masking. We know that a LOT of visitors to this website maintain that masking is totally ineffective at preventing COVID-19. But during the 2020 and 2021/2022 flu season, there were far fewer cases of influenza than normal. Some of that is also likely due to isolation.
What's Coming? Could We Face a Twindemic of Flu and COVID?
If the Australian experience is a good predictor of what we can expect during the 2022/2023 flu season in North America, it could turn into a "flurona twindemic." Most people have thrown away their masks and gone back to business as usual. Next time you go shopping or get on an airplane, count the number of masks you see. If it is more than 5% we would be surprised.
Worldwide, the curves also look better, with some exceptions. Japan, South Korea, Australia, India, Brazil and Indonesia are all down. China, Turkey, Germany and France are up. According to the UPI (Oct. 9, 2022):
"Coronavirus cases are surging in some European nations, including Germany, Austria, Italy and France at least 24% each in the past week, though world infections are down 7% and deaths 10% to among lowest since the start of the pandemic in March 2020."
What About Influenza? The CDC Disappoints:
Readers of our syndicated newspaper column and this newsletter know that we have been quite disappointed in flu vaccine effectiveness over the last 16 years. The CDC also seems to be very bad at predicting what is going to happen. Here are just a few of our many articles:
Flu Vaccine Failures Are Quickly Forgotten
Public health authorities don't like to talk about flu vaccine failures. But the ability of the flu virus to mutate can lead to disappointing results.
The Great Influenza Fizzle…Again!
The CDC warned us that this year's flu season would likely be bad. How good was the prediction? Was flu a problem or an influenza fizzle?
Will the 2022/2023 Flu Season Be Bad?
This year could be worse than the last two years by quite a margin. The Australian flu experience is a good predictor of what we are likely to see in North America. Let's drill down by using the Australian Influenza Surveillance Report no. 11, 2022.
"Most of the influenza cases in OZ (82%) were type A. We do not yet know the specific strain of viruses responsible, although 4.7% were A (H3N2). Here is some good news. Australian health authorities report that 97.4% of the influenza A(H1N1) and 93.9% of the influenza A(H3N2) samples were described as "antigenically similar to the corresponding vaccine components."
The Aussies point out, though, that:
"It is too early to assess vaccine match and effectiveness for this season."
We keep monitoring reports from Australian public health authorities. As of today, we still do not know how effective this year's vaccines were in preventing influenza in Australia.
The FDA's Vaccine Advisory Committee recommended two quadrivalent formulations. Both versions will have protection against H3N2 type A Darwin as well as type B Austria and Phuket. They will differ in that one will also provide protection against H1N1 type A Victoria while the other will offer immunity against H1N1 type A Wisconsin. Only time will tell which type A virus becomes dominant this winter in North America and whether the vaccines are effective.
Will We Face a Twindemic: Flu Plus COVID-19?
If a new coronavirus variant emerges this winter, Americans will be susceptible to both influenza and COVID-19. If hospitals have to deal with two respiratory infections simultaneously, it could be a challenging winter.
If there are no new COVID variants this winter, we may continue to see a decline in cases, hospitalizations and deaths from SARS-CoV-2. If the vaccine is a very good match for the coming influenza strains, we may also avoid a bad flu season…if people get vaccinated. Avoiding a twindemic would be very welcome after what we have been through.
Did we get flu shots this year? Yes! Fingers crossed that the vaccine match is a good one for this year's strains. How good has it been in the past? Over the past 16 years, flu vaccine effectiveness has ranged from a low of 10% to a high of 60%. Overall, we calculate an effectiveness rate of about 40%. Here is a breakdown by year:
Vaccine Effectiveness in Past Years:
2004-2005: Vaccine Effectiveness was: 10%
2005-2006: Vaccine Effectiveness was: 21%
2006-2007: Vaccine Effectiveness was: 52%
2007-2008: Vaccine Effectiveness was: 37%
2008-2009: Vaccine Effectiveness was: 41%
2009-2010: Vaccine Effectiveness was: 56%
2010-2011: Vaccine Effectiveness was:  60%
2011-2012: Vaccine Effectiveness was:  47%
2012-2013: Vaccine Effectiveness was: 49%
2013-2014: Vaccine Effectiveness was: 52%
2014-2015: Vaccine Effectiveness was: 19%
2015-2016: Vaccine Effectiveness was: 47%
2016-2017: Vaccine Effectiveness was: 42%
2017-2018: Vaccine Effectiveness was: 38%
2018-2019: Vaccine Effectiveness was: 29%
2019-2020: Vaccine Effectiveness was: 39%
2020-2021: Vaccine Effectiveness was not calculated in part because there was so little influenza.
2021-2022: Vaccine Effectiveness was: 16%
Overall Effectiveness (not including 2021-2022):             40%
Let hope that 2022/2023 turns out to be one of the better flu vaccine years. And let's hope COVID cases do not start going up again. We do not need a twindemic this winter!