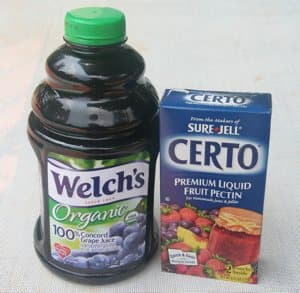 People with sore joints face a terrible dilemma. Pain interferes with quality of life. On the other hand, medications like diclofenac and other nonsteroidal anti-inflammatory drugs (NSAIDs) can make people more susceptible to cardiovascular complications. Scientists have known for years that these drugs can increase the chance that a person will have a dangerous blood clot that could trigger a heart attack or a stroke. People taking NSAIDs are also at risk for serious gastrointestinal hemorrhages. As a result, many arthritis sufferers are searching for safer alternatives. Could a simple remedy like Certo and grape juice offer any relief? Does it have down sides?
How Do You Use Certo and Grape Juice for Joint Pain?
Q. I sent your article about using Certo for joint pain to a friend. All she found in the grocery store was liquid Certo. My friend wants to know if the liquid will work. If so, how much should she take with grape juice?
A. Certo is liquid plant pectin. This product is sold in supermarkets for home cooks who want to thicken jams and jellies.
Some people take two teaspoons of Certo in three ounces of grape juice three times a day. Others use a tablespoon of liquid pectin in eight ounces of juice once a day. For experiences with powdered pectin, read on.
Will Certo and Grape Juice Help Hip Pain?
Q. I suffer from hip pain due to osteoarthritis, and I'd like to try the Certo and grape juice home remedy. I cannot tolerate NSAIDs like ibuprofen or naproxen for pain relief since I am on the blood thinner Eliquis.
When I mixed powdered pectin into the juice, it just clumped into balls and the glop was not drinkable.
What is the best way to make this remedy using liquid Certo? I need details!
A. This remedy goes back many decades. Although there is no scientific study supporting it, we have heard from hundreds of readers that it can be helpful against arthritis pain. You are smart to avoid NSAID pain relievers while you are on an anticoagulant, as the combination could produce bleeding ulcers.
Mixing Certo with Grape Juice:
There are several formulas for the home remedy. One involves dissolving a tablespoon of liquid pectin (Certo brand) in eight ounces of purple grape juice. That is a daily dose.
Other people prefer to take the remedy more frequently, two or three times daily. They mix two teaspoons of Certo in three ounces of grape juice.
You can get more details about and other arthritis remedies along with a video on how to make it in our eGuide to Alternatives for Arthritis. We also have a trick to help get powdered pectin into solution.
A reader offered these instructions:
"Mix 1 teaspoon Pomona's Universal Pectin with 1/3 cup boiling water in a food processor or blender until the pectin is dissolved. This will give you a liquid pectin that is the same concentration as Certo. It can then be used as a replacement for Certo." Refrigerate any unused portion.
Do Certo and Grape Juice Cause Constipation?
Q. My wife recently developed severe knee pain. Then my sister, who has had similar problems, recommended that my wife start taking pectin in grape juice to reduce the pain. She followed my sister's recommendation and started a daily regimen. Soon her knee pain was diminished.
When she spoke with some of her friends, she heard that grape juice could cause dehydration and/or constipation. My wife would like to know if there is something special about the pectin/grape juice combination. Can a different juice be substituted for grape juice to avoid potential side effects?
A. This is the first we have heard that grape juice could contribute to dehydration or constipation. Those side effects both seem unlikely, however, since juice is mostly water. Generally, fruit juices counter constipation.
Juice Substitutions:
Some people worry about the sugar content, especially if they have diabetes. Low-sugar brands might help with that concern. In addition, some people have substituted cherry juice or even pineapple juice for the grape juice. Neither of those is a low-sugar option, though. We have also heard from a reader who got relief using pomegranate juice with pectin.
We first heard about the potential for fruit pectin such as Certo combined with grape juice to ease joint pain almost three decades ago. While not everyone benefits, many people do. Those who would like to know how to mix up this remedy will find detailed instructions and a video in our eGuide to Alternatives for Arthritis. It also offers numerous other non-drug approaches to knee pain along with a discussion of the pros and cons of arthritis medicines.
Certo and Grape Juice for Knee Pain:
Q. I was using a cane to walk due to the pain I was experiencing in both knees from arthritis. I was seeing a chiropractor for back pain from a fall and told him I wished he could help my knee pain as well.
He told me about Certo and grape juice. I've tried this remedy for two weeks now. The results are amazing! I take it twice a day and the pain has subsided completely.
How Do You Make Certo and Grape Juice?
A. The mixture of two teaspoons of Certo (liquid fruit pectin) in three ounces of purple grape juice twice a day is a popular remedy for arthritis. Concord grape juice has anti-inflammatory activity and so does pectin. Home canners are familiar with Certo, used to thicken home-made jams and jellies. Others may have to scour the supermarket for the canning section to find it.
Reader's Testimonial:
Q. My sister sent me your article about Certo and grape juice for arthritis. Ever since, I have begun taking this combination once a day. Certo and 100 percent Concord grape juice help me so much! I have shared this with other people, and they have gotten relief from inflammation and arthritis pain.
A. We have been writing about the "purple pectin" combination of Certo and grape juice for more than two decades. Although not everyone gets relief from joint pain with this remedy, many people do.
Certo is liquid plant pectin, used to make jams and jellies thicker. It is sold online or in the canning section of the supermarket.
Many readers have experimented with this remedy. Some use powdered pectin, such as Pomona's, while others have substituted açai, pomegranate or cherry juice for grape juice. All of these fruit beverages have anti-inflammatory properties.
Learn More:
You can learn more about this and many other natural approaches to easing joint pain in our booklet, Graedons' Guide to Alternatives for Arthritis. In addition to Certo and grape juice, you'll get instructions for gin-soaked golden raisins and information on herbs such as ashwagandha and boswellia. If you try a remedy that you find helpful, please tell us about it in the comment section below.