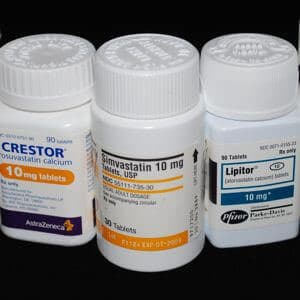 Statins cholesterol statin drugs
Statins such as atorvastatin or simvastatin are extremely effective at lowering circulating levels of cholesterol. Doctors prescribe them to reduce the chance that a patient will have a heart attack or a stroke. Very often, though, doctors don't have good answer for people who are worried about the statin and diabetes connection uncovered in studies. How can you weigh the risks?
Can You Control Blood Sugar and Cholesterol with Diet?
Q. My doctor wants me to go back on statins even though they cause me muscle pain and cramping. I am also concerned about an increased risk for diabetes.
I take levothyroxine for hypothyroidism. Since coming off statins I have been eating more nuts, beans and whole grains. I have a salad every day with olive oil and vinegar dressing. Do you think such a regimen could help control both my blood sugar and my cholesterol?
A. Statins can raise the risk for diabetes. If not well controlled, your thyroid condition could contribute to elevated cholesterol. You may want to ask your doctor whether you are doing all you can in that regard.
An intriguing new study reveals that olive oil can lower blood lipids and inflammation and improve insulin sensitivity and blood sugar control (Journal of the American College of Cardiology, Jan. 18, 2022). In addition, beans, whole grains and vinegar can help control both blood sugar and cholesterol.
To learn more about diet and other strategies to reduce your chance of developing blood sugar problems, you may want to read our eGuide to Preventing and Treating Diabetes. We also offer information on managing blood lipids, both with medications and without, in our eGuide to Cholesterol Control and Heart Health.
Other readers have also asked about the statin and diabetes connection. Here are a few examples.
Could Lipitor Contribute to Elevated Blood Sugar?
Q. What is the relationship between long-term statin use (specifically atorvastatin) and adult-onset type 2 diabetes? Lipitor was prescribed for me in 1998 and has successfully lowered my cholesterol.
In the past year my blood sugar went up substantially, and I've experienced preliminary symptoms of diabetes. I have no risk factors: my weight is normal and I walk at least two miles a day with additional daily weight-bearing exercise. I have no family history of diabetes.
My diet is primarily Mediterranean because I'm married to a Sicilian. It's a little high in carbs but low in red meat and high in seafood and plant proteins.
I've stopped taking the statin. Will my metabolism return to normal?
The Statin and Diabetes Connection
A. In 2003 we started getting questions from readers about elevated blood sugar as a side effect of Lipitor.
One of the first questions was the following (published in our syndicated newspaper column on 1/20/2003):
"Recently, our physician prescribed Lipitor for my husband and myself. We both have been diagnosed with type 2 diabetes. We both take Glyburide and my husband takes Avandia as well.

"Since we started on Lipitor, our blood sugar has been rising rapidly. My husband asked the doctor about changing to Tricor, but he was told it would not help him much and he should stay with Lipitor. It seems that Lipitor is affecting our blood sugar. Is this possible?"
We contacted University of California, San Diego, statin researcher Beatrice Golomb, MD, PhD.
Dr. Golomb responded:
"There are two studies that have shown unexpected significant increases in blood sugar or in hemoglobin A1C (which is an index of blood sugar over time) with statin use. Though increases are modest on average, some people appear to experience more considerable increases."
We encouraged this reader and her husband to let the doctor know there was a statin and diabetes connection; that atorvastatin, as well as other statin-type cholesterol-lowering drugs (lovastatin, pravastatin, simvastatin, etc.) could increase blood sugar. We also invited readers to share their stories with us.
We began hearing from others who either developed diabetes after taking a statin or had more difficulty controlling their blood sugar once a statin was on board. Most physicians were unaware that this was a possibility.
Some got really angry that we had written about a statin and diabetes connection. They felt that we were planting a seed of doubt about the benefits of statins with no proof that drugs like atorvastatin or simvastatin raised blood glucose levels.
The JUPITER Proof:
It wasn't until the JUPITER (Justification for the Use of Statins in Primary Prevention: An Intervention Trial Evaluating Rosuvastatin trial) study was published in 2008 that a clear link was established between statins and diabetes (New England Journal of Medicine, Nov. 20, 2008). Even though the authors did not mention this complication in their enthusiastic support for Crestor (rosuvastatin) in the conclusion section of the paper, they did describe the statin and diabetes connection in the results and discussion section.
This was the first real proof that statins raised blood sugar levels in some patients. Even after this study was published in a reputable journal, many statin enthusiasts were reluctant to accept the finding. They insisted it was coincidental. Among those who did accept the data, many were quick to insist that even if statins did trigger diabetes or raise blood sugar, the benefits of the drugs far outweighed the risks of diabetes.
More Evidence on the Statin and Diabetes Connection:
Since then, other studies have reinforced the statin-diabetes association.
"Statin treatment increased the risk of type 2 diabetes by 46%, attributable to decreases in insulin sensitivity and insulin secretion."
Since then, other studies have confirmed the statin and diabetes connection. Recently, a large study analyzed records from the US Department of Veterans Affairs (JAMA Internal Medicine, Dec. 1, 2021). The scientists noted that people taking statins were more likely to experience worsening of their diabetes than similar patients not taking statins. As a result, the statin users needed more intensive treatment to control their blood sugar.
In conclusion, the investigators recommend:
"The risk-benefit ratio of statin use in patients with diabetes should take into consideration its metabolic effects."
Statin Takers Figured This Out Long Ago:
January 12, 2009:
Q. I was put on Lipitor to control cholesterol and found it shot my blood sugar through the roof. My doctor suggested switching to Crestor. Would this drug also affect blood sugar?
A. You are not the first person to note that some cholesterol-lowering medicines might raise blood sugar levels. Another reader reported that after taking Crestor, his type 2 diabetes numbers also "went through the roof." In addition, he reported: "my hands, feet and arms tingled so much I could hardly stand it."
February 15, 2010:
"I have been taking Crestor. It lowered my cholesterol very well, but my blood sugar went out of control. My HbA1c went from 6.8 to 7.3 in just a short while, and my morning blood glucose numbers went from 110 – 130 to 161 – 217.
"I stopped taking Crestor a few days ago and my numbers are already starting to drop. This morning the reading was 144 and my mid-morning blood sugar was only 96 instead of in the low 200s."
The Bottom Line on the Statin and Diabetes Connection:
Cardiologists who downplay the importance of the statin and diabetes connection confound us. People who have elevated blood sugar levels are at greater risk of heart attacks and strokes, the very things statins are supposed to prevent.
People who practice a healthy lifestyle may be able to reverse this trend. A regimen of exercise and dietary changes (along with social support) is capable of reversing pre-diabetes (Journal of Diabetes Research, April 16, 2017). Cut back on carbs and keep up the exercise. It can be challenging to keep this up over the long term, which is why social support is so important.
Medical Consensus Advisory
Many doctors believe that the risk for diabetes as a side effect of statins is low and the cardiovascular benefits are greater.