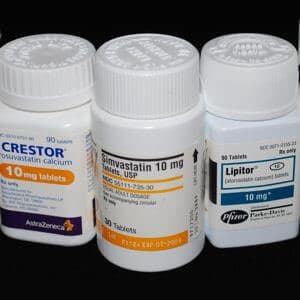 There is no nice way to say this. Cholesterol-lowering drugs like statins cause diabetes. This is not new news, but it is unwelcome. When lovastatin (Mevacor) was approved by the FDA more than 30 years ago there was no hint that it could raise blood sugar. Ditto for many of the popular statins that followed, such as atorvastatin (Lipitor), pravastatin (Pravachol) and simvastatin (Zocor). The drug company-sponsored-clinical trials did not detect a metabolic problem. It took the FDA roughly 15 more years to send out a a warning that: "Increases in blood sugar levels have been reported with statin use" (FDA Drug Safety Communication, Feb. 28, 2012).  Now, seven years later comes confirmation that statins cause diabetes (British Journal of Clinical Pharmacology, March 5, 2019).
Don't Worry, Be Happy!
We first suspected that statins might be associated with blood sugar elevations in 2003. Readers of our syndicated newspaper column alerted us to rising blood sugar levels after they took atorvastatin. Beatrice Golomb, MD, PhD, of the University of California, San Diego, confirmed our concerns. You can read about them at this link.
We were criticized by some physicians for even mentioning that statins might raise blood glucose levels. It seemed as if this was a third-rail topic. People were supposed to take their statins and not worry.
The JUPITER Boomerang:
When the cholesterol-lowering drug rosuvastatin (Crestor) was associated with type 2 diabetes in the JUPITER trial, many cardiologists were skeptical (New England Journal of Medicine, Nov. 8, 2008).  Even the researchers who conducted the trial seemed to downplay the idea that statins cause diabetes. There was no mention in the all-important conclusions that there was a connection between rosuvastatin and diabetes.
It seemed counterintuitive that a drug to reduce the risk for heart disease would raise the risk for diabetes. After all, diabetes carries cardiovascular risks of its own. People who have this metabolic disorder are at greater risks for heart attacks and strokes.
Downplaying the Idea that Statins Cause Diabetes:
When doctors discussed the statin-diabetes connection it was often made to seem like an almost trivial problem. One cardiologist described it this way (Heart Views, Jul-Sept, 2011): 
"On March 3, 2012, the FDA announced changes to the safety information on the labels of statins: there is a small increased risk of higher blood sugar levels and of being diagnosed with type 2 diabetes. In addition, the statin labels will also now reflect reports of certain cognitive effects such as memory loss and confusion experienced by some patients taking the drugs. The announcement said the risk was 'small' and should not materially affect the use of these medications."
"the risk of developing diabetes as a result of a statin is small. 'The benefits of statins in reducing heart attacks and strokes should generally outweigh this small increased risk."
That comes from James P. Smith, M.D., M.S., deputy director of the Division of Metabolism and Endocrinology at the FDA.
New Research: Do Statins Cause Diabetes?
Now, research on more than 8,500 adults confirms the connection between statins and blood sugar elevations (British Journal of Clinical Pharmacology, March 5, 2019). The participants were healthy, without diabetes or heart disease, when the study started.
In the subsequent 15 years, about 12 percent of them started taking statins to control their cholesterol. In addition, 716 of them were diagnosed with type 2 diabetes. Statistical analysis reveals that those taking statins were 38 percent more likely to earn a diabetes diagnosis.
The risk was especially pronounced among heavier individuals and in those with poor glucose tolerance. The researchers conclude:
"Individuals using statins may be at higher risk for hyperglycaemia, insulin resistance and eventually type 2 diabetes."
In the summary of their results, the authors share these important observations:
"To the best of our knowledge, this is the first detailed population‐based study to show the effect of statin use on incident type 2 diabetes in those free from diabetes at baseline. At baseline, statin use was associated with elevated values for several glycaemic traits. After excluding these baseline statin users, new ever statin users during a follow‐up of up to 15 years showed a 38% increased risk of incident type 2 diabetes independent of statin type and dosage."
People's Pharmacy Perspective:
We have discussed our concerns that statins cause diabetes in this article:
Most people have a hard time imagining that a medicine that is supposed to reduce their risks of serious health problems might actually cause other serious health problems. It all seems quite abstract. Should you wish to read about peoples' experiences with statins and blood sugar elevations, here is a link.
We recognize that many people may absolutely need to take a statin to prevent a second heart attack. If these individuals do not experience any side effects, that is absolutely great. For people without any signs of heart disease, though, statin-induced diabetes is cause for concern. The moral of this tale is that statin-users should monitor their blood sugar quite carefully!
Share your own story below in the comment section below. If you have been able to take statins without experiencing any side effects we would also like to hear from you.