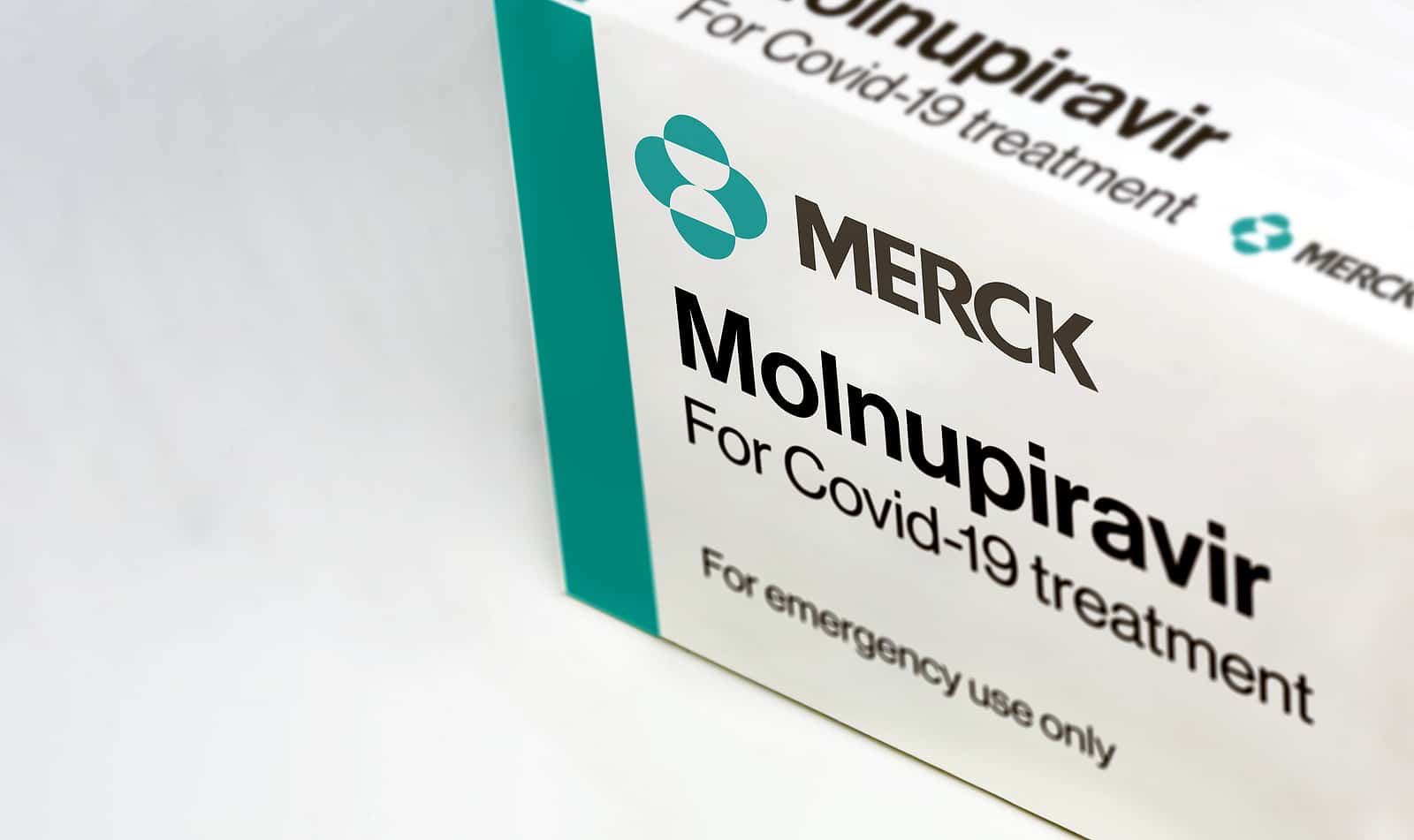 The FDA has just issued Emergency Use Authorization (EUA) status for Paxlovid (nirmatrelvir plus ritonavir) and Legevrio (molnupiravir) to treat COVID-19. Some are calling these two antiviral drugs game changers. We certainly hope that is the case. Goodness knows, we desperately need effective ways to bring this pandemic under control. What are the pros and cons of these new antiviral COVID Pills? Read on for the straight and skinny on these oral medications.
Paxlovid (nirmatrelvir + ritonavir):
How It Works:
I am starting with Paxlovid because it received the FDA's green light for EUA first (December 22, 2021). Let's start with what is in this drug combo. First and foremost is nirmatrelvir. How does it work? This antiviral medication binds to the 3CL protease enzyme that is crucial for the SARS-CoV-2 virus to replicate.
"Pfizer's antiviral pill is a protease inhibitor, originally called PF-07321332, or just 332 for short. A protease is an enzyme that cleaves a protein at a specific series of amino acids. The SARS-CoV-2 virus encodes its own protease to help process a large virally-encoded polyprotein into smaller segments that it needs for its life cycle; a protease inhibitor drug can stop that from happening. If the term protease inhibitor rings a bell, that's because drugs that work in this way already are in use to treat other viruses, including human immunodeficiency virus (HIV) and hepatitis C virus."
OK, that's pretty technical pharmacology. Here's the bottom line. If the 3CL protease enzyme cannot function normally, the coronavirus cannot replicate. If SARS-CoV-2 cannot multiply, it cannot infect other cells in the nose and upper respiratory tract. That is why the drug must be taken at the very first signs of a COVID infection.
Once this virus has started spreading rapidly throughout the body, the cats are out of the bag, so to speak. Think Tamiflu (oseltamivir). This antiviral drug works against influenza viruses. But it only works if it is taken within the first day or two of infection. If you wait until the flu has taken over your body, it's too late. Ditto for antivirals against COVID.
The Downside of Paxlovid:
To work effectively, nirmatrelvir needs a little help. Enter the antiviral ritonavir. Doctors have been prescribing ritonavir (Norvir) to people with HIV/AIDS for more than two decades. It enhances other protease inhibitors. That means it boosts the action of other antiviral drugs. It is included in Paxlovid to prolong the activity of nirmatrelvir.
And that is the rub with Paxlovid. Ritonavir interacts with a great many other medications. Here is just a partial list:
• Amiodarone (Cordarone, Pacerone)
• Atorvastatin (Lipitor)
• Butabarbital (Butisol)
• Disulfiram (Antabuse)
• Dronedarone (Multaq)
• Ethinyl estradiol (contraceptive)
• Flecainide (Tambocor)
• Lovastatin (Mevacor)
• Metronidazole (Flagyl)
• Sildenafil (Viagra)
• Simvastatin (Zocor)
• Sirolimus (Rapamune)
• Tacrolimus (Protopic, Prograf)
This is just a partial list!
Because ritonavir may harm the liver and interact with many other medications, doctors need to be especially cautious when prescribing Paxlovid. You can read more about drug interactions with ritonavir and other useful information at this link.
Side effects of ritonavir include digestive tract upset (nausea, vomiting, stomach pain, diarrhea), fatigue, cough, dizziness, itching, confusion and fluid retention. That's just for starters. There are many other potential adverse reactions. Fortunately, the dose of ritonavir is considered low and it is taken for only five days.
Side effects of Paxlovid include:
"Possible side effects of Paxlovid include impaired sense of taste, diarrhea, high blood pressure and muscle aches. Using Paxlovid at the same time as certain other drugs may result in potentially significant drug interactions. Using Paxlovid in people with uncontrolled or undiagnosed HIV-1 infection may lead to HIV-1 drug resistance. Ritonavir may cause liver damage, so caution should be exercised when giving Paxlovid to patients with preexisting liver diseases, liver enzyme abnormalities or liver inflammation."
Who Can Take Paxlovid?
The FDA has approved Paxlovid for use by people who have tested positive and have mild to moderate symptoms. Adults and youngsters 12 or over who weigh at least 88 pounds are eligible.
Remember, the drug works best if taken as early as possible in the course of infection. Early trial results show that the drug reduces the risk of hospitalizations or death by almost 90%.
"Paxlovid is not authorized for the pre-exposure or post-exposure prevention of COVID-19 or for initiation of treatment in those requiring hospitalization due to severe or critical COVID-19."
How to Take Paxlovid:
The FDA offers this guidance:
"Paxlovid is administered as three tablets (two tablets of nirmatrelvir and one tablet of ritonavir) taken together orally twice daily for five days, for a total of 30 tablets. Paxlovid is not authorized for use for longer than five consecutive days."

"Based on the FDA's review of the totality of the scientific evidence available, the agency has determined that it is reasonable to believe that Paxlovid may be effective for the treatment of mild-to-moderate COVID-19 in authorized patients."
How Good Are These Antiviral COVID Pills?
The FDA states:
"Paxlovid significantly reduced the proportion of people with COVID-19 related hospitalization or death from any cause by 88% compared to placebo among patients treated within five days of symptom onset and who did not receive COVID-19 therapeutic monoclonal antibody treatment. In this analysis, 1,039 patients had received Paxlovid, and 1,046 patients had received placebo and among these patients, 0.8% who received Paxlovid were hospitalized or died during 28 days of follow-up compared to 6% of the patients who received placebo."
One final word of caution about Paxlovid. We do not know if SARS-CoV-2 will develop resistance to the drug. If so, these antiviral COVID pills will lose effectiveness. One researcher we consulted suggested that resistance was a distinct possibility. Only time will tell if that is the case. There is more information at this link.
Legevrio (molnupiravir):
Molnupiravir has been in the works for a few years. This compound was being developed at Emory University to treat influenza viruses. The investigators hoped that its unique mechanism of action might also make it effective against a wide range of RNA viruses including chikungunya, Ebola and several coronaviruses.
How Legevrio Works:
Molnupiravir is not a protease inhibitor. Its mechanism of action is quite different from Paxlovid. Instead of messing with the protease enzyme that is necessary for viral replication, molnupiravir goes after the RNA that SARS-CoV-2 uses to create itself. In essence, it scrambles the essential language of RNA.
Imagine playing Scrabble. You are desperate to spell the highest-scoring word: OXYPHENBUTAZONE. The trouble is you lack Es and Os. There's no way you can spell the word that might net you 1,778 points with bonuses. Molnupiravir scrambles the letters so that the virus cannot "spell" its code correctly.
Dr. William Haseltine's Take on Molnupiravir:
Dr. Haseltine was a professor at Harvard Medical School. He specialized in genetic research.
"Molnupiravir's metabolite, an active compound called NHC, has been known and studied for decades. The metabolite works by creating havoc with RNA polymerase, the enzyme critical for viral replication…the drug inserts errors into the virus' genetic code every time it copies itself. Insert enough errors and you essentially kill off the virus, preventing it from replicating any further.

"Against other coronaviruses, like MERS-CoV and mouse hepatitis virus (MHV), the drug was found to create up to more than a hundred mutations at every section of the viral genome. Against SARS-CoV-2, molnupiravir's manufacturers Merck and Ridgeback say that the drug's antiviral effects are powerfully effective, limiting the virus' ability to proliferate unchecked and cutting the risk of hospitalization and death by half among those infected."
The Downside of Legevrio:
Dr. Haseltine goes on to warn that:
"The trouble with the drug, however, is that its mutagenic powers may also create havoc among other enzymes in the body, including the nucleic acids in our own healthy DNA."
That may be why the FDA issued this warning in its Emergency Use Authorization of molnupiravir:
"Based on findings from animal reproduction studies, molnupiravir may cause fetal harm when administered to pregnant individuals. Therefore, molnupiravir is not recommended for use during pregnancy. Molnupiravir is only authorized to be prescribed to a pregnant individual after the prescribing healthcare provider has determined that the benefits of being treated with molnupiravir would outweigh the risks for that individual patient and after the prescribing health care provider has communicated the known and potential benefits and the potential risks of using molnupiravir during pregnancy to the pregnant individual. Females of childbearing potential are advised to use a reliable method of birth control correctly and consistently during treatment with molnupiravir and for four days after the final dose. Males of reproductive potential who are sexually active with females of childbearing potential are advised to use a reliable method of birth control correctly and consistently during treatment with molnupiravir and for at least three months after the final dose."
Side Effects of Molnupiravir:
"Side effects observed in the trial included diarrhea, nausea and dizziness. The safety and effectiveness of molnupiravir for the treatment of COVID-19 continue to be evaluated."
Who Can Take Legevrio?
"…for the treatment of mild-to-moderate coronavirus disease (COVID-19) in adults with positive results of direct SARS-CoV-2 viral testing, and who are at high risk for progression to severe COVID-19, including hospitalization or death, and for whom alternative COVID-19 treatment options authorized by the FDA are not accessible or clinically appropriate. Molnupiravir is available by prescription only and should be initiated as soon as possible after diagnosis of COVID-19 and within five days of symptom onset."

"Molnupiravir is not authorized for use in patients younger than 18 years of age because molnupiravir may affect bone and cartilage growth."
How Good Is Molnupiravir Against COVID?
Initially we were told that Legevrio was 50% effective. That got dropped to 30%. Here is how the FDA describes the results of the clinical trial:
"The main outcome measured in the trial was the percentage of people who were hospitalized or died due to any cause during 29 days of follow-up. Of the 709 people who received molnupiravir, 6.8% were hospitalized or died within this time period compared to 9.7% of the 699 people who received a placebo."
That is something…but not as impressive as Paxlovid.
How to Take Legevrio:
The FDA and Merck offer this Fact Sheet:
"How do I take molnupiravir?
• Take molnupiravir exactly as your healthcare provider tells you to take it.
• Take 4 capsules of molnupiravir every 12 hours (for example, at 8 am and at 8 pm)
• Take molnupiravir for 5 days. It is important that you complete the full 5 days of
treatment with molnupiravir. Do not stop taking molnupiravir before you complete the full
5 days of treatment, even if you feel better.
• Take molnupiravir with or without food.
• You should stay in isolation for as long as your healthcare provider tells you to. Talk to
your healthcare provider if you are not sure about how to properly isolate while you have COVID-19.
• Swallow molnupiravir capsules whole. Do not open, break, or crush the capsules. If you cannot swallow capsules whole, tell your healthcare provider.
What to do if you miss a dose:
• If it has been less than 10 hours since the missed dose, take it as soon as you
remember
• If it has been more than 10 hours since the missed dose, skip the missed dose
and take your dose at the next scheduled time.
• Do not double the dose of molnupiravir to make up for a missed dose."
Final Words:
These two new antiviral COVID pills, Paxlovid and Legevrio, are important advances in our fight against SARS-CoV-2. We won't know if they are game changers until we see them in action. Neither drug is perfect. But if these antiviral COVID pills can prevent serious illness and help keep people out of the hospital they would be valuable. There is reason to believe that they will save lives.
We know that we will get many messages from people who are passionate about alternative treatments. They insist that hydroxychloroquine (HCQ) and ivermectin are better and safer than these new antiviral COVID pills. There is no way to prove that unless someone conducts head-to-head trials.
We would love to endorse those two old drugs. We have written a lot about both of them Here is a link about ivermectin. And here is a link for HCQ. Sadly, though, there are no large, well-controlled clinical trials that have demonstrated strong benefits of either drug.
We suspect that people will die while taking one of the new antiviral COVID pills. Neither medicine is 100% effective. In fact, nothing is 100% effective against this virus. We just hope that we can begin to bring down the cases and save lives.
We'd like to ask a small favor. If you believe that the information in this article is robust and helpful, please share it with friends and family members. The easiest way to do that is by scrolling to the top of the page and clicking on the icons for email, Twitter and/or Facebook. If you find our free newsletter of value, please encourage them to sign up at this link.
Thank you for supporting our work. We strive to bring you accurate, up-to-date health information. Here's hoping that 2022 will see real advances against COVID-19.