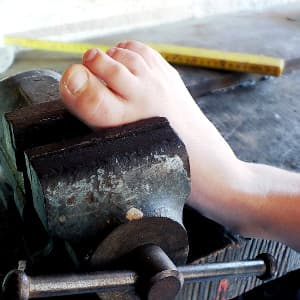 Neuropathy (pain, numbness or tingling, usually in the feet or hands) is caused by a malfunction of the nerves in the skin. We need such nerves to tell us about the world around us, and when they stop working properly the pain and the disorientation from the loss of function are both horrible. What can be done to help neuropathy?
Cream Eases Pain and Tingling:
Q. My right foot burns and tingles so badly that it's hard to sleep. I assume this is neuropathy as a result of bunion surgery and my second toe being permanently straightened several years ago.
I have begun using Steuart's Pain Formula with arnica and comfrey. It has been a huge help in restoring my sleep. Are there any side effects to be aware of from this cream? I hope not, as it really helps.
A. Traditionally, both comfrey and arnica have been used as topical medicines for pain or bruising. Both could be toxic if taken orally. However, putting cream on the skin does not appear to result in dangerous blood levels of these compounds (Planta Medica, Feb. 2022; Pharmaceutics, Nov. 4, 2022).
Neuropathy can be extremely distressing, so we are glad to learn you've found a way to ease the pain. We have also heard from readers who have found other ways to help neuropathy.
Natural Remedies to Help Neuropathy:
Q. Numbness and tingling in my feet have been increasing rapidly for the past few months. I have had diabetes for over 12 years. My blood glucose level has been under control and the A1C has consistently been around 5.5.
The neuropathy started before I was even diagnosed with diabetes. Some physicians have expressed doubt it is related to diabetes.
I heard one of your radio listeners claim he got rid of nerve pain by taking curcumin. It has not helped me after a month.
I would like to know what other remedies your listeners have tried or used successfully to help neuropathy. I have been taking alpha-lipoic acid and Neurontin for years. My goal is to arrest its progression. I am terrified, as my mother became paralyzed from the waist down with neuropathy that began in the feet due to diabetes.
Consider Benfotiamine:
A. You might want to add benfotiamine to your regimen along with the alpha-lipoic acid you already take. This variant of the B vitamin thiamine prevents damage to blood vessels (Diabetes, Obesity & Metabolism, Dec., 2015).  It has also shown promise against neuropathy (Pharmacological Research, June, 2010).
Capsaicin Could Be Helpful:
You might also want to consider topical capsaicin, which can sometimes be helpful for easing nerve pain caused by diabetes (Journal of Pain, Jan. 2017). As you may know, capsaicin is what makes hot peppers hot. To relieve pain it must be applied several times a day, and some people find that challenging. A recent study concluded that it provides pain relief and helps nerves regenerate (Frontiers in Neurology, Oct. 26, 2022).
Check Your B-Vitamin Status:
Inadequate levels of vitamin B12 can contribute to peripheral neuropathy, so the next time your doctor runs tests, ask to have your vitamin B12 status checked. This is often a problem for people with type 2 diabetes, because the most common drug for this condition, metformin, can deplete the body of vitamin B12. Restoring it may help neuropathy.
Here's what it did for one reader:
"My fingers and toes started tingling unpleasantly about three months ago. My internist recently did blood work and found no diabetes or other abnormalities.

"When the nurse asked me if I was still taking my usual medicines and vitamins, she mentioned B12. It dawned on me then that I had discontinued it when I was suffering from a nasty coughing spell. The tingliness began about the time I stopped taking the vitamin B12.

"The doctor wanted to refer me to a neurologist, but I asked if I could delay that until I began taking B12 again to see if the tingling disappears. I've just begun, but it seems to be working. Others might like to know about this."
A combination of vitamin B1 (thiamine) and vitamin B12 with gabapentin (Neurontin) was equally as effective at alleviating pain as the neuropathy drug pregabalin (Lyrica) in a clinical trial (Journal of Diabetes Research, online Jan. 17, 2016). The gabapentin combination triggered less vertigo, however. Since you are already taking Neurontin, adding 100 mg of thiamine (or benfotiamine) and 20 mcg of vitamin B12 would get you close to the regimen the researchers used.