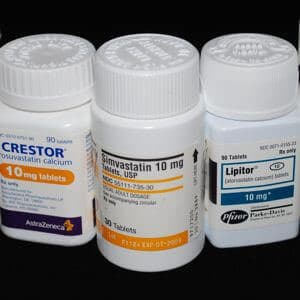 One cornerstone of preventive cardiology is controlling LDL (low-density lipoprotein) cholesterol levels. Doctors use statin drugs as their primary tools in this effort. Many people respond well to these medications, but some have trouble with statins and muscle pain. Are there other options for keeping the heart and blood vessels healthy?
Runner Requesting Natural Options:
Q. I'm 67 years old and have been a runner for 48 years. The test for my last physical showed my LDL was 200. In response, my physician prescribed atorvastatin (80 mg).
After taking this medicine for two months, I started having pain in my glutes and hamstring. The doctor attributed that to my running. It's been two months more and my pain persists. I now run (slowly) just one day a week.
What Can You Do About Statins and Muscle Pain?
My doctor told me to see a physical therapist for my pain. First, I decided to do a complete review of my numbers. My cholesterol to HDL ratio is 3.1, my triglycerides are 37, my HDL is 75 and my HsCRP is 0.29. These are all indicators that I am at low risk for heart disease. I also passed a stress test and had an echocardiogram that did not show any problems.
Are there natural options such as citrus bergamot that might be as effective as a statin without causing muscle pain?
A. Taking a drug that interferes with exercise is counterproductive. After all, physical activity is one of the best ways to stay healthy overall.
Your doctor prescribed "high-intensity" statin therapy, which is appropriate for patients at high risk for atherosclerosis and heart disease. The figures you have outlined suggest you are at relatively low risk. In light of your risk, perhaps they will consider a different dose or even a trial of a different statin.
Nondrug Alternatives for Lowering LDL:
In addition, there are many nondrug approaches to lowering your chance of developing heart disease. Few if any have been compared directly with statins, however.
First, following a Mediterranean diet, with an emphasis on olive oil as the main fat, has been proven helpful in studies. A Mediterranean eating pattern includes more nuts and fish as well as produce than red meat or dairy products.
If you are not taking medications, you might include red grapefruit in your diet (Metabolism, July 2012). Don't do this if you continue taking atorvastatin, however! Grapefruit can interact with atorvastatin to raise blood levels and increase the possibility of side effects.
Another possible option is bergamot, a citrus fruit that is popular in Italy. A systematic review of 12 studies shows that it can lower cholesterol, triglycerides and LDL (Critical Reviews in Food Science and Nutrition, 2020).
In addition, supplements such as psyllium and red yeast rice can also lower cholesterol, including LDL. Be cautious with red yeast rice, though: it contains compounds related to statins and may cause similar side effects.
You can learn much more about nondrug options from our eGuide to Cholesterol Control and Heart Health.
Earlier Considerations on Statins and Muscle Pain:
Jane Brody, the grande dame of medical journalism, asked: "Are you among the 73 million Americans with cholesterol levels that current guidelines suggest should be lowered by taking a statin for the sake of your cardiovascular well-being?" (New York Times, April 16, 2018). Ms. Brody went on to downplay the side effects of statins. But what about statins and muscle pain? Some people, like this reader, say that these drugs make them hurt too much to exercise.
Trouble with Statins:
Q. My doctor has prescribed a number of statins to lower my cholesterol. Simvastatin caused pain on top of pain. Lovastatin was okay for several weeks, but it too eventually caused both muscle and joint pain.
I cannot exercise when I hurt like this. I am ready to give up on statins because I think I am sensitive to all of these drugs. What else can I take to make my doctor stop prescribing statins?
Are Statins and Muscle Pain Related?
In her New York Times article, Jane Brody cited an "international team of researchers" writing in The Lancet (Nov. 19, 2016):
"exaggerated claims about side-effect rates with statin therapy may be responsible for its underuse among individuals at increased risk of cardiovascular events. For, whereas the rare cases of myopathy and any muscle-related symptoms that are attributed to statin therapy generally resolve rapidly when treatment is stopped, the heart attacks or strokes that may occur if statin therapy is stopped unnecessarily can be devastating."
These researchers are statin enthusiasts. We recognize that many cardiologists are in this camp. They sincerely believe that statins save millions of lives and have few, if any, side effects.
Should you wish to read what a cardiologist contrarian has to say, here is an article by Robert DuBroff, MD (American Journal of Medicine, Sept. 2018).  It is titled:
Statins and Muscle Pain? How Often?
The authors of The Lancet article above suggest that myopathy is a rare side effect and any muscle-related symptoms should disappear rapidly if statins are stopped. Not all doctors agree, however.
There is controversy about the actual incidence of something doctors call SAMS (statin-associated muscle symptoms.
 "is the most frequent SAS [statin-associated symptom] and mild myalgia may affect 5% to 10% of statin users."
Other investigators put the incidence of SAMS much higher (BMJ, Oct. 22, 2013).
How do Statins and Muscle Symptoms Impact Exercise?
If you ask any health professionals about the value of exercise for the heart and cardiovascular system you will get almost universal agreement. A study in JAMA Internal Medicine (June 9, 2014) reported that long-term use of statins in older men
"are associated with less physical activity for as long as statins are used."
You can read more details about this study in this article:
Rita Redberg, MD, MSc, is a leading cardiologist and the former editor of JAMA Internal Medicine.  She and a colleague wrote an intriguing article (JAMA Internal Medicine, Nov. 15, 2016):
The Debate Is Intense, but the Data Are Weak."
You can read the nuts and bolts here:
Do Statin Side Effects Make It Harder To Exercise?
In this article they note that statin side effects affect 5 to 20 percent of patients and include:
"muscle aches, weakness, fatigue, cognitive dysfunction, and increased risk of diabetes."
What Else Can People Do to Lower Risks?
There is little doubt that lifestyle changes are essential for heart health. We advised the person who asked the question at the top of this article to:
Consider adopting a diet that includes almonds or other nuts, soy protein instead of red meat and viscous fibers from plants like okra, eggplant, barley, oats and psyllium. Canadian researchers found that such a diet is as effective as lovastatin for lowering cholesterol (American Journal of Clinical Nutrition, Feb. 2005).
What's more, it lowers C-reactive protein, a measure of inflammation (JAMA, July 23, 2003).  A meta-analysis of seven trials shows that this dietary approach works well to lower LDL cholesterol and other cardiovascular risk factors without side effects (Progress in Cardiovascular Diseases, May 2018).
You can learn more about this diet and other non-drug approaches to lowering your cholesterol in our Guide to Cholesterol Control and Heart Health, available at www.PeoplesPharmacy.com.
Share Your Story Here, Please:
Have you ever experienced muscle pain or weakness? If so, do you think it was mostly psychological as Jane Brody seems to suggest in her New York Times article? Did the symptoms disappear rapidly as the researchers writing in The Lancet article suggest?
If you have tolerated statins well with no side effects we would like to hear from you as well. Thanks for sharing your story below in the comment section.