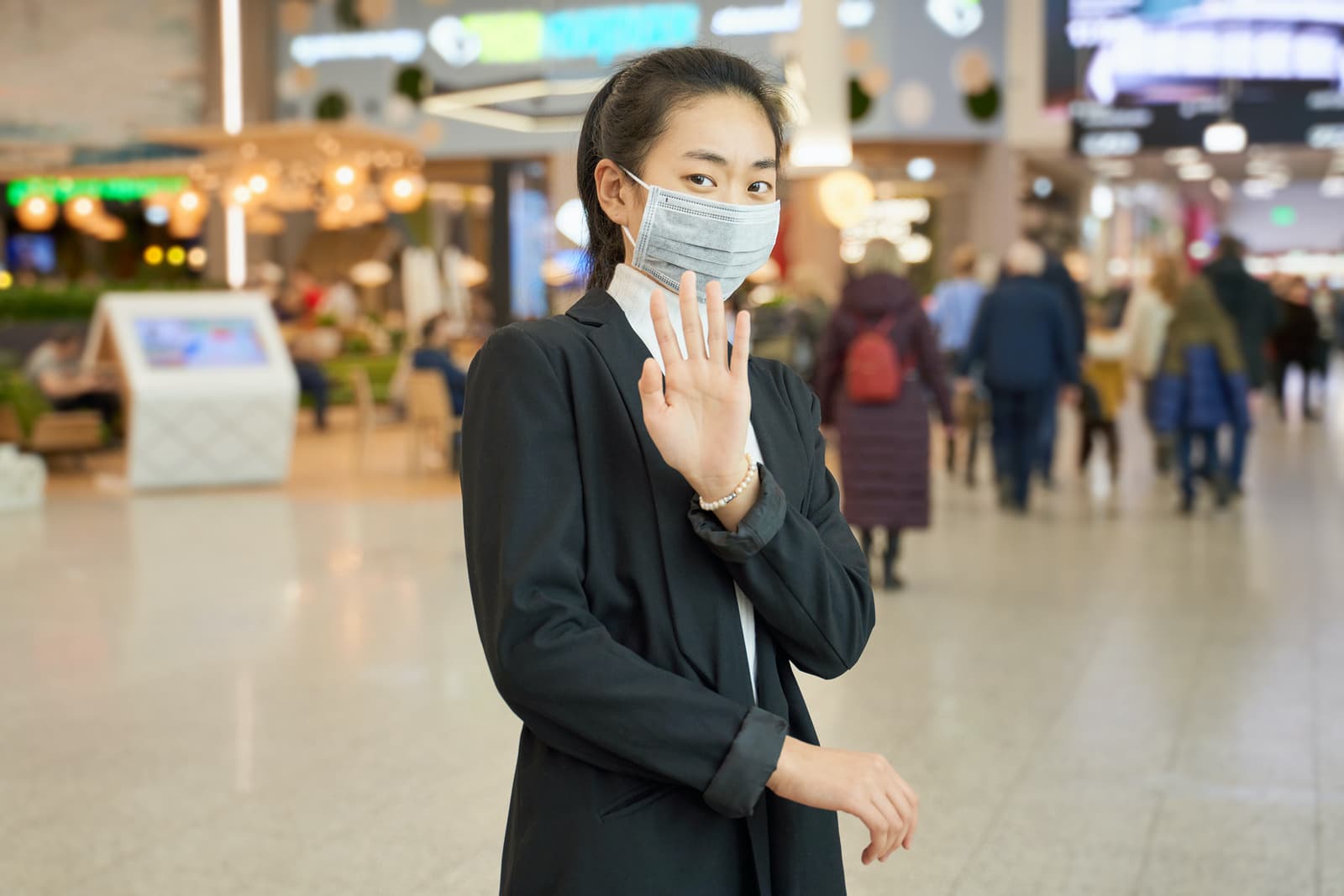 Female wears medical mask to protect against virus
There is growing evidence that the coronavirus may be transmitted more easily through the air than most public health officials imagined. They have not revised their recommendations to avoid wearing a face mask, however.
We bet you are not wearing a face mask if you go out in public. That's in part because our senior U.S. health authority, Surgeon General Jerome Adams, told you in a Tweet:
"STOP BUYING MASKS!"
"THEY ARE NOT effective in preventing general public from catching #Coronavirus"
There's another reason most Americans are not wearing a face mask. There aren't any to be had. Not only has there been a shortage for health care workers, the public cannot find face masks for love or money.
How Is the Virus Spread?
There was the soccer match between Italy and Spain in Milan. It has now been called "Game Zero." That because 40,000 rabid soccer fans were screaming, shouting and spreading the coronavirus.
The Mardi Gras in New Orleans was also a major event. Too many people in close proximity singing and shouting also spread the virus.
Public health authorities have blamed the rapid transmission of the coronavirus in these two instances to closeness. Undoubtedly there was hugging and maybe even some kissing. But we think aerosol transmission may also have played an important part.
The Deadly Choir Practice:
That's because of the Skagit Valley Chorale in Washington state. The choir conductor decided to go ahead with practice and informed the 121 members they could join him on March 10, 2020, at the Mount Vernon Presbyterian Church. About half the choir showed up.
Now here's the important part of the story. No one who attended was coughing or sneezing. They were "asymptomatic." The singers did not hug, shake hands or stand close together. They practiced physical distancing.
"A greeter offered hand sanitizer at the door, and members refrained from the usual hugs and handshakes.

"'It seemed like a normal rehearsal, except that choirs are huggy places," Burdick recalled. 'We were making music and trying to keep a certain distance between each other.'"

"After 2½ hours, the singers parted ways at 9 p.m."
Now we get to the scary part of the story. According to the LA Times, 45 out of 60 singers either developed symptoms consistent with COVID-19 or tested positive for the virus. Sadly, two have died.
The Controversial Explanation:
If one were to believe the World Health Organization and public health authorities in the U.S., this should not have happened. That's because we have been told that the virus doesn't linger in the air.
You are only supposed to catch COVID-19 if someone sneezes or coughs in your vicinity. That theoretically sends droplets into the air that you can breathe if you are close by.
A different explanation contradicts that theory. Droplets are big. Aerosols are tiny. Instead of falling to the floor quickly, they can stay suspended in the air for much longer. A study in the New England Journal of Medicine (March 17, 2020) suggested that viral particles could remain airborne in aerosols for up to three hours.
Get our take on this research at this link:
Public health authorities pooh-poohed this report. They said it was "experimental" and did not reflect the real-world situation. Now, the Skagit Valley Chorale provides a tragic real-world example of how aerosolized viral particles could be exhaled during singing and inhaled by people in the room.
If this is the explanation, it contradicts most public health pronouncements about viral transmissibility. You can read the full LA Times story at this link. 
Other Evidence Supports the Aerosol Hypothesis:
The new research from the University of Nebraska indicates that viral particles are found in the air even outside of negative pressure rooms. That should not happen at all if the only transmission were by droplets, but is understandable if aerosol particles are floating in the air. In addition, the study from MIT demonstrating just how far even droplets can travel in a sneeze, cough, laugh or shout suggest that six feet of distance is inadequate.
Would Wearing a Face Mask Help?
Most people in China, Singapore, South Korea and Taiwan believe in wearing a face mask during flu season. With the coronavirus on the loose, almost everyone in those countries is wearing a face mask in public these days. Just consider some of the videos you have seen from China. Virtually every shot shows people wearing a face mask, right?
Is it a coincidence that these countries hit early in the COVID-19 pandemic have successfully flattened their curves?
There, it is culturally inappropriate to go out in public without a face mask. People think it is rude. They might stare and would likely back away.
Now watch a video of people in the U.S. Or walk into any supermarket or pharmacy. Most people are not wearing a face mask. The ones who are get the stares. People back away from those wearing a face mask.
It is culturally inappropriate to wear a face mask in the U.S. and in Europe. That is partly because the public health authorities say it doesn't matter and might even be counterproductive.
The public is told to not even look for face masks because that might deprive health professionals of critical equipment. We get that. All our health care personnel should have access to high-efficiency face masks in sufficient quantities. But we think everyone should be wearing a face mask.
Does Wearing a Face Mask Make a Difference?
We cannot prove that China, Singapore, South Korea and Taiwan have flattened the COVID-19 curve by encouraging their populations to wear face masks. But some people are starting to question the public health experts' cavalier attitude towards face masks.
The Washington Post:
Here is the introduction by Jeremy Howard in The Washington Post (March 28, 2020). 
By the way, Jeremy is a heavy-hitter scientist and entrepreneur. Here is his bio at Wikipedia. 
"When historians tally up the many missteps policymakers have made in response to the coronavirus pandemic, the senseless and unscientific push for the general public to avoid wearing masks should be near the top.

"The evidence not only fails to support the push, it also contradicts it. It can take a while for official recommendations to catch up with scientific thinking. In this case, such delays might be deadly and economically disastrous. It's time to make masks a key part of our fight to contain, then defeat, this pandemic."
The New York Times:
"As the coronavirus pandemic rages on, experts have started to question official guidance about whether ordinary, healthy people should protect themselves with a regular surgical mask, or even a scarf.

"The World Health Organization and the Centers for Disease Control and Prevention continue to state that masks don't necessarily protect healthy individuals from getting infected as they go about their daily lives."
The article goes on to quote Dr. Neil Fishman, chief medical officer of the Hospital of the University of Pennsylvania:
"'If everyone in the community wears a mask, it could decrease transmission," Dr. Fishman said. "'But unfortunately I think that we don't have enough masks to make that effective policy in the U.S.'"
What Can You Do?
Donate:
If you have one or more of the healthcare quality N95 respirator masks, though, you might consider donating it to your local health care system. According to an article in The New York Times, donating protective supplies such as masks, gloves or hand sanitizer to health care facilities that are running short is a tremendous public service. Call your state health department if you have a large quantity. For smaller numbers, check your municipal or county health department websites, as they will have instructions if they need mask donations. Be sure to note that N95 masks have expiration dates.
Wear It:
If you have an ordinary face mask, wear it! Do not worry about funny looks from strangers. You are being cautious. They are being foolish. In the Czech Republic, which has recently embraced face masks as a social norm, the saying is: "My mask protects you. Your mask protects me."
Make One:
If you don't have a mask, you may want to improvise. British research suggests that homemade masks are better than nothing (Disaster Medicine and Public Health Preparedness, Aug. 2013). 
In his Washington Post article, Jeremy Howard suggests a double layer of T-shirt material can make a reasonable face mask. It should be washed daily. He also mentions a paper towel held on with rubber bands as a last ditch approach. Some people are using scarfs or bandanas like cowboys on a roundup. 
A silk scarf or ordinary bandana won't provide much protection. Here's an interesting review that suggests you should use an old pillowcase or T-shirt to construct you improvised mask. If you are handy with a sewing machine, you could make some for your family and friends. Here are instructions: https://www.instructables.com/id/AB-Mask-for-a-Nurse-by-a-Nurse/  and https://www.instructables.com/id/Olson-Mask-for-PPE-With-Filter-for-Personal-and-No/ and https://freesewing.org/docs/patterns/fu/ Keep in mind that every mask may become contaminated during wearing. Take it off carefully, drop it in the wash and wash your hands thoroughly for the approved 20-second sudsing.
The point of the exercise is to both reduce the likelihood that an asymptomatic person will spread the virus and the likelihood that you will breathe it in. If you both are wearing a mask it could help slow the spread of COVID-19.
You may want to watch this video from NPR with three tips on making your home-made mask more effective. Also, check out the Hong Kong hamster study that confirms a surgical mask can help deter infection.
What Do You Think?
Share your thoughts about wearing a face mask in the comment section below. If you think this article was worthwhile, please send it along to friends and family. We have tried to make that easy by providing icons at the top of this page to connect with email, Facebook and Twitter.