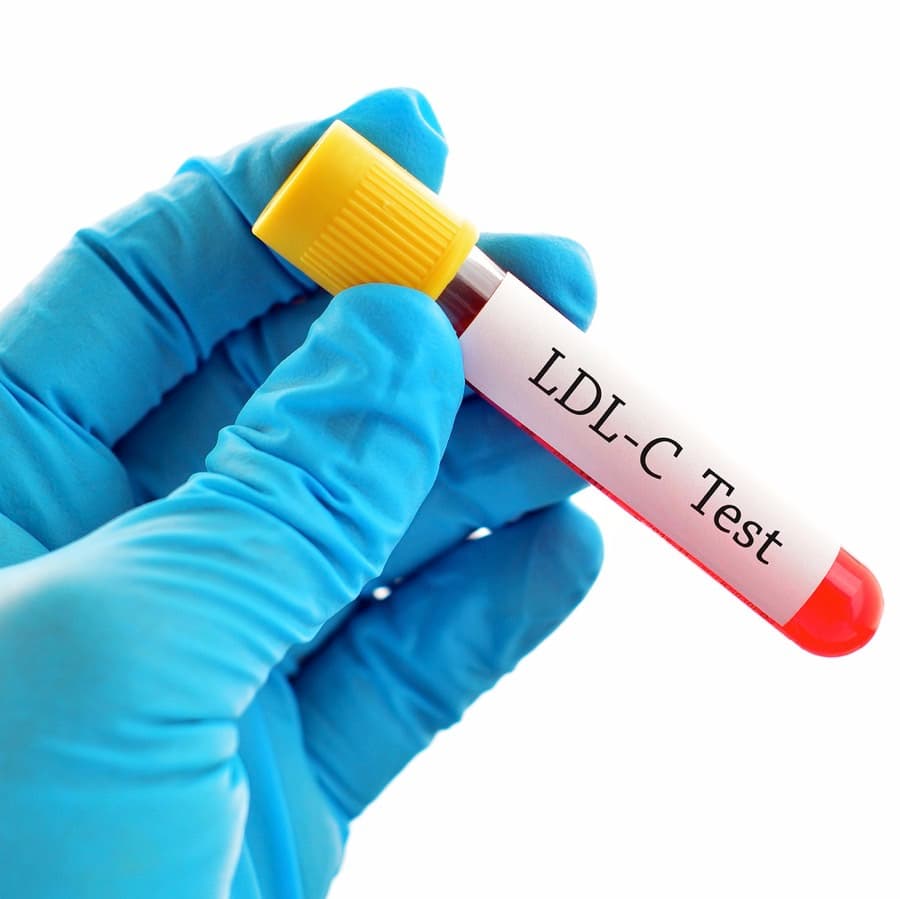 Test tube with blood sample for LDL-Cholesterol (LDL-C) test
Statin medications are used to lower cholesterol because that is considered a pillar of lowering the risk for a heart attack. While people likely to suffer a heart attack generally welcome the protection, others may weigh the complications from a statin drug against its potential benefits. One reader was very disappointed to develop a number of side effects, including elevated blood sugar, after taking rosuvastatin (Crestor).
Side Effects from Rosuvastatin:
Q. I had no problems with my blood sugar until I started taking rosuvastatin. The drug caused body aches and unexplained abdominal pain. I stopped taking it and felt much better. But my doctor said because of my borderline cholesterol I had to take statins.
After a year of taking statins my cholesterol levels are completely normal, but I have diabetes. My blood sugar is 216. I have body aches, leg cramps and extreme fatigue. Could the statins be responsible?
Rosuvastatin and Diabetes:
A. Statins like rosuvastatin or simvastatin can trigger diabetes (Current Atherosclerosis Reports, Oct. 11, 2017). Consequently, the benefits and risks should be considered carefully in each individual case. Rosuvastatin may also lead to stomach ache, muscle pain and weakness, just as you experienced. Many readers also complain of leg cramps.
There is significant debate about whether doctors prescribe statins too freely. Experts also disagree about the risks of diabetes from drugs like atorvastatin, simvastatin and other statins (Pharmacoepidemiology and Drug Safety, Oct. 2016). This warrants a serious discussion with your physician.
Learn More:
Our Guides to Cholesterol Control & Heart Health and Managing Diabetes offer other options for helping deal with these health problems. We have been concerned about this adverse effect of statins for years. Here is a previous reader's question:
Q. I have taken a number of statins to help control cholesterol and am currently on simvastatin. Over the years my blood sugar levels started to climb despite my efforts to eat a healthy diet and exercise.
My doctor recently diagnosed me with type 2 diabetes and prescribed metformin. It is giving me awful stomach pain, gas and diarrhea.
Now I am beginning to wonder whether the statins have caused my diabetes. My doctor says no, but I have read that they can. Maybe if I could lower my cholesterol without a statin, I wouldn't need metformin to get my blood sugar under control. Do you have any recommendations?
Lowering Cholesterol Without Statins Is Possible:
A. There is growing recognition that statin-type cholesterol-lowering drugs can raise blood sugar, especially at higher doses (Journal of the American Medical Association, June 22/29, 2011; The Lancet, Feb. 27, 2010; Journal of Clinical Pharmacy and Therapeutics, Aug. 2018). Some people may be more susceptible to this complication.
It may be possible to control your cholesterol with different drugs or with changes in your diet. Foods that can be helpful include pomegranates, walnuts, fish and olive oil. Supplements such as red yeast rice (which contains naturally derived statins in low doses) or psyllium may help. Avoiding high-carb foods often lowers triglycerides, cholesterol and blood sugar.