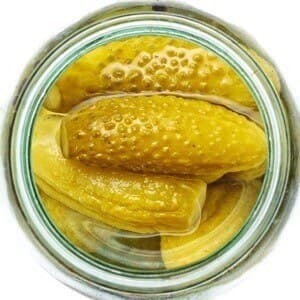 Modern medicine is skeptical of most home remedies. It relegates them to the category of anecdotal old wives' tales. Instead, prescribers prefer FDA-approved medicines that are supported by clinical trials.
We too like randomized, double-blind, placebo-controlled studies. But sometimes evidence comes in the form of experience, and sometimes experiments vindicate the old wives. That seems to be the case with pickle juice to treat muscle cramps. There is currently no FDA-approved drug to treat this painful condition.
Coaches Love Pickle Juice to Treat Muscle Cramps:
For years, coaches have kept pickle juice on hand for players who might experience leg cramps during a workout or game. No doubt this remedy is regarded as improbable by some medical personnel. However, exercise physiologists have done studies to see whether pickle juice to treat muscle cramps really works. What they found is that the old wives were right!
A new study by scientists at the University of Michigan, Cedars-Sinai Medical Center and Harvard Medical School was published in the respected American Journal of Gastroenterology (April 13, 2022).  The researchers enrolled 82 patients with liver disease that caused them frequent painful muscle cramps.
These individuals were told to sip the study liquid when a cramp began. A random process determined who got pickle juice and who got tap water. The patients also rated the severity of their cramps. By the end of the month, 74 people had completed the study. Those sipping pickle brine had significantly less pain from their cramps than those assigned to sip tap water.
Previous Studies of Pickle Juice to Treat Muscle Cramps:
This is not the first study to find that pickle juice could ease muscle cramps. In one, college students experienced cramps in their big toes triggered by electrical stimulation (Medicine and Science in Sports and Exercise, May 2010).  Those who got pickle juice had a significantly shorter cramp time than those ingesting water.
The scientists could find no evidence of any change in body fluids or electrolytes rapid enough to explain the benefit. In a separate study, researchers looked for changes in sodium or potassium concentrations (Journal of Athletic Training, May-June 2014). They found no changes in plasma levels within an hour of ingestion, although the cramps disappeared within minutes.
Does Pickle Juice Work Through Transient Receptor Potential Channels?
Increasingly, investigators have turned to transient receptor potential (TRP) channels for an explanation of how pickle juice might work. One research group recruited 39 individuals and induced muscle cramps in the triceps to test a potion that activates TRP channels (Muscle & Nerve, Sep. 2017). The product, containing cinnamon and capsaicin, made people more resistant to cramps, reduced the duration of the cramp and resulted in less post-cramp muscle soreness.
Such TRP triggers can result in a higher cramp threshold frequency, making people less susceptible to muscle cramps (European Journal of Applied Physiology, Aug. 2017). We suspect pickle juice and olive brine activate TRP channels. If they do, that could help explain why many readers have found them helpful.
People Who Use Pickle Juice to Treat Muscle Cramps:
Most readers don't really care why a home remedy works. What matters to them is that it does.
Here is just one example:
"I would like to comment on pickle juice for leg cramps. I live in a retirement home and asked the kitchen what they did with leftover pickle juice. 'Throw it away,' they said.

"Now they save it for me. I have about three medicinal sips before bed and seldom have a leg cramp!"
Pickle juice for an emergency:
"I experienced leg cramps that started in my toes and went up almost to my diaphragm. I tried sublingual homeopathic tablets without success.

"My son, a handball player, told me the professional handball players use pickle juice for cramps. I tried it when I was ready to call 911. (The pain under my diaphragm made it hard to breathe.)

"The pickle juice worked almost instantaneously. I now keep a bottle of it in my refrigerator at all times in case of an emergency."
If you would like to learn more about pickle juice and other unusual treatments for leg cramps, you could read our eGuide to Favorite Home Remedies.