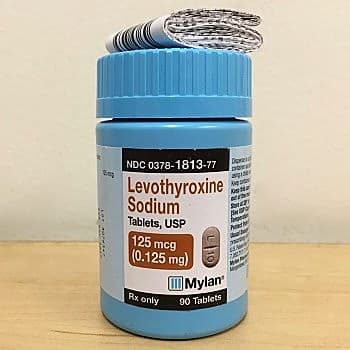 When the thyroid gland fails to produce enough hormone, it needs help. That is usually provided by a prescription for a thyroid hormone called levothyroxine. It is sold under brand names Synthroid and Tirosint.
We sometimes hear from people who had difficulties when they were switched from one formulation of the T4 thyroid hormone levothyroxine to another. Most often, these were patients who were started on the brand-name drug Synthroid and found that their symptoms did not respond in the same way to a generic levothyroxine pill. Recently, we heard from a person whose switch went in the other direction. This person discovered that levothyroxine and Synthroid are not interchangeable.
Switching Between Levothyroxine and Synthroid:
Q. I have hypothyroidism and have been taking generic levothyroxine for a few years. My doctor and I have struggled to find the correct dosage and recently settled on 125 mcg daily.
I asked my doctor to prescribe branded Synthroid because I read it is better. He did so, at the same dosage level as the generic.
Within one day of taking Synthroid, I feel as if I am about to explode. I am anxious and my heart is racing. I also have diarrhea. Is there an explanation?
Adjusting the Dose When Changing Between Levothyroxine and Synthroid:
A. We have heard from many people that switching from branded to generic levothyroxine or vice versa can result in symptoms. Excess thyroid hormone can cause rapid heart rate, sweating, anxiety, tremors, diarrhea and irritability. Such a switch may require a dose adjustment. Please get in touch with your doctor and request titration.
Controversy Over Differences Between Levothyroxine and Synthroid:
This topic has been controversial for decades. More than 20 years ago, a study determined that four different levothyroxine formulations, including Synthroid, were bioequivalent (Dong et al, JAMA, April 16, 1997). Although cost savings are the usual motivation for a switch to generic levothyroxine to Synthroid, a study of a large database of health records found higher rather than lower health care costs overall following such a change (Katz et al, American Health & Drug Benefits, March 2010).
The authors concluded:
"In the absence of cost-savings, there is no clear rationale for switching patients from brand to generic levothyroxine."
Of course, that study is now more than ten years old. GoodRx suggests that the bill for a month's supply of generic levothyroxine should run between $5 and $10. A month's worth of Synthroid would be over $50 at most pharmacies.
Can You Take Desiccated Thyroid Extract Instead?
Q. My insurance company won't pay for Synthroid to treat hypothyroidism. As a result, I took the generic levothyroxine that my pharmacy dispensed for several months.
I thought I was going to jump out of my skin as I had such a horrible reaction. My heart rate went way up and I had multiple bowel movements a day.
I learned that although generics have to use the main ingredient of brand names, they can use whatever fillers they want.
I have now been on Armour Thyroid for a few years. What a remarkable difference! I have so much more energy, but not the rapid heart rate and excess time in the bathroom that I had on the generic.
A. The FDA maintains that generic levothyroxine is the same as brand name Synthroid. FDA scientists recently collaborated with endocrinologists from Yale and the Mayo Clinic. They concluded that switching from one generic to another is fine (JAMA Internal Medicine, Feb. 28,2022). Your story is not unusual, however. We have heard from many readers that some generic thyroid pills do not behave the same as Synthroid.
Desiccated thyroid extract such as Armour, Westhroid, Nature-Throid or Erfa Thyroid contains both thyroid hormones, T4 (levothyroxine) and T3 (triiodothyronine). This makes a big difference for some people.
Learn More:
To learn more about different forms of thyroid medicines, lab test interpretation and symptoms of too little or too much thyroid, you may wish to read our eGuide to Thyroid Hormones.
You may also be interested in our radio interviews on thyroid health. In Show 1096, we discussed What You Need to Know About Treating Thyroid Disease with endocrinologist Antonio Bianco, MD, PhD, and patient advocate Mary Shomon. We also spoke with Dr. Bianco in Show 1196: What to Do If Thyroid Treatment Doesn't Work for You. Show 1289: Living with an Overactive Thyroid Gland discusses Graves disease.