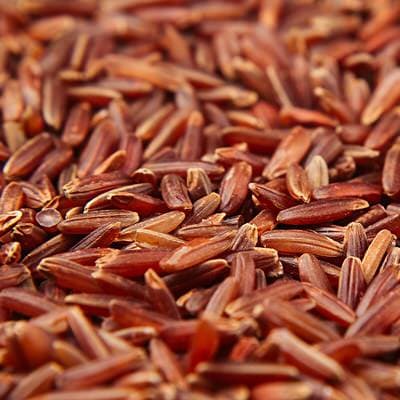 Tens of millions of people take statin-type cholesterol-lowering drugs. Many physicians believe such drugs are dramatically effective against heart disease. We will not deal with that controversial topic in this article. What a lot of readers want to know is whether red yeast rice is a viable alternative.
Are Supplements Laced With Statins?
Q. I was about to buy red yeast rice to lower my cholesterol when I saw an article that stated such supplements were laced with statins. That's why they work so well. Any truth to that?
A. Chinese cooks have long used red yeast rice (RYR) as a flavoring for food. Healers also used it to enhance circulation.
According to research, RYR naturally contains lovastatin, the ingredient found in the brand name cholesterol-lowering drug Mevacor. Consequently, the supplements are not necessarily contaminated or adulterated with statins; these compounds occur naturally in RYR.
Do they work? A scientific review of 30 studies reports that such preparations do reduce the risk for major adverse cardiovascular events (Frontiers in Pharmacology, Feb. 21, 2022). They are unlikely to work better than statins. However, because the dose is generally lower, people taking supplements might have fewer side effects.
Are RYR Supplements Unsafe?
Many physicians believe that dietary supplements in general and RYR in particular are unreliable or dangerous. They point out that the FDA doesn't do a very good job overseeing vitamins, dietary supplements or herbal preparations. We cannot disagree. The FDA has pretty much abdicated its responsibility when it comes to nondrug alternatives. Consequently, consumers have trouble determining which over-the-counter supplement is trustworthy (European Journal of Preventive Cardiology, Sep. 2017).
Research on Red Yeast Rice:
Nonetheless, several studies indicate that RYR components (primarily monacolin K) lower both total cholesterol and dangerous LDL cholesterol. One early study was a 24-week trial including 62 people who had developed muscle pain while taking statin drugs like simvastatin or atorvastatin (Becker et al, Annals of Internal Medicine, June 16, 2009). They took red yeast rice or a placebo twice daily. Investigators also coached them on healthy lifestyle changes. The people taking red yeast rice were able to reduce cholesterol and bad LDL cholesterol levels much more than those on placebo. The supplement did not trigger increased muscle pain.
An Italian study compared the cholesterol-lowering effects of a Mediterranean diet alone or in combination with red yeast rice (Evidence-Based Complementary and Alternative Medicine, Dec. 23, 2013). The six-month trial demonstrated that people who followed a Mediterranean diet lowered their cholesterol levels. Adding red yeast rice brought cholesterol down even further.
Another study examined the effects of a combination of red yeast rice with olive extract (BMC Complementary and Alternative Medicine, March 10, 2015). In this randomized controlled trial, people taking Cholesfytol plus lowered their total cholesterol, apolipoprotein B and triglycerides significantly. One person did develop debilitating muscle pain.
Several recent reviews call for better regulation of OTC red yeast rice and further research. Most, however, consider this to be a functional food that can be a useful part of the armamentarium (Hunter & Hegele, Nature Reviews. Endocrinology, May, 2017; Nguyen, Karl & Santini, Foods, March 1, 2017;  Patti et al, Current Pharmaceutical Design, 2017; Johnston et al, Pharmacological Research, June 2017).
A Reader Wants to Know About Red Yeast Rice:
Q. Ten years ago, I had a heart attack. I was sent home from the hospital with eight different prescription medications.
Within two months, I felt like a 90-year-old arthritic, although I was only 55 at the time. I told my doctor about the effects of the medications. He took me off of one med each week to see if there was a change.
He determined that simvastatin was causing the problem, but he said I could not stop taking a statin for cholesterol control. I chose to switch to over-the-counter red yeast rice instead.
Within two days the side effects ceased. Within six months, my cholesterol had dropped 50 points. I also changed my diet to include lots of fruits and vegetables, stopped eating processed foods and reduced my salt intake. Most important, I started walking five days a week for at least 30 minutes per day.
I am no longer on any prescription drugs and my health is very much improved. As Hippocrates said, "Let food be thy medicine and medicine be thy food."
A. Red yeast rice (RYR) has been used in Chinese cuisine for over 1000 years. It has also been used in Chinese medicine for indigestion and circulation.
Modern research has demonstrated that RYR contains statin-type compounds and lowers cholesterol (Atherosclerosis, June 2015).  Although it acts much like simvastatin on blood lipids, RYR is less likely to cause muscle aches and fatigue (BMC Cardiovascular Disorders, online May 18, 2017). One systematic review of 10 Chinese studies found that the cholesterol effects of red yeast rice and simvastatin were not significantly different (Ong & Aziz, Journal of Clinical Pharmacy and Therapeutics, Apr. 2016).
David Z related his experience:
"I quit taking statins and began a regime of: heaping tablespoon of Metamucil before breakfast; home-made granola with home-ground flax, barley flour, and sesame seed; 500 mg of niacin 2/day; 600 mg of red yeast rice 2/day.

"My overall cholesterol was 154 but my HDL was 24. With the new diet & combination of pills it moved to 150 overall and 39 HDL. I'm satisfied with the results."
Side Effects from RYR:
Some people are so sensitive to statins, however, that they react even to RYR. Here are some stories from readers to provide some perspective on this dietary supplement:
Barry in North Carolina had liver issues:
"I used red yeast rice for about a year to help lower cholesterol. I had no muscle pain, but was turned down for insurance when a blood test found mildly elevated liver enzymes.

"After stopping the supplement the liver tests returned to normal in just a few weeks, and I was able to get the insurance I applied for. I always prefer a 'natural' remedy when one is available, but we all need to remember that just because a chemical occurs in nature, that doesn't mean it will always be harmless."
Cindy reports muscle problems on RYR:
"After experiencing intolerance to Lipitor, Crestor and some other statins, I tried RYR. Unfortunately, it produced the same side effect.

I have been off it for about three years, but my joints and muscles have not totally recovered."
Bonnie has a similar story:
"I used red yeast rice for about 6 months after I was taken off Lipitor and Crestor because of muscle pain in my legs. The red yeast rice kept my cholesterol levels in check, but my leg pain came back big time. It has been several months since I stopped the red yeast rice, but my legs are still not back to normal."
When Statins and Red Yeast Rice Aren't Tolerable:
We offer more information about this and other nondrug approaches to cholesterol control in our book, Quick & Handy Home Remedies. It is available in our bookstore.
If you like the idea that Hippocrates proposed thousands of years ago, "Let food be thy medicine and medicine be thy food," then you will find our other books of great interest too:
Spice Up Your Health: How Everyday Kitchen Herbs & Spices Can Lengthen & Strengthen Your Life
and
Recipes & Remedies from The People's Pharmacy
We discuss the pros and cons of statin-type drugs in our book:
Share your own RYR or statin story below in the comment section.