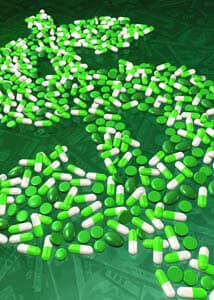 How effective is your medicine? This seemingly simple question is surprisingly complex. In many cases a pill's benefits are barely detectable.
Before a drug can be approved by the Food and Drug Administration, its maker must demonstrate that it is "safe and effective." That's the law. The trouble is that the legal definition used by the FDA may be quite different from the way most people understand "safe and effective."
The FDA's Definition of Effective is Bizarre:
The agency requires that most medications be tested in two randomized controlled trials. The active compound has to be statistically better than an inactive sugar pill.
That doesn't mean it has to be very effective, though. It may be necessary to use complicated statistics to detect a difference that is almost invisible to most patients.
This is clearest when we look at important outcomes such as survival or disappearance of disease. Many medicines are able to move markers such as cholesterol, blood pressure or blood sugar, but they don't necessarily change how long or how well a person lives.
Statins: Incredibly Popular but How Effective?
As just one example, let's consider statins. Many physicians consider them lifesavers and one of the greatest advances in modern medicine. According to the Agency for Healthcare Research and Quality (AHRQ), a division of the U.S. Department of Health & Human Services, statins are among the most prescribed drugs in the country.
In its Statistical Brief #458 (November 2014) AHRQ reports on Trends in Statin Therapy among Adults (Age ≥ 18), United States, 2000 to 2011:
The number of adults (age ≥ 18) who reported using prescribed statins increased from an average 17.6 million annually in 2000-2001 to 40.8 million in 2010-2011.
The number of statin prescriptions filled by adults (age ≥ 18) increased from an average 102.2 million annually in 2000-2001 to 237.9 million in 2010-2011.
Among adults (age ≥ 18), annual total expenditures (in constant 2011 dollars) for all statins rose, on average, from $11.5 billion in 2000-2001 to $21.6 billion in 2010-2011."
Do statins deserve their reputation and popularity?
Billion dollar drugs like atorvastatin (Lipitor), fluvastatin (Lescol), lovastatin (Mevacor), pitavastatin (Livalo), pravastatin (Pravachol), rosuvastatin (Crestor) and simvastatin (Zocor) lower cholesterol levels extremely well, but do they actually improve and prolong life? After all, that is presumably the point of the exercise.
An analysis published in BMJ Open (online Sep. 24, 2015) found that in the most important randomized controlled trials of statins:
"The survival gains we found are surprisingly small. The highest value was 27 days, found in the 4S study, achieved by 5.8 years of simvastatin therapy in participants with a history of unstable angina or myocardial infarction [heart attack]."
Put another way, the survival advantage from taking a statin is modest, far less than most physicians imagine. By and large, patients have no idea that the "median postponement of death" attributed to statins is between three and four days.
Wait! Please stop and consider that last statement again. When a doctor puts a patient on a statin the expectation by the prescriber and the patient is that this medicine will ultimately prolong life substantially by preventing a heart attack, stroke or some other bad event.
"Death was postponed between -5 and 19 days in primary prevention trials and between -10 and 27 days in secondary prevention trials. The median postponement of death for primary and secondary prevention trials were 3.2 and 4.1 days, respectively."
[Primary prevention usually means the study subjects were otherwise healthy people who had elevated cholesterol levels. Secondary prevention means that subjects had already experienced one heart attack or had been diagnosed with heart disease. Most experts support statins for secondary prevention. Primary prevention with statins has been controversial for years.]
In discussing the significance of these startlingly small benefits the authors note:
"Experience from studies of preferences, when presented with similar scenarios, shows that as many as 70% of lay persons would not accept such a treatment."
What About Statin Side Effects?
The authors conclude:
"…if the patient has intolerance or unpleasant side effects from statins, for example, muscular problems, physicians should not be too insistent on the patient continuing them. Also, for patients whose life expectancy is short, the benefit of statin therapy in terms of survival gain may be quite limited."
What About Billion Dollar Drugs for Depression?
Antidepressants are another example of billion dollar drugs that don't always measure up to expectations. Meta-analyses of randomized controlled trials of antidepressants show that these drugs are statistically better than placebo (Contemporary Clinical Trials, July, 2015). According to the authors, however, their benefits are barely noticeable in everyday life.
Another group of researchers analyzed both published and unpublished results from clinical trials involving antidepressant medications. In this meta-analysis of drugs like fluoxetine, nefazodone, paroxetine, and venlafaxine they discovered that the newer generation antidepressants they reviewed were no more effective in relieving mild to moderate depression than placebos (PLoS Medicine, Feb. 2008). The conclusion they shared:
"Given these data, there seems little evidence to support the prescription of antidepressant medication to any but the most severely depressed patients, unless alternative treatments have failed."
How Good Are Drugs for Nail Fungus?
Nail fungus is not life threatening, but many of the prescription medications used to treat it are not particularly effective. They are pricey, however.
Television commercials for efinaconazole (Jublia) make it seem as if this topical medicine can tackle tough toenail fungus because the FDA approved it. Dig a little deeper into the official prescribing information, though, and you will learn that it takes 48 weeks of daily applications to achieve a compete cure of the fungus in 15.2 to 17.8 percent of the people using it. Given the price of this medicine, many patients would anticipate a much higher cure rate.
Patients expect that when their doctors prescribe a drug, it will work for them. By work, they assume it will relieve the malady or prolong their life. Physicians need to become familiar with the data on true effectiveness of the medicines they prescribe so that they can be honest with their patients about what to expect.
Please share your own experience and thoughts on drug effectiveness in the comment section below and please vote on this article at the top of the page.