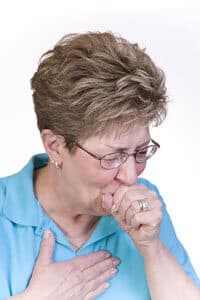 Cough, woman with glasses coughing
Q. I was given a prescription for lisinopril last year to lower my blood pressure. During the winter I developed a constant horrible dry cough that just wouldn't go away.
One day at work I started coughing and couldn't stop. It was so bad that the secretary called 911.
Various doctors tested me for sleep apnea (negative), throat polyps (negative), allergies (none) and lung function (normal). I couldn't quit coughing.
On my own I dropped the lisinopril and within a week my cough vanished. I am upset that I was put through so many expensive tests when the real problem was a common drug side effect.
A. Hundreds of readers have reported a similar experience with ACE inhibitor blood pressure drugs like benazepril, captopril, enalapril, lisinopril, quinapril and ramipril. Some have lost bowel and bladder control from coughing so hard.
Because blood pressure control is essential to prevent heart attacks and strokes, we are sending you our Guide to Blood Pressure Treatment, which summarizes the pros and cons of medications and non-drug approaches. We don't advise anyone to stop blood pressure medication without their doctor's knowledge and supervision.
It is disappointing that you saw so many doctors who failed to correctly identify your cough as a common drug side effect. We consider this a major medical mistake. It is one that happens way to often. If you would like to learn more about how to avoid such devastating complications we suggest our autographed book, Top Screwups Doctors Make and How to Avoid Them. In it you will learn about the most common mistakes doctors make when prescribing medications. You will also find out about the most dangerous drugs in the drugstore and how to avoid deadly drug interactions. Protect yourself and those you love.
It should be possible to control high blood pressure without intolerable reactions. We are still astonished that so many specialists overlooked your medication as a cause for uncontrollable coughing. Every medical student in the country learns that ACE inhibitors like lisinopril can cause a bad cough. Every physician should know this. If doctors cannot recognize such a common side effect with such a frequently prescribed medication we shudder to think what else they are forgetting or ignoring when it comes to adverse drug reactions.