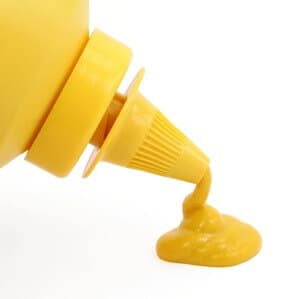 We learn so much from our listeners, readers and visitors. They like to share the results of the home remedies that others have recommended. One of the most popular remedies is yellow mustard to ease the pain of a burn. We recently heard from a reader who uses yellow mustard on cuts to speed healing.
Yellow Mustard Offers First Aid Against Kitchen Mishaps:
Q. Decades ago, a friend from India taught me to keep curcuma (what we call turmeric) at hand in the kitchen for first aid. He told me to dab the powder on a cut. The spice should stop the bleeding and work as an antiseptic.
I found the same spice in regular yellow mustard. This is a far easier way to apply turmeric and keep the remedy in place.
Curcumin Cuts Inflammation:
A. We have learned quite a bit about turmeric and its active ingredient curcumin against inflammation. We were surprised to find that it also has antimicrobial (antiseptic) properties (Current Pharmaceutical Design, 2020).
We've certainly heard from people who've put yellow mustard on a burn, after cooling it with cold tap water. It's fascinating to think mustard might also be helpful for cuts.
Another reader found a different use for yellow mustard:
"The yellow mustard contains turmeric, which is an anti-inflammatory. That's why it works on burns and also on mosquito bites. It really reduces the itch!"
Mustard Is a Favorite Home Remedy:
Q. Yellow mustard on burns is probably my favorite home remedy. I apply it after running the burn under cold water and drying the skin. Then I replace the mustard as it dries. I've never had a blister or even redness the next day. This is the best remedy for anyone who often cooks or bakes.
A. We first heard about mustard for burns during our syndicated public radio show. A man from South Carolina called in to tell us that plain yellow mustard helps minor skin burns heal faster. We tried to talk him out of it, insisting that cold water was the only doctor-approved approach for mild burns. He insisted that mustard could also be helpful.
A reader of this column heard about the remedy and wrote to us in 2010:
"I just want to say thank you. I burned the tip of my finger last night. I immediately put it in ice water. After about an hour it still hurt if I took my finger out of the ice water, but it was time for bed.

"I looked it up on your website and saw that yellow mustard might be good for a burn. I put mustard on my finger. I was amazed that the pain went away and I was able to go to bed pain free. This morning there is just a little white area where the burn was."
Although we do not know why it works, many share your experience. A serious burn requires emergency medical attention!
Yellow Mustard for a Burn:
Q. A couple nights ago I accidentally grabbed the metal handle of a pot right out of the oven. The pain of the burn was intense.
I immediately grabbed the soy sauce and poured some over the burn, with not much relief.
My husband handed me a gel ice pack out of the freezer. The pain came back as soon as I took it off.
I ran upstairs to my computer, got on the People's Pharmacy website and found the yellow mustard remedy. I immediately got the jar from the fridge, put a generous amount of mustard on the burn and wrapped it with gauze bandage. Relief was immediate. By bedtime, the pain was completely gone and the burn was barely pink.
The next morning, my hand looked and felt perfectly normal–no pain, no discoloration. If I hadn't experienced it myself, I'd never believe anything so improbable could work.
Keep It Simple:
A. We first heard about this remedy from a listener to our radio show. He recounted a time decades ago when his twin brother fell against a wood stove. They were far away from medical assistance, so his grandmother slathered the burn with cold yellow mustard. There was no blistering.
We want to emphasize that cold tap water or ice water–not ice–should always be first aid after grabbing a hot handle or similar misfortune. Other remedies such as soy sauce or yellow mustard should not be used until the skin has been cooled with water. We're glad you also got relief from yellow mustard. A severe burn should always be treated as a medical emergency.
Some people have wondered if brown mustard or fancy Dijon mustard will work as well. From what we hear from readers, cheap yellow mustard works best.
Mustard in a Glove for a Burn:
Here is another innovation we heard from a reader:
Q. My husband recently grabbed a hot pan from the stove. His fingertips were VERY red and beginning to blister. He immediately ran them under cold water. When he sat down, I gave him a bowl of cold ice water to put his fingers in. That got to be too much after a while.
I suggested going to urgent care, but he wouldn't. So I used a remedy you have described. I found a disposable nitrile glove and squirted yellow mustard into the fingers. He grudgingly agreed to wear it and kept it on for about two hours. He took it off and gingerly washed his hands before bed.
The next day his fingers looked fine–no blister, no pain, all normal. He said, "I thought it was a crazy idea, but it really worked."
A. We first heard about the mustard remedy from a caller on our nationally syndicated public radio show. He insisted that applying plain mustard to a burn would both ease the pain and reduce the redness. In fact, he insisted that fancy dijon mustard wouldn't work well.
Although we were initially skeptical, many readers have subsequently described benefit. We have not done a head to head test, but we suspect that cold, inexpensive yellow mustard is best.
Your use of disposable gloves is a cool twist. Keep reading for another person's similar experience.
Mustard Soothed Power Outage Burn:
Q. During a power outage, I burned four fingers while removing hot glass from a kerosene lantern. I first used cool water, then soy sauce without much relief. I quickly went to your website and searched on burns. I found the mustard remedy.
I put on a sterile plastic glove and squirted yellow mustard in the fingers and left this on for an hour. Immediate relief!
A. We're glad this remedy helped. Cool or cold water is first aid for a burn, but many readers have told us that following this up with yellow mustard or soy sauce can greatly ease the discomfort. A caller to our radio show recently described using plain table salt on the burn, leaving it on until it cakes off.
Still other people have been enthusiastic about applying Elmer's white glue after cooling the burn in water. We are not quite sure why any of these work, but glad the popular mustard remedy helped you. Putting mustard in the fingers of a plastic glove is an innovation that other readers may wish to adopt. Make sure that you treat any burn with cold water first, and determine if it is serious enough to require emergency medical treatment.
Abigail liked this idea:
"Thanks for the tip of using a (disposable) sterile plastic glove. Having my palm slathered with mustard is awkward. The yellow mustard did take away the pain. Worked better than aloe vera. First I grabbed an ice pack out of the freezer. I think it did stop the burn. Will try immersion in cold water next time."
"Dumb move: grabbed a VERY hot cast iron pan that had been on the stove for awhile
Smart move: grabbed yellow mustard from the fridge
Results: I JUST remembered that I did that !!! no pain…much gain !!!!"
VSD wrote:
"I suffered a severe steam burn one evening. Cutting open a piece of aloe vera, I taped it onto the burn. The pain soon disappeared. However, after keeping it on overnight, there was absolutely no sign of the burn the next morning. Complete healing. I now keep aloe vera plants for use in case of a burn; also, when they grow large and fan-shaped, they're a very attractive plant."
Susan commented:
"I burned the back of my calf on a hot tailpipe – the burn was very painful and large. There was no water or ice to apply to the burn for three hours. As soon as I got home, I remembered the yellow mustard remedy I'd heard about on your show, so I applied a liberal amount to the back of my leg and wrapped up the area with plastic wrap. The pain subsided within minutes, and never came back. The burn did not blister as it normally would have, and after a month or so, there was no mark or scar."
Learn More:
If you would like to learn more about additional treatments for mild household burns and other common ailments, you may be interested in The People's Pharmacy Quick & Handy Home Remedies.