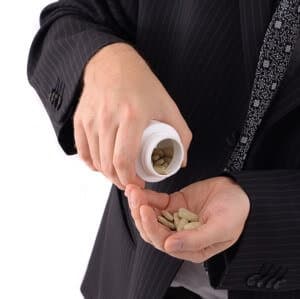 The dirty little secret is out. No one is minding the store when it comes to vitamins, minerals, herbs or dietary supplements.
Are you taking a multi-vitamin? What about specific nutrients like vitamin C, vitamin D, calcium or magnesium? Do you take herbs or supplements such as glucosamine, turmeric (curcumin) or fish oil? Do you have any idea what's in your supplement? Chances are you rely on the label, but that may be quite misleading.
Do not count on the FDA to monitor your vitamins, herbs or dietary supplements. They don't seem to have the motivation or the resources to analyze what is on drug store and health food store shelves. And many Americans would prefer that the FDA not meddle. Trouble is, burying your head in the sand and pretending everything is fine and dandy is not the answer.
Fortunately, researchers at the Kaiser Permanente Center for Health Research in Portland, Oregon did the FDA's job. The results [published in JAMA Internal Medicine, online, Feb. 11, 2013] reveal something shocking. What's in the pills often does not match what's written on the label.
Erin LeBlanc, MD, MPH, was studying the impact of vitamin D on menopausal women. She and her colleagues obtained special vitamin D3 pills from a compounding pharmacy. To be on the safe side, Dr. LeBlanc had the pills analyzed. To her dismay she stumbled across a serious complication… "we found that compounded vitamin D3 (cholecalciferol) supplements varied significantly in potency." This preliminary study uncovered amazing variability:
"Only one-third of our compounded study pills met US Pharmacopeial (USP) Convention standards, which require that compounded pills contain 90% to 110% of the active ingredient."
Instead of stopping there, this discovery led Dr. LeBlanc and her colleagues to go shopping in five Portland stores. They purchased 55 bottles of over-the-counter vitamin D3 from 12 different suppliers. Five bottles were supposed to be identical because they all had the same lot number. Five bottles had different lot numbers and doses ranged from 1,000 IU to 5,000 IU as well as 10,000 IU. In addition, these researchers obtained vitamin D from a compounding pharmacy (1000 IU and 50,000 IU). They then analyzed the potency of the various vitamin D products.
The results should send shivers up and down your spine:
"The potency of pills from different lots ranged from 9% to 140% of the stated dose."
In other words, some of the tested pills had barely any vitamin D at all while others had substantially more than promised. But here's the kicker. Dr. LeBlanc also analyzed "1 pill from each of 5 bottles with the same lot number." In theory, these vitamins where all made by the same company on the same production line at the same time (hence the same lot number). The "potency ranged from 57% to 138%." In other words, these supposedly identical pills weren't identical at all.
The specially compounded vitamin D was also way off target:
"The compounded 50, 000-IU cholecalciferol tablets contained 52% to 105% and the 1000 IU compounded tablets 23% to 146% of the expected dose. Only one-third of pills were within 10% of the expected dose, which is the USP Convention standard for compounded pills."
We don't know about you, but when we buy vitamins, supplements or over-the-counter medications we expect them to fall within the 90% to 110% limits set by the USP Convention. Actually, we expect even better. If we are going to buy 200 mg of ibuprofen, we expect that our pills will have 200 mg of ibuprofen, not 18 mg [9%] or 280 mg [140%]. Why should we put up with anything less for vitamins or supplements?
The conclusion of Dr. LeBlanc and her crew:
"The cholecalciferol [vitamin D3] content of OTC and compounded vitamins was highly variable; potency ranged from 9% to 146%. In our test, just over one-half of OTC pills and only one-third of compounded pills met USP Convention standards…Pill variability may also threaten validity of vitamin D trials that use compounded pills to blind participants. As more people take vitamin D supplements, it is critical that health care providers and patients understand that cholecalciferol potency may vary widely."
In truth, it is unlikely that such lack of quality would harm patients unless they were severely vitamin D deficient and took a product that was dramatically sub-potent. But the real concern here is that this may just be the tip of the iceberg. Clearly the FDA is NOT guarding the henhouse. No one is…not even the fox.
If Dr. LeBlanc had not done some preliminary testing that piqued her concern and curiosity, we would never know that there was such a quality control problem with vitamin D3 pills. So, what about other vitamins, minerals, herbs and dietary supplements? ConsumerLab.com tested multivitamins a few years ago and found that roughly a third of the analyzed products were either contaminated or had substantially more or less than the labeled dose of ingredients.
So, is your fish oil fishy? What about other supplements? Once we open this door, we have to ask about over-the-counter medications? If the FDA is not testing products off the shelf the way Dr. LeBlanc did, how can we be assured that they contain what they claim or don't contain some contaminant that should not be there?
Here is the other dirty little secret. The FDA is NOT routinely checking on much of anything. The feds do NOT randomly buy medications off pharmacy shelves (OTC or prescription) and test for quality. What that means is that consumers are pretty much on their own whether it is a vitamin, an herb, a supplement or a drug. ConsumerLab.com does test a variety of vitamins and supplements. You can access their full reports for a price ($33 for a year's subscription). They analyzed calcium supplements (including vitamin D, vitamin K and magnesium). Several failed to meet quality standards. ConsumerLab also recently tested 35 fish oil products for quality. Roughly one third (11 out of 35) failed the tests.
THE BOTTOM LINE ON SUPPLEMENTS:
Based on Dr. LeBlanc's study in JAMA Internal Medicine, we have a problem. Without someone minding the store, we cannot trust our vitamins, minerals, herbs or other dietary supplements. Unlike other countries where there is close federal oversight (Australia is WAY ahead of us in this regard), Americans are pretty much on their own.
Should you wish to learn more about vitamin D3 in general, you may find our Guide to Vitamin D Deficiency of value. We would recommend that you get your vitamin D naturally, by spending some time outside in the sun with your skin exposed. At this time of year, though, that may not be practical if you are in an area where the temperature is freezing and the sky constantly overcast. The guide will tell you about the right tests to ask for, how to interpret the numbers from the lab and the amount of vitamin D3 you should be taking if you could trust the label.
We would also like to hear your story about vitamins, minerals, herbs, dietary supplements and medications (OTC as well as prescription). Have you ever had a problem with quality control? How did you determine that there was a problem? Please comment below.