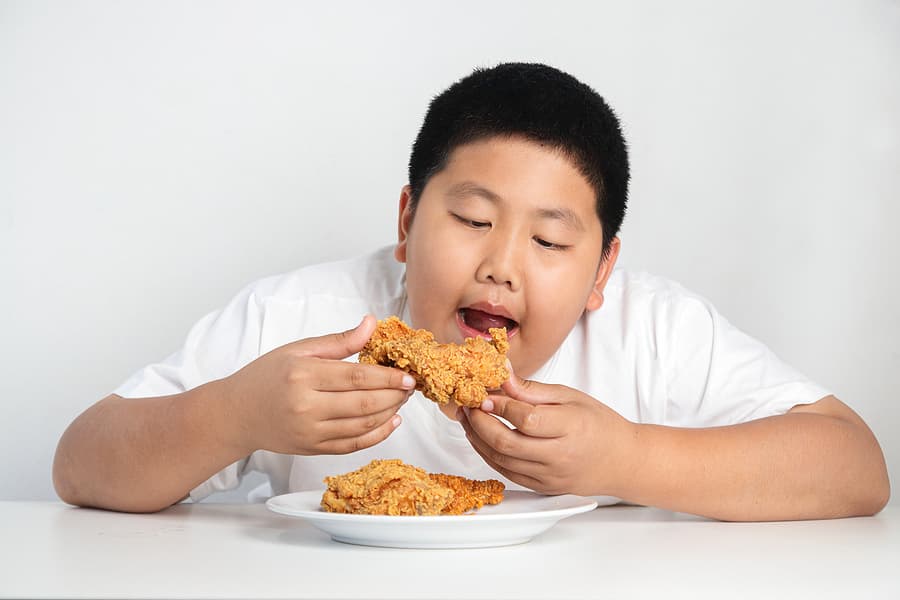 Doctors worry when children gain weight, because losing it later often proves difficult. A new analysis of data from the National Health and Nutrition Examination Survey (NHANES) shows that more American youth are becoming obese (JAMA Pediatrics, July 25, 2022).
Data on Youngsters Becoming Obese:
This information is from several separate studies. Consequently, it doesn't apply to individual kids. Scientists collected data in 2011 to 2012, 2013 to 2014, 2015 to 2016 and 2017 until early 2020 when the pandemic set in. They measured the height and weight of children from two to 19 years of age and calculated their body mass index. Nearly 15,000 youngsters participated in the survey.
Rates of Obesity Increased:
Between 2011 and 2020, obesity rates went from 18 percent to 21 percent among boys and from 17 percent to 22 percent among girls. Both the youngest age group of children 2 to 5 years old and the oldest, with teens 12 to 19 years old saw significant increases in obesity.
Why Does This Matter?
Childhood obesity has been associated with metabolic risks throughout life. Accordingly, the authors call for research into effective prevention.
What Might Explain Why Children Are Becoming Obese?
Earlier research utilizing NHANES data suggests that diet could play a big role. Nutrition experts express the importance of eating plenty of unprocessed foods such as vegetables, fruits, legumes and whole grains. A study showed, however, that American children and teens get two-thirds of their calories from ultra-processed foods (JAMA, Aug. 10, 2021). That proportion has increased substantially over the last 20 years.
What Are American Children and Teens Eating?
The data analyzed come from the National Health and Nutrition Examination Survey of almost 34,000 American children and teens between 1999 and 2018. Most ultra-processed foods have less fiber and more sugar and salt than their unprocessed counterparts.
What Are Ultra-Processed Foods?
How can you tell if a food is ultra-processed? Check the ingredient list. Simple foods like an apple or a carrot, for example, are minimally processed. If the box lists only ingredients you've got handy in your own kitchen, or even better, those your grandmother would have used, it is not ultra-processed.
When you spot terms like hydrolyzed proteins, high-fructose corn syrup or hydrogenated vegetable oil, it's ultra-processed food. Examples include crunchy packaged snacks, candy, crackers or cookies. Even familiar ready-to-eat and ready-to-heat foods count as ultra-processed. Consider sweetened breakfast cereal, French fries and fast-food burgers. These accounted for the greatest increase in calories for American children and teens. They may well be contributing to our youngsters becoming obese.
Drop in Soda Pop:
One bright spot: calories from sweet soda pop and sweetened juice dropped by about half. The researchers note that increasing consumption of ultra-processed foods makes it easy for youngsters to get too many calories.
Cutting Sugar Can Help Kids Stay Healthy:
Luckily, research suggests that simply cutting the amount of sugar in their diets could help young people stay healthy. It might even keep them from becoming obese. Scientists discovered that removing much of the sugar from youngsters' diets, even if calories and weight stay the same, has remarkable benefits for their metabolic health (Obesity, Oct. 26, 2015).
What the Researchers Did:
The 43 children in the study were 9 to 18 years old. They were obese youngsters with high blood pressure or cholesterol or fat accumulated in their livers.
In this experiment, the kids got diets with the same amount of calories they were accustomed to eating, but less sugar from soft drinks and sweets. There were no health foods, but there were low-sugar versions of junk food such as baked potato chips, pizza and turkey hot dogs. During the intervention, sugar made up only about 10 percent of the calories in their diets compared to about 28 percent before the study began.
What They Found:
Over 10 days, triglycerides, blood pressure and LDL cholesterol dropped significantly. Both blood sugar and insulin were lower as well.
Some Children Lost Weight, Too:
A few of the youngsters did lose weight because they didn't feel hungry enough to eat all the food they had been given. But even the kids who lost no weight had metabolic benefits. This study demonstrates the damaging effects of sugar, especially fructose, in children's diets.
Could Environmental Contaminants Contribute to Childhood Obesity?
Bisphenol A, or BPA, is associated with obesity in children (JAMA, Sept. 19, 2012). The linings of cans for foods and beverages often contain this compound, as do many plastic containers. Scientists suspect BPA is an endocrine and metabolic disruptor.
Scientists collected data on urinary BPA, height and weight in 2003 and 2004 from almost 3,000 youngsters as part of a national health and nutrition study. Statistical analysis showed that higher levels of urinary BPA were far more common among the most overweight children. Those with the highest levels of BPA were more than twice as likely to be obese.
The authors note that
"this is the first report of an association of an environmental chemical exposure with childhood obesity in a nationally representative sample."
A cross-sectional study like this one cannot determine causation. No one knows if BPA contributes to kids becoming obese or whether heavier children eat more foods with BPA in them. Nonetheless, it seems prudent to reduce exposure when feasible.
What Are the Consequences for Children's Health?
For children as for adults, one risk of becoming obese is a greater chance of developing diabetes. The diabetes epidemic in children and adolescents is increasing at an unparalleled rate. Both type 1 and type 2 diabetes have become more common. In the first decade of the 21st century, the incidence of type 2 diabetes in young people rose by 35% (JAMA, May 7, 2014). A new study in JAMA Pediatrics shows that the incidence of prediabetes in young people 12 to 19 years of age has also doubled over the past 20 years (JAMA Pediatrics, March 28, 2022). In 1999, it was 11.6 percent. By 2018, it had risen to to over 28%.
In other words, more than one in four adolescents are now at risk for developing diabetes. As they get older, they may also be prone to its complications. Prediabetes, as the name suggests, often precedes diabetes. Frequently people with fasting blood sugar between 100 and 125 mg/dL are overweight. We can expect the incidence of type 2 diabetes among young people to increase, given this rise in prediabetes.
Boys were more likely than girls to have prediabetes. Heavy youngsters were also more susceptible to this diagnosis, especially those classified as obese. The initial study published in 2014 found that Hispanic youth were especially vulnerable. However, no children are exempt from this rapid escalation in diabetes.
Why Is the Incidence of Type 2 Diabetes Going Up?
Some experts point to increased screen time, reduced physical activity and exposure to highly processed foods as all contributing to this worrisome condition. Other environmental factors may also play a role, including differences in gut bacteria linked to dietary changes. Researchers have not chemical pollutants have been specifically identified as culprits, though prior research suggests that endocrine disruptors might contribute to the increase in obesity. Infections, particularly COVID, are also suspect.
Learn More:
In our hour-long interview with Dr. Mark Hyman on The Blood Sugar Solution, he described a number of dietary approaches that can be beneficial for youngsters as well as adults in lowering the chance of developing type 2 diabetes. You may wish to listen to the mp3 for more convenient reference to the trove of information.
Avoiding ultraprocessed food, especially foods high in sugar and refined carbohydrates, might be one good step. In addition, parents should be reassured that full-fat dairy products such as milk and yogurt are not a leading cause of weight gain in kids.
We discussed the link between COVID and diabetes with Dr. Mitchell Lazar in Show 1275: The Vicious Cycle of COVID and Diabetes. Our eGuide to Preventing & Treating Diabetes addresses adults, but some of the non-drug approaches may also be helpful for adolescents.