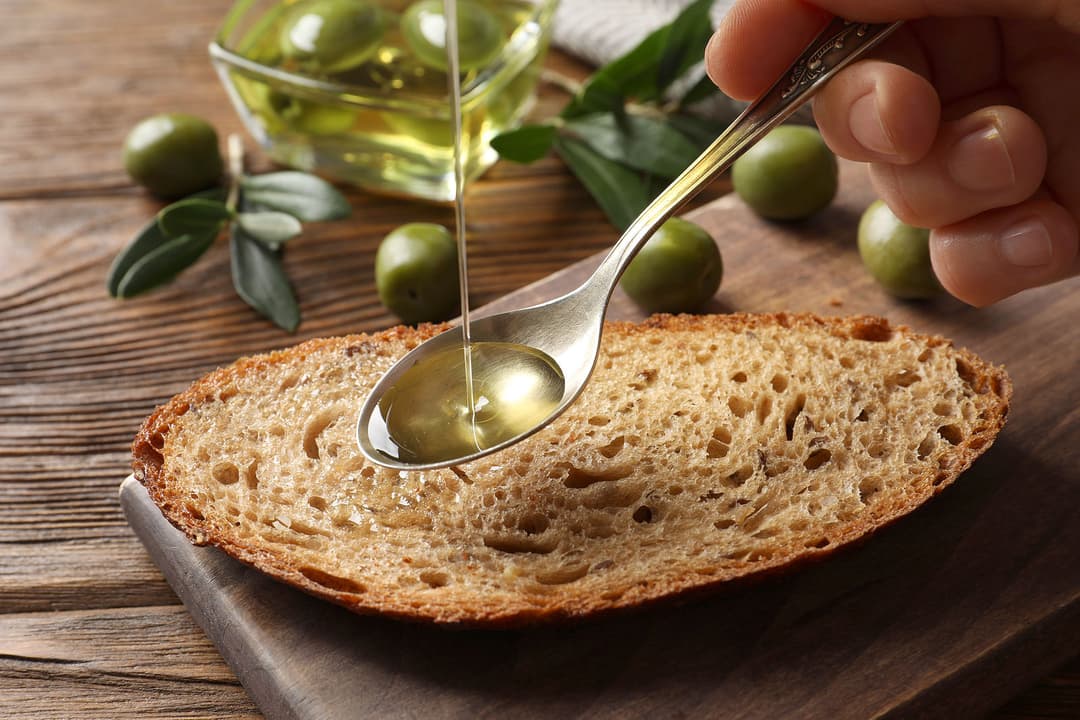 We have been writing about the health benefits of olive oil for decades. A study in the January 18, 2022 issue of the Journal of the American College of Cardiology (JACC) suggests that as little as half a tablespoon of olive oil might reduce mortality from heart disease, cancer, neurodegenerative diseases and respiratory illness.
How Much Olive Oil Is Enough?
Adding a bit of olive oil to your daily salad could help you live a longer, healthier life. That's the inference from data published in JACC. Harvard scientists tracked more than 60,000 women in the Nurses' Health Study and more than 30,000 men in the Health Professionals Follow-up Study.
The volunteers filled out detailed dietary questionnaires every few years for nearly three decades. During the study, 36,850 of the participants died.
In analyzing the data, the researchers determined that those who consumed at least half a tablespoon of olive oil a day achieved some pretty impressive health benefits.
Here is what they found, in their own words:
"Compared with those who never or rarely consume olive oil, those in the highest category of olive oil consumption (>7 g/d) had 19% lower risk of total and CVD mortality, 17% lower risk of cancer mortality, 29% lower risk of neurodegenerative mortality, and 18% lower risk of respiratory mortality."
That was over the 28 years of the study.
7 Grams = Half a Tablespoon of Olive Oil:
When most Americans read 7 grams of olive oil a day they probably wonder how much that is in something they can relate to. A tablespoon of extra virgin olive oil is equal to about 13.7 grams. So just about half a tablespoon of olive oil daily is what it would take to reap the health benefits of this staple of the Mediterranean diet.
If you dip your bread in olive oil instead of spreading butter on it, you can easily achieve the goal. Or if you use olive oil in your salad dressing you are home free. We like to cook with olive oil, so that's another way to get more than a half a tablespoon of olive oil daily.
OK, I can hear your doubts about cooking with olive oil. Many people have heard that if you cook with olive oil you will ruin its health benefits at best and convert the oil to something dangerous at worst. Wrong! Here is a link to the answer to this question.
How Does Half a Tablespoon of Olive Oil Help?
The authors of the article in the JACC suggest that the monounsaturated fatty acids and phenols in olive oil:
Have anti-inflammatory and anti-atherogenic activity
Help promote a healthy gut microbiome
Improve the flexibility of blood vessels
Improve blood lipids
Enhance insulin sensitivity
Improve blood sugar control
Reduce blood pressure
Not the First Time Olive Oil Wins:
The authors of the recent study note that:
"An inverse association between olive oil consumption and risk of CVD [cardiovascular disease] has been well established in large prospective cohort studies and large clinical trials, especially in Mediterranean and European countries."
In addition, the authors note:
"We also observed a lower risk of neurodegenerative and respiratory disease mortality. Few prior studies have reported on these associations; however, some evidence suggests that olive oil consumption may reduce cognitive decline. In the Three-City Study, participants who consumed more olive oil had a lower risk of cognitive deficit for verbal fluency and visual memory."
The investigators calculate that substituting half a tablespoon of olive oil for mayonnaise, margarine, butter or other dairy fat would significantly lower mortality.
An Editorial Confirms the Benefits of Half a Tablespoon of Olive Oil Daily:
An accompanying editorial in the Journal of the American College of Cardiology (Jan. 18, 2022) reminds cardiologists that:
"Olive oil is the cornerstone in the Mediterranean diet…"
This eating pattern with its emphasis on vegetables, fruits, legumes, fish and whole grains has been associated with a lower risk of heart disease and cancer. The PREDIMED study randomized more than 7,000 Spanish adults at high risk for heart disease.
One group consumed a Mediterranean diet enriched with at least 4 tablespoons a day of extra virgin olive oil daily. Another group followed a similar diet but added an ounce of nuts a day instead of olive oil. The control group was supposed to follow a low-fat diet. Those consuming olive oil or nuts were significantly less likely to have cardiovascular problems or die during the study.
You can learn more about the PREDIMED study and How to Stay Healthy with a Mediterranean Diet at this link.
Olive Oil and Cancer Prevention:
There was another article this week that reviewed the benefits of olive oil against cancer (PLoS One, Jan. 11, 2022).
The authors concluded:
"The present systematic review and meta-analysis comprising data from 45 individual studies reveals that, overall, highest versus lowest olive oil consumption was associated with 31% lower cancer risk. Significant protection was noted for breast, overall gastrointestinal, upper aerodigestive and urinary tract cancer.

"Increasing evidence supports that olive oil constituents convey protection against the development of several types of cancer."

"In conclusion, the results of this meta-analysis represent valuable evidence of the protective effects of olive oil against cancer development."
If you would like guidance on how to follow a Mediterranean-style diet, you might enjoy our book, The People's Pharmacy Quick & Handy Home Remedies. It includes details on the DASH diet, the Mediterranean diet, and a low-carb diet. You will find it in our bookstore at this link.
We would like to request a small favor. If you found this article of interest, please pass it along to family and friends. With so much bad news these days it's nice to be able to share some good news. If you scroll to the top of the page you can click on the icons for email, Facebook and Twitter to send to your community. Thank you for spreading the word and supporting our work. Please encourage folks to sign up for our free newsletter.