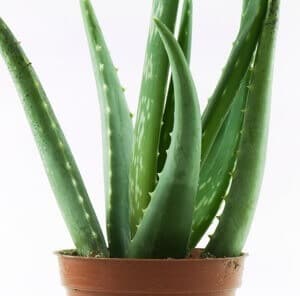 People who want to control their blood sugar with natural products have quite a few to choose from. Keep in mind, though, that herbs and spices that can lower blood sugar might well interact with prescription drugs used to treat type 2 diabetes. Anyone taking such a supplement needs to monitor blood sugar closely.
This reader made an interesting and unexpected discovery:
Aloe Vera Gel Capsules Had Surprising Effect on Blood Sugar:
Q. I have started taking aloe vera gel capsules. My blood sugar has dropped from 220 down to 120. I think that's something worth reporting. Have you ever heard of such a reaction?
A. Aloe vera gel from the inner part of the leaf has been shown to lower blood glucose. In one randomized double-blind, placebo-controlled trial, aloe vera gel lowered blood sugar, HbA1C and cholesterol significantly (Planta Medica, March, 2012). HbA1c is a longer-term measure of blood sugar control, so this finding is encouraging.
Anyone who wants to try this should stick with aloe vera gel capsules. Aloe vera leaves also contain a latex compound that is a powerful laxative. This may be found in some aloe vera juices and could cause severe diarrhea.
Other Natural Products That Lower Blood Sugar:
There are a number of other plant-based products that can be helpful in lowering blood sugar. Eating a diet that minimizes processed starches and sugars is the first place to start; then, one could consider aloe vera gel or a supplement such as one of these:
Bitter Melon:
One is bitter melon, Momordica charantia. This tropical plant is native to India and has been used in Ayurvedic medicine. As the name implies, it has a bitter flavor, but is used in both cooking and medicine in China, India and some parts of the Caribbean. Researchers are considering whether drugs based on its active components might be useful in treating type 2 diabetes in the future (Organic & Biomolecular Chemistry, April 21, 2015).
Chromium:
This essential mineral is needed in tiny quantities to maintain good health. Chromium picolinate supplements have been promoted to aid blood sugar control (approximately 200 micrograms/day). The research has been somewhat equivocal, but a recent small randomized study showed that chromium supplementation lowered blood sugar after meals and also reduced HbA1c (Journal of Trace Elements in Medicine and Biology, Oct., 2015).  A review of studies of chromium for diabetes resulted in a cautiously optimistic overall evaluation (Journal of Clinical Pharmacology and Therapeutics, June, 2014).
Cinnamon:
This common kitchen spice has been recommended for improving blood sugar control in people with diabetes as well as those with pre-diabetes or high HbA1c. A recent review concluded, "Cinnamon has the potential to be a useful add-on therapy in the discipline of integrative medicine in managing type 2 diabetes" (Journal of Nutrition, Oct. 16, 2015). The authors note, however, that Ceylon cinnamon (Cinnamomum zeylanicum) would be a safer choice than Chinese or cassia cinnamon (Cinnamomum cassia) due to its lower level of coumarin. Over the long term, this component of Chinese cinnamon could harm the liver.
Fenugreek:
Fenugreek (Trigonella foenum-graecum) is unfamiliar to many Americans, but it has long been used in the Middle East and India as a food. It has a reputation for blood sugar control that may be well-earned. A recent three-year study of people with pre-diabetes found that those receiving 5 gr of fenugreek powder twice a day before meals were four times less likely to develop diabetes than those who did not get fenugreek (Journal of Diabetes and Metabolic Disorders, Oct. 2, 2015). A previous randomized controlled trial had also shown that fenugreek seeds improved glucose metabolism and serum lipid profiles (International Journal for Vitamin and Nutrition Research, 2014).