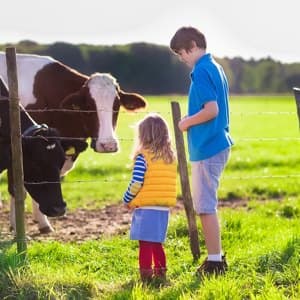 Epidemiologists have observed that children who grow up on farms are less susceptible to allergies than their urban counterparts. (Our previous report on this interesting phenomenon is below.) Now a Dutch study shows that you don't have to be a farmer to benefit from living near livestock.
You Don't Have to Be a Farmer to Live Near Livestock:
A study of over 2,400 Dutch people found that overall, nearly 30 percent had allergies measurable by IgE (Borlée et al, Occupational and Environmental Medicine, June 2018). Those who lived within about a thousand feet of a farm were less likely to have allergies. In other words, fewer of them had hay fever, asthma, eczema or other conditions associated with high IgE levels than those who lived further away This did not apply if the farm in proximity had chickens rather than cattle or pigs. People who had grown up on farms got the most protection from living near an active farm.
Old Friends?
One possible explanation for the protection from allergies might be the exposure to a range of microbes associated with the animals. These bacteria may help train the immune system to be less reactive to environmental allergens. Some scientists have termed these barnyard microbes "old friends" that have been teaching the human immune system how to behave for millennia.
Farm Kids Are Less Likely to Have Asthma:
A study in The New England Journal of Medicine suggests that children may benefit from early exposure to certain bacteria (New England Journal of Medicine, Feb. 24, 2011). The study compared German and Bavarian children growing up on farms to those with no exposure to farm animals. Children who lived on farms were less likely to have asthma or eczema.
Farm kids also showed evidence of more microbial exposure. The more types of microbes kids were exposed to, the less likely they were to have asthma. Early exposure to a broader range of germs seems to explain why such youngsters are less likely to develop breathing problems later in life.
Learn More:
You may wish to listen to our interview with Dr. Daphne Miller, who discusses this topic among numerous others. It is Show 959: Farmacology–What Farmers Can Teach Us About Health.