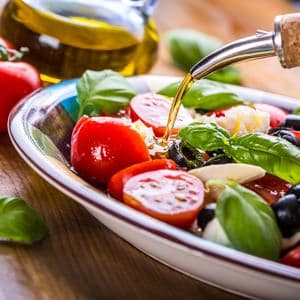 A diet rich in fruits, vegetables, nuts, beans, olive oil and fish is good for the heart. Several studies of the Mediterranean diet have demonstrated its benefits for the brain. Some studies suggest that a modified Mediterranean diet might work even better to help you avoid dementia. But not all the trials provide the same rosy picture.
Cognitive Function and Modified Mediterranean Ketogenic Diet:
This trial, published in the journal Alzheimer's & Dementia, compared a modified Mediterranean ketogenic diet to a low-fat American Heart Association-type diet (Alzheimer's & Dementia, April 5, 2023). The researchers recruited 20 older people with prediabetes. Nine of them also had mild cognitive impairment. Then, the investigators randomly assigned the volunteers to follow one of these diets for six weeks. There was then a six-week washout period and following that, another six weeks on the alternative diet.
Five times during the study, researchers examined stool samples for gut microbes. The study was too small to generalize to all people with cognitive impairment. However, the scientists concluded that a modified Mediterranean ketogenic diet seems more likely to help people avoid dementia. A modified Mediterranean ketogenic diet is low in carbohydrates and rich in healthy fats such as olive oil.
What You Eat May Help You Avoid Dementia:
Investigators who have completed previous studies agree that a diet rich in olive oil and vegetables following the Mediterranean model may avoid dementia.
The Health and Retirement Study:
The same diet that protects the heart may reduce cognitive impairment as people age. Roughly 6,000 older Americans participating in the Health and Retirement Study took tests to assess their cognitive function. They also recorded data about their diets. Those who stuck closely to a Mediterranean-type diet or a MIND diet were 35 percent more likely to do well on the tests (Journal of the American Geriatrics Society, April 25, 2017).
What Is the MIND Diet?
The MIND diet combines features of the Mediterranean diet with the DASH diet. The name stands for "Mediterranean-DASH Intervention for Neurodegenerative Delay." This eating plan includes plenty of leafy vegetables, berries, beans, nuts and fruit. In addition, people consume whole grains, fish and occasionally chicken. The primary fat is olive oil, and people may drink some wine with meals. People on a MIND diet avoid fried foods, sweets, butter, margarine, cheese and red meat. In a meta-analysis of 13 studies, older individuals following a MIND diet had better cognitive function than those on other diets (Critical Reviews in Food Science and Nutrition, 2022).
The Women's Health Initiative Memory Study:
Other studies also support the MIND diet to avoid dementia. Participants in both the Women's Health Initiative Memory Study and those in the Rush Memory and Aging Project experienced less cognitive decline if they followed a MIND diet (Nutrients, July 3, 2022). Genetic susceptibility also played a role in determining who was able to avoid dementia.
Disappointing Results from the MIND Diet:
So far, all the studies we've described have offered encouragement. Recently, though, researchers published the results of a randomized controlled trial with 604 participants (New England Journal of Medicine, Aug. 17, 2023). The volunteers passed their initial cognitive tests without difficulty, but they had a family history of dementia and were overweight. Before participating in the trial, their diets were not great.
The researchers assigned 301 people to follow the MIND diet and 303 to a control diet. All the diets had reduced energy so that people would lose weight. After three years, all the volunteers had gotten better at the cognitive assessments, possibly a function of becoming more familiar with the tests. Although those in the MIND diet group scored better than those in the control group, the difference was not statistically significant. Consequently, we need to moderate our enthusiasm. Perhaps it takes longer than three years for diet to make a difference. Or perhaps this randomized trial demonstrates that something else about people who follow a Mediterranean or DASH style diet may protect them from cognitive decline.
Learn More:
If you would like guidance on a DASH diet or a Mediterranean diet to help you keep your blood pressure and heart healthy and avoid dementia, you can find it in our book, Quick & Handy Home Remedies.