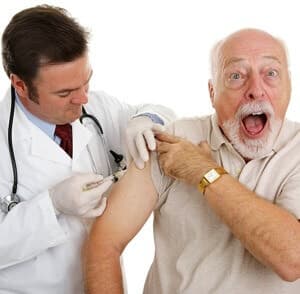 Americans are being urged to roll up their sleeves for this year's flu shot. The CDC suggests that people call ahead to make sure there is vaccine available. The reasons to be vaccinated against flu are to help you fight off the infection yourself, and to help protect others from influenza. Will you get a flu shot this year?
How Effective Is the Influenza Vaccine?
Readers of our syndicated newspaper column and subscribers to our newsletter know that we have generally been disappointed in the effectiveness of flu shots. Here is just one example of our concerns:
Flu Vaccine Failures Are Quickly Forgotten
Public health authorities don't like to talk about flu vaccine failures. But the ability of the flu virus to mutate can lead to disappointing results.
Influenza vaccines don't carry the political baggage of COVID vaccines. Most people have not waged war over flu shots. 
COVID vaccinations have been over 90% effective. That was before the Delta variant. But even now, the vaccines have been surprisingly good at keeping people out of the hospital and away from death's doorstep.
We've been tracking influenza vaccine effectiveness for many years. Here is a summary of what we have discovered:
Vaccine Effectiveness in Past Years:
2004-2005: Vaccine Effectiveness was: 10%
2005-2006: Vaccine Effectiveness was: 21%
2006-2007: Vaccine Effectiveness was: 52%
2007-2008: Vaccine Effectiveness was: 37%
2008-2009: Vaccine Effectiveness was: 41%
2009-2010: Vaccine Effectiveness was: 56%
2010-2011: Vaccine Effectiveness was:  60%
2011-2012: Vaccine Effectiveness was:  47%
2012-2013: Vaccine Effectiveness was: 49%
2013-2014: Vaccine Effectiveness was: 52%
2014-2015: Vaccine Effectiveness was: 19%
2015-2016: Vaccine Effectiveness was: 47%
2016-2017: Vaccine Effectiveness was: 42%

2017-2018: Vaccine Effectiveness was: 38%
2018-2019: Vaccine Effectiveness was: 29%
2019-2020: Vaccine Effectiveness was: 39%
2020-2021: Vaccine Effectiveness was not calculated in part because there was so little influenza.

Overall Effectiveness:             40%
COVID-19 Vaccines vs. Flu Vaccines:
How do COVID jabs compare to flu shots? There is no contest, right? Influenza vaccines are less than half as effective as COVID vaccines. And some years the flu vaccine success rate is downright dismal. At least that is the way we would interpret an effectiveness rate of 19% – 29%.
We don't understand why most Americans have been enthusiastic about influenza vaccines with hardly any pushback but find the COVID vaccines so scary. No drug or vaccine is perfectly safe.
If you watch any television, you regularly see commercials for medications that can cause heart attacks, strokes, liver damage, cancer and death. We don't see people protesting about the dangers of those drugs.
And trust me when I tell you that there are very few drugs that have a 90% effectiveness rating. If a medicine is 20-30% better than placebo, the executives at the drug company that develops it will jump for joy.
Will You Get A Flu Shot This Year?
Last year the US had a very low level of flu, possibly because of the precautions people were taking against COVID-19 transmission. Likewise, Australia has had an extremely light flu season during their 2021 winter, which has just ended. Australia is usually a good predictor of what we will see a few months later.
Vaccine manufacturers have had to guess what influenza virus might be prevalent this year. They may have guessed right or they may have guessed wrong. It is, as my father would say, a crapshoot.
If people maintain precautions against COVID transmission, we might have another light flu season this year. However, many American children have come down with respiratory syncytial virus, another airborne infection, since they started back to school. Flu virus circulates in much the same way.
Public health authorities recommend that you should get a flu shot by the end of October. That way you will be protected ahead of the Thanksgiving or Christmas travel season. We can only hope that the this year's vaccine will turn out to more effective than those of past years.