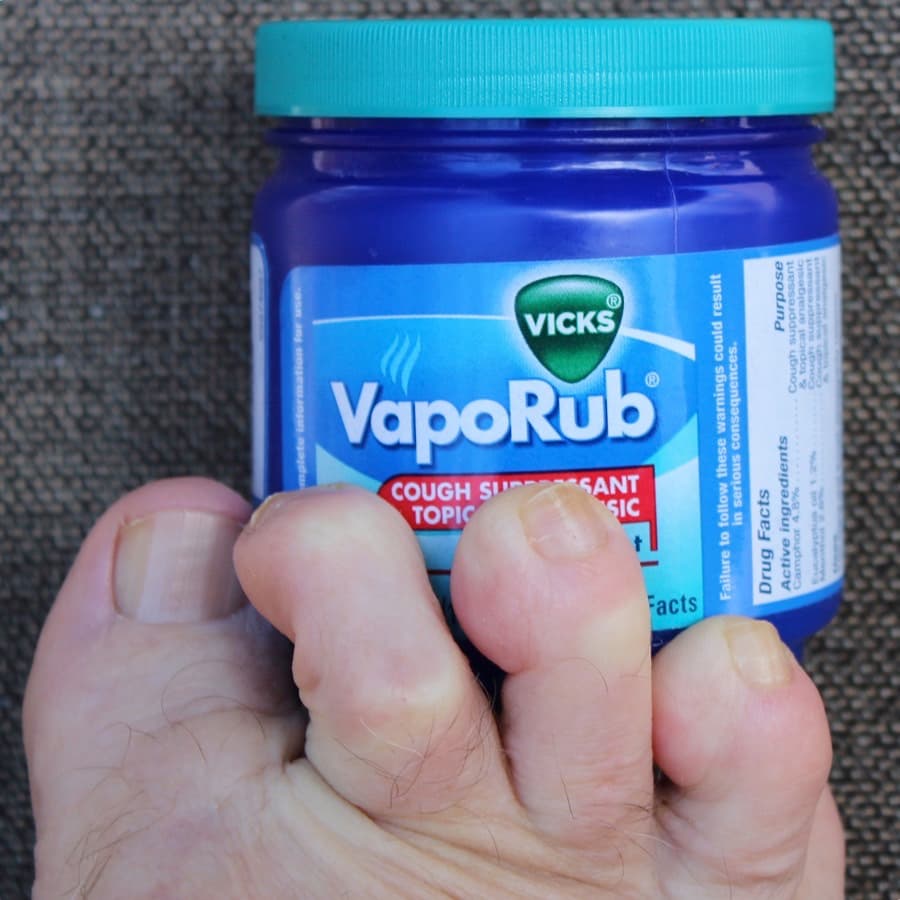 If you have ever struggled with persistent athlete's foot, you know it can be hard to eradicate this fungal infection. Of course, there are plenty of over-the-counter products for treating it. In addition, doctors may prescribe powerful antifungal creams. There is another option that the FDA has never approved, though. Many reader find that a good treatment is an old-fashioned, inexpensive cold remedy. How could Vicks VapoRub help control athlete's foot?
Vicks VapoRub for Athlete's Foot:
We know that doctors like randomized, double-blind, placebo-controlled clinical trials (RCTs) before accepting a treatment as effective. We like RCTs too! But experience should count for something. Can Vicks VapoRub help overcome athlete's foot? Here are just a few such reports that say yes!
Q. I had athlete's foot for 30 years. Nothing helped until I finally started using Vicks VapoRub on my feet after showering and drying them. This ointment also works on itchy skin.
A. Vicks VapoRub contains several plant oils that have antifungal activity, including camphor, eucalyptus oil, thymol, menthol, cedarleaf oil and nutmeg oil.
Another reader remarked on using Vicks for athlete's foot:
"I have had positive results from using Vicks. It stops foot skin fungus, but only attenuates toenail fungus and does not eliminate it."
Still another person offers a different drugstore remedy for athlete's foot: "I got athlete's foot in my college showers and tried numerous antifungal medicines. The infection always came back.
"I finally started washing my feet nightly with alcohol gel instead of soap, making sure to apply between the toes. Since I started that, the athlete's foot has not recurred. It's been about ten years now, but I'm never planning on stopping."
Another Vicks VapoRub Success Story:
Q. I am a health care provider. Ever since I participated in college athletics (and did not wear flip-flops in the shower), I have struggled with athlete's foot. I have tried every "azole" on the market–ketoconazole, clotrimazole, etc. All have failed, especially in summer when my heels split and crack.

Finally, I chanced upon a solution: shortly after bathing, when my feet are semi-dry, I remove the upper layer of callus. I then liberally apply Vicks VapoRub and wear thick socks to keep it from smearing the floor. Within a day, my feet are like new.
Why Does Vicks VapoRub Help?
A. Vicks VapoRub is not sold as an athlete's foot product. However, this ointment contains a number of essential oils with antifungal activity. They include: camphor, eucalyptus oil, menthol, thymol, cedarleaf oil and nutmeg oil. Possibly putting them all together utilizes synergy that improves their effectiveness.
Other readers have also found that Vicks VapoRub is helpful against athlete's foot and toenail fungus. One small study compared Vicks to plain petroleum jelly for nail fungus and found that it was effective (Journal of the American Board of Family Medicine, Jan-Feb, 2011).
When ordinary antifungal drugs don't heal athlete's foot, doctors may be encouraged to prescribe oral medication (Mycopathologia, Nov-Dec 2008). Perhaps the first step should be to ask the patient to do a trial and see whether Vicks VapoRub helps. If not, an oral medicine might well be appropriate.
Would you be interested in other interesting ways to use Vicks VapoRub? Here is a link to our free eGuide to Unique Uses for Vicks.