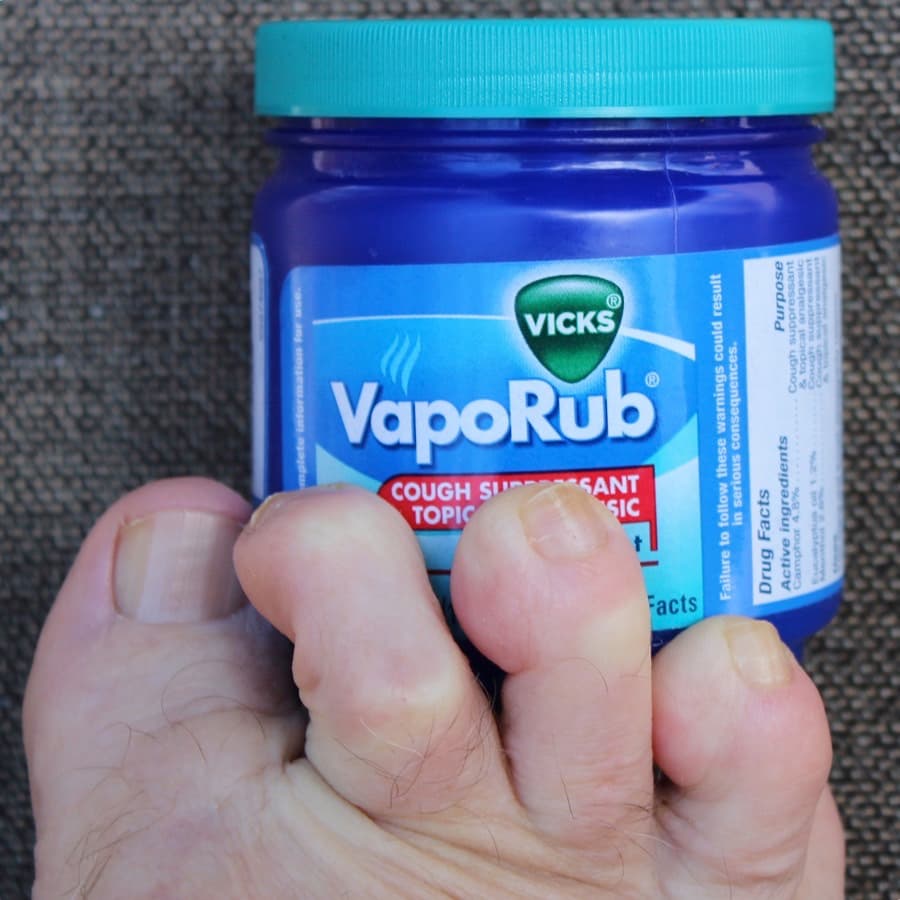 Health professionals generally shun home remedies. That's because there is little evidence that they work. What if there were some science to support an old-fashioned and inexpensive treatment for nasty nails? Surprise! There is actually some science to support the idea of a Vicks VapoRub cure for nail fungus. This reader says it worked for him.
Nothing Worked Until the Vicks VapoRub Cure:
Q. This may sound crazy but it's true. I had toenail fungus for a number of years. I had tried one prescription (a topical paint-on type) which didn't help. Then I tried painting my nails with vinegar with no result. Then I tried Vicks VapoRub on the affected nails. That worked like a miracle!

My result may be uncommon, but I'm a believer! Can't hurt to try it. Vicks costs next to nothing!
Vicks and Nail Fungus:
A. We first heard about using Vicks VapoRub topically for toenail fungus over 20 years ago. A professional foot care nurse reported that she used this old-fashioned herbal ointment on her patients and it was surprisingly effective.
What's in the Vicks VapoRub Cure?
Vicks contains menthol, camphor, eucalyptus oil, cedarleaf oil, nutmeg oil, petrolatum, thymol and turpentine oil. A number of these ingredients have antifungal activity, which may explain its success against nail fungus.
Thymol (derived from thyme oil) has antiseptic, antibacterial and antifungal activity (Food Chemistry, Nov. 1, 2016). Other essential oils such as eucalyptus and tea tree oil also have fungicidal action (Molecules, June, 2019). 
Actual Studies of Vicks?
A small study published in the Journal of the American Board of Family Medicine (Jan-Feb. 2011) reported surprising success with Vicks VapoRub.  Nurses have also reported this remedy to be safe and effective for nail fungus (Journal of the Association of Nurses in AIDS Care, Jan-Feb. 2016). 
Other Readers and the Vicks VapoRub Cure?
Larry says it takes patience!
"I have toenail fungus on my left big toe. I tried many treatments for it, but nothing worked. I tried Vicks VapoRub. I kept using it almost every day for about three months. I would put a bandage over the Vicks and the nail so the goo wouldn't rub off on my socks. Patience is the key. Slowly it is clearing up, and the nail is already starting to come back to its normal color."
Jean offered this perspective on the Vicks VapoRub cure:
"I have had a fingernail fungus which seemed to defy all pharmaceutical remedies. I read somewhere on the web that Vicks VapoRub rubbed onto the nail twice a day would cure it. Because of the mess and smell (which I cannot abide) I smeared a small amount of Vicks onto a plaster, twice a day, and wrapped my finger tip.

"Occasionally I dropped Tea Tree Oil on the nail before applying the Vicks. Within two months the fungus was gone. I am now waiting for the nail to grow out."
We write about many more approaches for nail fungus and other common conditions in our book, The People's Pharmacy Quick & Handy Home Remedies. It is available in our bookstore.
Share your own story about fighting nail fungus in the comment section.