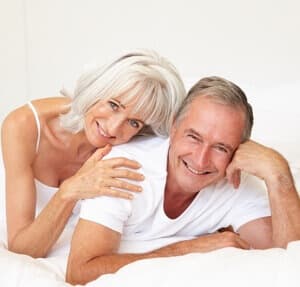 Sex older couple happy
A new federally-funded study about testosterone therapy published in the New England Journal of Medicine has created quite a stir. It seems that when testosterone gel (AndroGel) was given to men over 65 who had low male hormone levels, there were a number of positive outcomes. More on the results in a moment.
If you have read the health headlines or listened to the talking heads discuss the new testosterone study you should be quite confused. Here are just a few of the conflicting titles we found:
"Sudy Finds Testosterone Gel Is No Fountain of Youth" CBS/AP
"Study Reveals Sexual Benefits of Testosterone Treatment" ABC News
"Testosterone Gel Has Modest Effect for Older Men" UPI
"Testosterone Therapy May Boost Sex Drive in Older Men" U.S. News & World Report
"Testosterone Gel Gives Some Men Back Their Pep" NBC New York
Why is There So Much Confusion About Testosterone?
Any discussion of testosterone therapy is likely to generate strong emotional reactions. Do you remember all the TV commercials about Low T that were airing a few years back? Drug companies made it seem as if taking testosterone would boost sex drive, reduce fatigue and improve mood. Many of us found those ads annoying at best and misleading and dangerous at worst.
Not surprisingly, there was quite a backlash. Some doctors decried the ads and insisted that there was no benefit to taking extra testosterone and considerable risk. Concerns were expressed that TRT (testosterone replacement therapy) might increase the danger of vascular problems such as blood clots, heart attacks and strokes, as well as cause an enlarged prostate or raise the risk of prostate cancer.
The FDA's Position on Testosterone Therapy:
The FDA weighed in on the testosterone therapy controversy by issuing strong warnings on March 3, 2015:
"The U.S. Food and Drug Administration (FDA) cautions that prescription testosterone products are approved only for men who have low testosterone levels caused by certain medical conditions. The benefit and safety of these medications have not been established for the treatment of low testosterone levels due to aging, even if a man's symptoms seem related to low testosterone…We are also requiring these manufacturers to add information to the labeling about a possible increased risk of heart attacks and strokes in patients taking testosterone."
The FDA's message boils down to this: testosterone should not be prescribed for men with low T brought on by normal aging. Doctors were advised that otherwise healthy men who have low male hormone levels are not supposed to get a prescription for this hormone. If, on the other hand, they have a serious medical problem called hypogonadism caused by pituitary gland dysfunction or a disorder of the testicles, then a prescription for TRT might be acceptable.
What Does the Science Say?
The New England Journal of Medicine report (February 18, 2016) is part of a large, NIH-funded series of studies called The Testosterone Trials (T Trials). This publication included three of the studies:
The Sexual Function Trial
The Physical Function Trial
The Vitality Trial
Still to come are studies of testosterone's effects on the heart, bones, memory and blood. Here is what this study found:
"Increasing the serum testosterone concentrations of men 65 years of age or older from moderately low to the mid-normal range for men 19 to 40 years of age had significant effects on all measures of sexual function and some measures of physical function, mood, and depressive symptoms – all to small-moderate degrees, consistent with the degree of testosterone deficiency.
"Men who received testosterone reported better sexual function, including activity, desire, and erectile function, than those who received placebo…
What To Make of the New Research:
We suspect that it came as a surprise to many that bringing testosterone levels into a so-called normal range led to some improvement in libido and sexual performance. It shouldn't have. Men who have had their testosterone levels artificially lowered because of prostate cancer drug treatment will tell you that as T levels drop, interest in sex pretty much disappears along with ability to perform. When testosterone comes back into a normal range, sex drive usually returns.
Men who received AndroGel instead of placebo reported that their walking ability improved. The authors also note that, "…testosterone was associated with small but significant benefits with respect to mood and depressive symptoms. Men in the testosterone group were also more likely than those in the placebo group to report that their energy was better. "
Such results run counter to the FDA's recent recommendations. It will be interesting to see how the agency deals with the new data suggesting that bringing low levels of testosterone into a mid-normal range might have positive health benefits.
What about Testosterone Side Effects?
The big question that hangs over TRT has to do with risk. This year-long study did not reveal any obvious adverse reactions triggered by hormone therapy. There was no increase in heart attacks or strokes among men using AndroGel.
The authors are quick to point out that this was a relatively small randomized controlled trial involving 790 men and lasting only one year. Whether there will be larger and longer studies remains to be seen.
Although there have been a few studies suggesting a cardiovascular risk (which likely triggered the FDA warnings), there have also been newer analyses suggesting just the opposite. A study in the journal Expert Opinion on Drug Safety (Oct, 2014) reviewed all placebo-controlled trials of testosterone supplementation (TS) on cardiovascular (CV) events. Here is what they found:
"The present systematic review and meta-analysis does not support a causal role between TS and adverse CV events. Our results are in agreement with a large body of literature from the last 20 years supporting TS of hypogonadal men as a valuable strategy in improving a patient's metabolic profile, reducing body fat and increasing lean muscle mass, which would ultimately reduce the risk of heart disease."
Another article published in the European Heart Journal (Oct. 21, 2015) tracked 83,020 male veterans for several years. The conclusion:
"In this large observational cohort with extended follow-up, normalization of TT [total testosterone] levels after TRT [testosterone replacement therapy] was associated with a significant reduction in all-cause mortality, MI [heart attack], and stroke."
If one were to take these last two studies at face value one would have to conclude that the FDA's warning about heart attacks and strokes might have been mistaken.
T and Prostate Cancer?
One controversy that has not yet been fully resolved relates to testosterone supplementation and the risk of prostate cancer. One review in the journal BJU International (January 18, 2016) concluded:
"Prostate cancer appears to be unrelated to endogenous [internally made] testosterone levels. Testosterone replacement therapy for symptomatic hypogonadism does not appear to increase PSA levels nor the risk of prostate cancer development. The current data are reassuring although some care is essential until multiple studies with longer follow-up are available."
The People's Pharmacy Bottom Line on Testosterone:
We agree that TRT is not a fountain of youth. On the other hand, if men have abnormally low testosterone levels, low libido and depressed mood, hormone therapy might help somewhat.
We have received hundreds of messages from women who report that their male partners have pretty much lost all interest in sex. Many of these women are middle aged or younger. These are heart-breaking stories. Here is a link to these stories. Some women are so desperate that they seek ways to suppress their own sex drive.
Natural Testosterone Boost:
For men who would like to consider natural ways to enhance testosterone levels without actually asking a doctor for a prescription for a hormone gel, we suggest listening to our one-hour interview with John La Puma, MD. You will find Show # 975 titled Boosting Testosterone Naturally at this link. There is a free audio stream on your computer. You can also buy a CD or download an MP3 ($2.99)
We hope we have helped provide an overview of the latest research on testosterone. We admit that it is confusing and we still do not have all the data from the NIH-sponsored Testosterone Trials. We will report that information as soon as it becomes available.
If you found this article worthwhile, please vote at the top of this page. We would also love to get your thoughts on this topic below in the comment section.