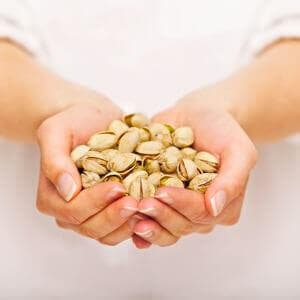 Nut lovers are less prone to the heart rhythm abnormality known as atrial fibrillation. In this condition, the upper chambers of the heart don't pump blood rhythmically and efficiently. As a result, blood may puddle and clot, which increases the risk of a clot traveling to blood vessels in the brain. Doctors may treat Afib with anticoagulant drugs to prevent clotting. Could eating nuts protect you from Afib?
Do Nuts Protect You from Heart Rhythm Disturbances?
A study of more than 60,000 Swedish adults shows that a diet that includes several servings of nuts a week may help prevent Afib (Larsson et al, Heart, April 16, 2018). These people were between 45 and 83 when the study started. They filled out detailed questionnaires and then the investigators tracked their cardiovascular health for the next 17 years.
Nut Eaters Live Better:
People who ate nuts more often also tended to have healthier lifestyles overall, so the scientists corrected for those potentially confounding characteristics. After statistical adjustment, the data show that people who eat nuts three times or more every week are 18 percent less likely to develop atrial fibrillation than those who rarely eat nuts. Consuming a serving just one to three times a month had very little impact, lowering the risk of Afib by only three percent. People who ate nuts once or twice a week were also a bit less likely to develop heart failure, but the statistical association was not as clear.
Previous Research:
This is not the first study to consider whether eating nuts could protect people from Afib. However, previous research did not show nuts protect you from atrial fibrillation. The Physicians' Health Study looked at the dietary habits and health of more than 20,000 male doctors over many years. The investigators for this large study did not find a connection between nut consumption and the risk of atrial fibrillation (Nutrition Journal, online March 21, 2012).
Olive Oil But Not Nuts:
In the PREDIMED randomized controlled trial of the Mediterranean diet, extra-virgin olive oil proved helpful against Afib (Martinez-Gonzalez et al, Circulation, July 1, 2014). Researchers assigned more than 6,000 volunteers to eat a low-fat control diet, a Mediterranean diet with extra olive oil or a Mediterranean diet with extra nuts. Both groups eating the Mediterranean diet got health benefits. Participants who got extra-virgin olive oil in conjunction with a Mediterranean diet were almost 40 percent less likely to develop Afib during the five years of follow-up. Those eating nuts every week in addition to their vegetables, fish and other Mediterranean fare were neither more nor less susceptible to atrial fibrillation than those on the control diet.