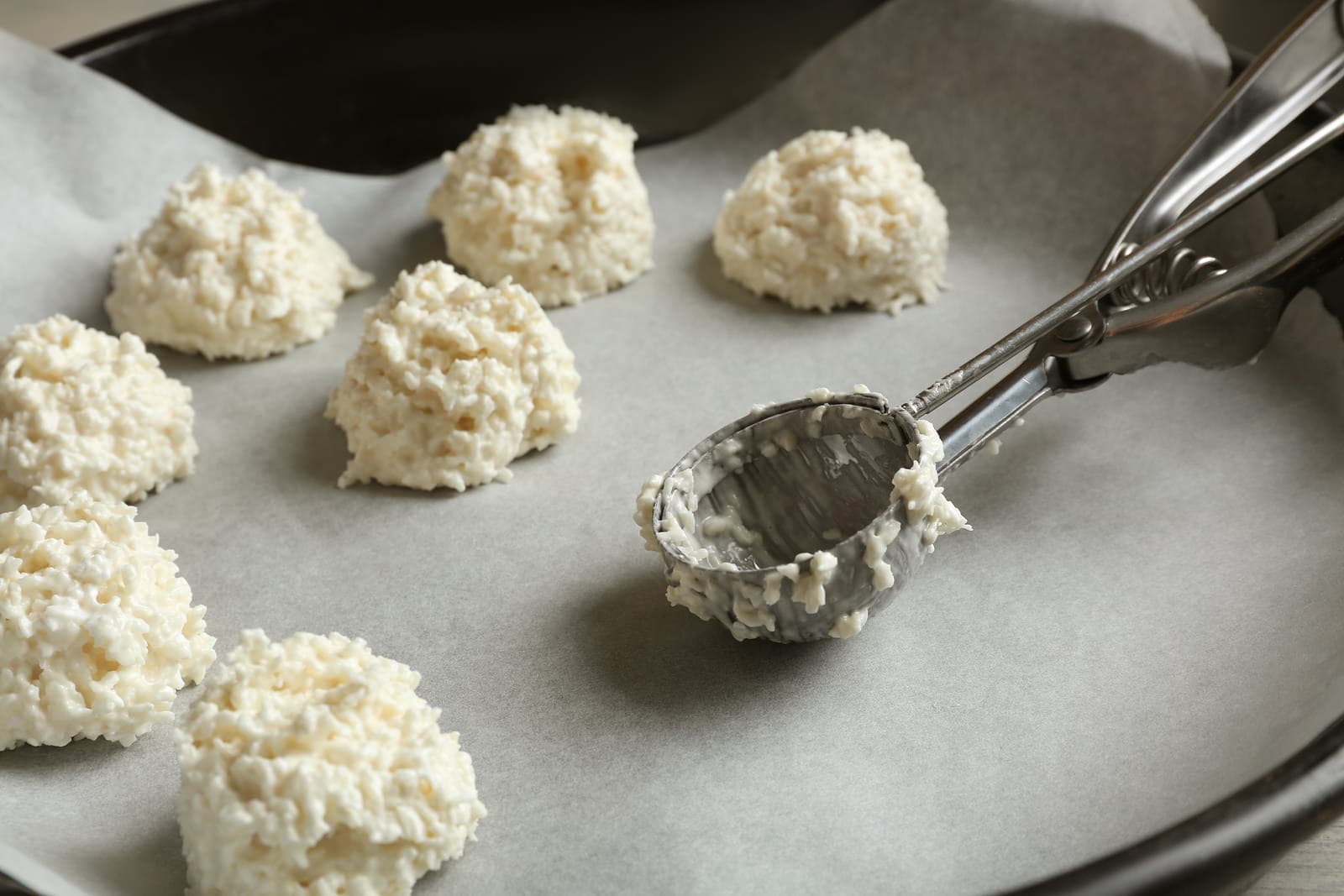 We rarely know the source of home remedies, but we have tracked one carefully. The late Donald Agar wrote to us from Pittsfield, Massachusetts, in 1998 to report a serendipitous discovery. He had found that eating two Archway Coconut Macaroon Cookies daily relieved his chronic diarrhea. We have since heard from many other people who have tried this remedy and found it helpful.
Coconut Helped Stop Chronic Diarrhea:
Q. Many years ago, your program featured a man who said coconut cured his diarrhea. My husband had diarrhea every day and went from 180 pounds to 127 pounds.
He tried coconut. Within a few months the diarrhea stopped, and he was able to resume normal life. Thank you for saving his life!
A. As we mentioned, Donald Agar in Pittsfield, MA, was the first to tell us that coconut cookies could control diarrhea. Read his story below.
Researchers have confirmed that virgin coconut oil has anti-inflammatory activity in the digestive tract (Journal of Advanced Pharmaceutical Technology & Research, Jan-March, 2023).  Components of coconut oil may also discourage the overgrowth of troublesome bacteria such as C. diff.
Does Plain Coconut Help Ease Diarrhea?
Q. I suffered for six months with diarrhea that we initially thought was from food poisoning. But none of the standard tests showed any known cause.
I was told that coconut macaroons were a possible treatment. However, I didn't want to consume so much sugar. Instead, I started buying shredded coconut in the bulk foods section of local markets.
Mixing two tablespoons into half a cup of plain yogurt with cinnamon and strawberries or bananas on top was quite palatable. For those who want to avoid dairy, unsweetened applesauce would substitute for yogurt. This was not an instant cure for me, but over time it seems to have worked. The diarrhea has gone away.
A. As we mentioned above, we first heard about coconut macaroons to ease diarrhea in 1998.
Donald Agar wrote:
"I have had Crohn's disease for 40 years, and during that time I have had a never-ending battle with diarrhea. Lomotil doesn't eliminate the problem.

"Three months ago, I bought a box of Archway Coconut Macaroon cookies. I've been eating two a day and I have not experienced diarrhea in that time. If by chance I eat three in a day, I get constipated. Believe me, I have a new life now."
After hearing from Mr. Agar, we invited other readers to share their experience. Numerous others agreed that coconut in macaroons or on its own may often help ease symptoms.
When food can do the job as well or better than medications, we like to spread the word. You can read more about coconut in our book, Recipes & Remedies From The People's Pharmacy. We include a recipe for home-made coconut macaroons along with other recipes for digestive woes.
Coconut Macaroons to Stop Diarrhea:
Q. After gallbladder removal in 2014, I started having bouts of bad diarrhea leading to nausea and dehydration and then to hospital. I could no longer go to meetings or even shop safely.
Then I remembered reading about the stories from this column and decided to try the coconut cookies. Two Archway Coconut Macaroon cookies a day plus a cup of ginger tea solved most of the problem.
I no longer miss meetings or have to stay at home all the time. It is not a perfect cure, but it does work well for me and I am grateful to know about it.
A. We first heard about Archway Coconut Macaroon cookies for hard-to-treat diarrhea almost 20 years ago. We suspect that it is the coconut that is working this magic.
Is There Science to Support Coconut Macaroons for Diarrhea?
A research report presented at the Digestive Disease Week Conference in June, 2017, supported the role of coconut oil and cocoa butter against intestinal inflammation. [We wrote about it here.]
In the study, mice got either standard lab chow or high-fat chow laced with coconut oil and cocoa butter. Mice that were fed the high-fat chow had better bacterial ecology in their GI tracts and less inflammation. They had less variety of microbes in their intestines, however, which might not be beneficial over the long term. In a review of the effects of diet on intestinal microbiota, these scientists point out that medium-chain fatty acids found in coconut oil reduce inflammation in rodents (Frontiers in Immunology, Feb. 2, 2021).
Not everyone benefits as much as you do. That said, some patients with Crohn's disease have had remarkable success with this simple approach. If you are interested in other home remedies of this nature, you may wish to read The People's Pharmacy Quick & Handy Home Remedies.