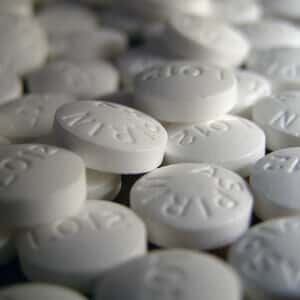 Barrett's esophagus is a condition in which the tissue lining the bottom of the food tube changes to resemble tissue lining the intestine. It is considered a pre-cancerous condition and is often associated with acid reflux.
Sometimes when people with Barrett's esophagus hear that it increases the risk of esophageal cancer, they become understandably frightened. It turns out, however, that the risk of developing esophageal cancer following a diagnosis of Barrett's is quite low, about 1.2 cases per 1,000 person-years (Hvid-Jensen et al, New England Journal of Medicine, Oct. 13, 2011).
Keeping Barrett's Esophagus from Turning into Esophageal Cancer:
Still, cancer is scary, and esophageal cancer is difficult to treat. Research suggests, however, that a very old drug might prevent Barrett's esophagus from turning into esophageal cancer (Huo et al, Gut, online, April 25, 2017).
Is Aspirin a Miracle Drug?
That old drug is aspirin. Although aspirin can irritate the digestive tract, it blocks an inflammatory pathway thought to play a role in cancer development. Fortunately, this research complements epidemiological studies suggesting that aspirin use reduces the risk of esophageal cancer.
Aspirin and Cancer:
Esophageal cancer is not the only malignancy that might be thwarted by regular aspirin use. Research has shown that people who take aspirin regularly are less likely to develop several gastrointestinal cancers (Jacobs et al, Journal of the National Cancer Institute, Aug. 21, 2012). Regular aspirin users are less susceptible to many different kinds of cancer. These may include lung, stomach, prostate and breast cancer and even melanoma.
Breast Cancer:
Low-dose aspirin may help put the brakes on breast cancer. Aspirin at low levels inhibits two different lines of breast cancer cells grown in culture. One is a hard-to-treat triple-negative line. Aspirin also improves the response to tamoxifen in hormone-receptor-positive breast cancer cells. A clinical trial of breast cancer patients with HER2 negative breast cancer will examine whether aspirin after treatment with radiation, surgery or chemotherapy can reduce the risk of recurrence.
Colon Cancer:
A Dutch study of nearly 1,000 colon cancer patients who went through surgery between 2002 and 2008 found that those who had been given a prescription for aspirin after being diagnosed with colon cancer were more likely to survive (JAMA Internal Medicine, March 31, 2014). The aspirin was primarily low-dose aspirin, frequently prescribed to protect the heart from blood clots.
Approximately 38 percent of the aspirin users died during the follow-up period, compared to 49 percent of those who did not take aspirin. The strongest benefit from aspirin was in patients whose tumors showed expression of HLA class 1 antigen. When the tumors had lost that expression, aspirin was not effective in promoting survival.
In an editorial comment on the report, a physician noted that often one of the first questions patients or their family members ask after learning of a cancer diagnosis is "What can we do?" Now, suggesting low dose aspirin seems like a reasonable recommendation.
What Is Aspirin Doing?
A recent review suggests that aspirin helps because it inhibits platelets, thought to help cancer cells spread (Mitrugno et al, Platelets, online Dec. 21, 2017). Other researchers have suggested that a combination of aspirin and a high-fiber diet rich in vegetables might be protective (Pan et al, International Journal of Molecular Science, Jan. 6, 2018). Aspirin is not universally helpful, however. Danish investigators found no benefit from low-dose aspirin for women with ovarian cancer (Verdoodt et al, British Journal of Cancer, online Jan. 9, 2018).
Should You Be Taking Aspirin?
A recent review found that aspirin does appear to reduce the risk of cancer and the chance of dying from cancer (Ringerike, Couto & Klemp, NIPH Systematic Reviews, No. 18-2013). It can be difficult to determine whether the benefits of aspirin in preventing cancer or recurrence are worth the risks of gastrointestinal irritation, ulcers and even hemorrhage. The decision is best made in consultation with your primary health care provider, as we advised this reader.
Q. I am utterly confused about aspirin. I read recently that the FDA discouraged the use of aspirin to prevent heart attacks. Now I read that regular aspirin use lowers the risk of cancer. So, should people take aspirin or not?
Aspirin Is Not Appropriate for Primary Prevention of Heart Attacks:
A. In 2014, the FDA determined that aspirin should not be used to prevent a first heart attack. According to the agency, the benefit is too low and the risk of internal bleeding is too high.
More recently an analysis of 200 aspirin studies found that a daily dose of this old drug can significantly lower the risk of several common cancers (Cuzick et al, Annals of Oncology, Jan. 2015). The researchers concluded that the benefits outweigh the harms when it comes to cancer prevention, especially in high-risk individuals.
If Your Risk Is High, Aspirin Might Make Sense:
Please discuss your individual risks with your primary care provider to determine if aspirin would be helpful either to prevent a second (or third) heart attack or to lower an elevated risk of cancer. Those who would like more information on the pros and cons of aspirin in general may wish to consult our free Guide to Key Aspirin Information.
Revised 1/11/18