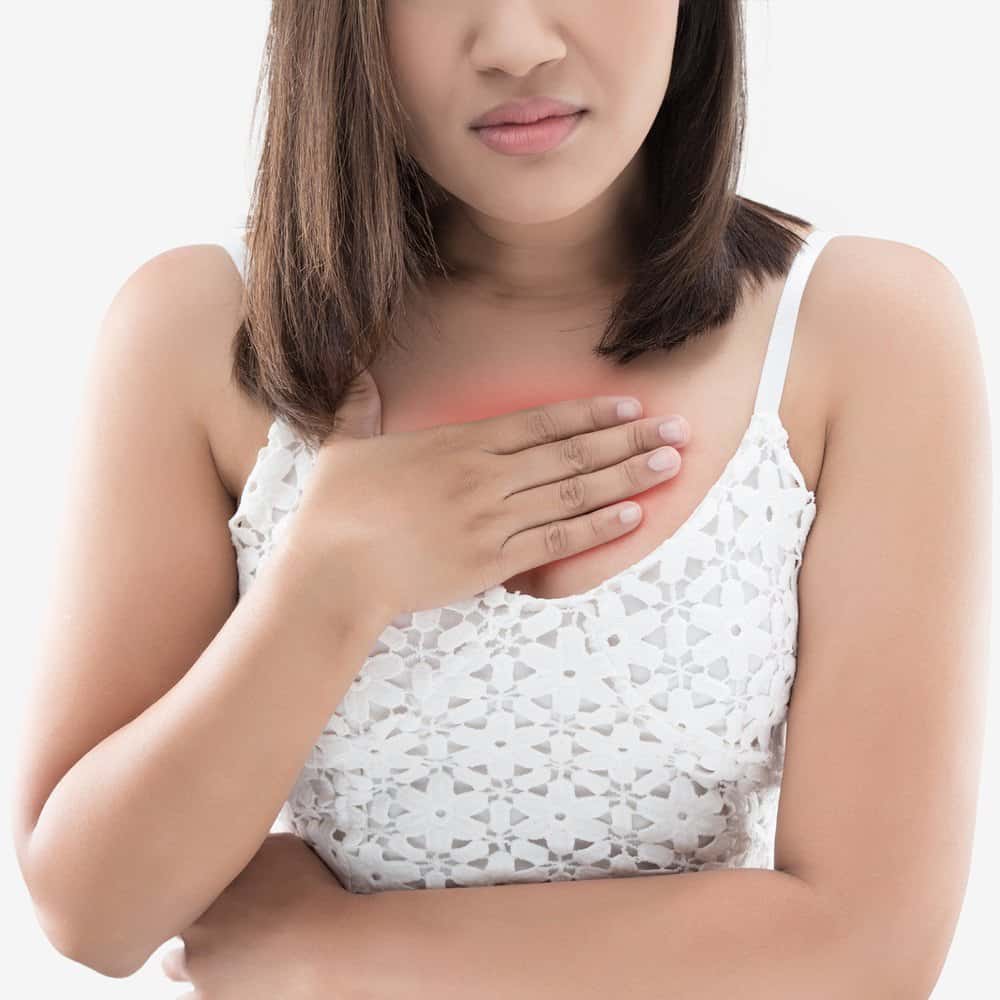 Do you get uncomfortable after a big meal? A burning sensation under the breastbone after eating is common. If you have ever suffered from this type of indigestion, you may want to know how to cure your heartburn.
Will Baking Soda or Apple Cider Vinegar Cure Your Heartburn?
Q. My mother and grandmother both used baking soda for heartburn. Mom will be celebrating her 92nd birthday in two weeks so it must not have done her any harm.
My partner cured his heartburn by drinking a shot of apple cider vinegar in juice before every meal. This was recommended by a PhD pharmacologist, who told him the reflux is sometimes caused by too little, not too much, acid. Drinking the vinegar apparently helps rebalance your system. This worked for my partner. He no longer takes antacids, baking soda or vinegar.
Apple Cider Vinegar for Heartburn:
A. We have heard from many other readers who report that drinking some apple cider vinegar in juice or water helps heartburn symptoms. It may not cure your heartburn once and for all, however. Moreover, some people find that it doesn't help at all.
One reader wrote:
"Adding more acid makes matters far worse for me, whether it's mustard, apple cider vinegar or something else. Normally, when I get indigestion, it is due to eating something that was acidic to begin with, and antacids bring me quick relief."
An Unexpected Benefit from Apple Cider Vinegar:
Q. We started taking a tablespoon of apple cider vinegar daily to try to reduce my husband's acid reflux. He has had reflux for 35 years and has been on various meds throughout the years. Typically, he had to get out of bed around 2 am several days a week to keep from throwing up. He actually threw up once or twice a week.
While taking vinegar, he no longer needs any meds and has NO reflux. He has not thrown up since he started! We take it with about 4 oz. of water and drink it through a straw to protect our teeth.
In addition, I no longer have tonsil stones since starting on vinegar. I read that it is supposed to help you pass them, but I am not getting any at all. Perhaps the acid is getting rid of the bacteria. This is such an embarrassing condition. Most people don't want to talk about it, but I think you should let folks know. I am a recovery room nurse and appreciate your information.
A. Thank you for sharing your experience with apple cider vinegar. We have long heard that this remedy can help with heartburn, but we had no idea it could be useful for tonsil stones.
Tonsils help capture viruses and bacteria to protect you from infection, but they can also trap bits of food or other debris within their folds. Some people then develop calcification of that soft tissue. While most tonsil stones are small, they can become larger and cause trouble such as bad breath, throat irritation and white lumps visible on the tonsils. Standard home treatment includes gargling with warm salt water. Perhaps apple cider vinegar changes the balance of microbes in the tonsils so that calcification become less likely.
Baking Soda to Cure Your Heartburn?
Baking soda is a time-honored solution for minor heartburn. The usual dose is ½ teaspoon in at least four ounces of water. Do not use this remedy if you have overeaten, however. In rare instances, baking soda on a full stomach could cause rupture. That's because of rapid carbon dioxide release. There are at least 15 cases in the medical literature.
What's more, it should go without saying that you should never combine baking soda and vinegar as a remedy. You may remember from fifth grade science class that this is a wonderful way to simulate the action of a volcano: dramatic in a beaker, but wholly undesirable in your stomach!
Is Vinegar the Reason Yellow Mustard Might Help Your Heartburn?
Q. A few weeks ago, you discussed mustard for digestion. Long ago I bought a used paperback book entitled "Folk Medicine: A Vermont Doctor's Guide to Good Health" by Dr. Jarvis.
I must have read the whole thing, but my main take-away was his remedy for digestive issues and nausea. That was sipping 1 teaspoon vinegar in 8 oz water. That usually settles everything down within minutes.
The idea of swallowing mustard for heartburn isn't appealing. I began to wonder if the vinegar in mustard is what really makes it work. When I checked the mustard jar, lo and behold, vinegar is the first ingredient! Maybe that's the simple reason why it works.
A. Like you, other readers have extolled the virtues of dilute vinegar to calm heartburn. Some people report that swallowing a teaspoon of yellow mustard, as improbable as it seems, can also ease symptoms of indigestion.
The exact mechanism is unknown. A recent study, however, found that curcumin capsules work as well as the heartburn medicine omeprazole for easing symptoms (BMJ Evidence-Based Medicine, Sept. 11, 2023).  Curcumin is an active ingredient in the spice turmeric that gives yellow mustard its vibrant color.
The authors of the study note that curcumin has an important impact on transient receptor potential (TRP) channels. By stimulating intestinal nerves through TRP channel activation, curcumin reduces the sensation of pain.
Vinegar also appears to affect TRP channels. Perhaps vinegar and curcumin in mustard reinforce each other to relieve heartburn. One caution, though: some people may not be able to tolerate either vinegar or mustard.
Learn More:
You may wish to read more about ways to cure your heartburn here, or listen to some of our recent interviews with gastroenterologists. The interview with Dr. Nick Shaheen focused Barrett's esophagus as well as heartburn. It is Show 1144: New Ways to Heal Your Digestive Tract. Our interview with Dr. Robynne Chutkan put more emphasis on what to eat to cure your heartburn. It is Show 1078: How to Have Good Digestion Without Heartburn Drugs.