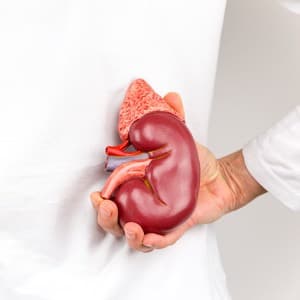 Chronic kidney disease has been increasing in the United States and now affects 14 percent of adults. This might be explained by the widespread use of medications such as NSAIDs or PPIs that can cause kidney damage. You might help your kidneys by following a plant-based diet (Kim et al, CJASN, April 25, 2019). But be careful not to overdo on nuts, or you could end up with kidney stones.
Will a Vegetarian Diet Help Your Kidneys?
A study analyzed data from 14,686 middle-aged adults over more than two decades. They were participants in the Atherosclerosis Risk in Communities (ARC) study. People who followed a healthy plant-based diet were 14 percent less likely to be diagnosed with chronic kidney disease compared to those who ate more meat. The researchers scored the volunteers' diet records according to how well they approximated a healthy plant-based diet.
The benefits of concentrating on vegetables, fruits, nuts, whole grains and legumes were especially clear for people of normal weight. Among those who had kidney disease already, those who followed a healthy plant-based diet maintained their kidney function longer.
What Is a Plant-Based Diet?
Many healthy plant-based diets have been tested scientifically. These diets focus primarily on foods from plants and minimize meat and poultry. Vegetarian diets contain no fish. Some vegetarians follow a lacto-ovo-vegetarian diet that includes milk products and eggs. On the other hand, vegans avoid such foods as well. In previous research, diets rich in fruits and vegetables seem to help your kidneys (Gutierrez et al, American Journal of Kidney Diseases, Aug. 2014). The ARC study found that a Southern dietary pattern full of deep-fried and processed foods was linked to early mortality.
The DASH Diet:
The DASH diet emphasizes vegetables, fruits, legumes, whole grains, nuts and low-fat dairy products. It downplays meats and sweets. People following a DASH diet have lower blood pressure and are less likely to develop depression, diabetes or kidney stones. A recent study looked at more than 1,000 people with kidney disease (Banerjee et al, Kidney International, March 4, 2019). Those whose diets least resembled a DASH diet were most likely to have their kidney condition worsen.
The Mediterranean Diet:
While there are many variations on a Mediterranean diet, all of them emphasize vegetables, whole grains, fish and legumes over meat and processed foods. Studies show that people following a Mediterranean-type diet have healthier hearts. In addition, they are less likely to come down with dementia or diabetes. While the Mediterranean diet you choose might not be vegetarian, it is likely to be closer to a healthy plant-based diet than not. French scientists have evaluated the Mediterranean diet as the best choice for people with kidney disease (Chauveau et al, Nephrology, Dialysis, Transplantation, May 1, 2018.)
Will a Plant-Based Diet Hurt or Help Your Kidneys?
A reader recently reminded us that even generally healthful behaviors can have downsides for some individuals. A liberal intake of nuts certainly fits in such a diet, yet it may trigger kidney stones in certain people.
Q. I recently read your column about "Love nuts? They're great for your heart." Personally, I love nuts and I used to eat all kinds of nuts. But then I developed kidney stones and found out that the protein in nuts acidifies the urine, which sets up the body to form calcium oxalate kidney stones. If there is not have enough alkaline balance in the diet (like fruit) or adequate calcium to get rid of dietary oxalates, then one is at risk of kidney stones. Inadequate daily water consumption also contributes.
Tell your readers that over-indulging in nuts and not paying attention to the need for a balanced diet could lead to kidney stones. Consulting with a nutritionist would be a good plan before "indulging."
A. Thanks for the warning. According to the National Institute of Diabetes and Digestive and Kidney Diseases (NIDDK), people who are susceptible to calcium oxalate kidney stones should avoid nuts and nut products, peanuts, rhubarb, spinach and wheat bran. These oxalate-rich foods can contribute to stone formation. Other dietary recommendations from this NIH institute include good hydration, reduced sodium intake and limiting animal protein. In addition to limiting nuts and other oxalate-rich foods, people should pay attention to getting enough fluids and calcium in the diet (American Journal of Physiology. Renal Physiology, March 1, 2019).
Learn More:
Would you like to know more about how to follow a Mediterranean or DASH diet to help your kidneys? If so, you may be interested in our book, The People's Pharmacy Quick & Handy Home Remedies.