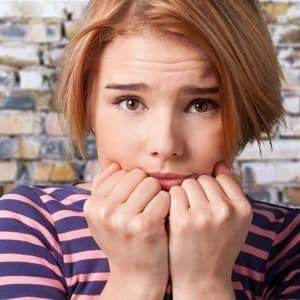 Fear Anxiety Terrified Women Worried Horror Butterflies in the Stomach
Powerful acid suppressing drugs (proton pump inhibitors or PPIs) have been a gold mine for drug companies for decades. But a new report from Germany has a lot of people nervous about a connection between PPIs and dementia.
How Popular are PPIs?
An estimated 15 million Americans spent almost $10 billion in 2013 on prescription versions of these acid-suppressing drugs. That doesn't include the extremely popular over-the-counter versions of esomeprazole (Nexium 24HR), lansoprazole (Prevacid 24HR) and omeprazole (Prilosec OTC). Sales of such drugs account for at least another $3 billion annually.
The first PPI, omeprazole (Prilosec), was introduced in the U.S. in 1989. Since then, tens of billions of dollars have been spent on this category of drugs which includes dexlansoprazole (Dexilant), esomeprazole (Nexium) lansoprazole (Prevacid), omeprazole plus sodium bicarbonate (Zegerid), pantoprazole (Protonix) and rabeprazole (AcipHex).
When PPIs Make Sense:
People with stomach ulcers can really benefit from acid suppression. There is good evidence that PPIs hasten healing in such situations, especially when there is a bleeding ulcer, which can be a life-threatening event (Health Technology Assessment, Dec. 2007):
"PPI treatment compared with placebo or H2RA [histamine 2 receptor antagonists like famotidine or ranitidine] reduces mortality following PU [peptic ulcer] bleeding among patients with high-risk endoscopic findings. It also consistently reduces rates of re-bleeding and the need for surgical intervention."
Overly Passionate About PPIs?
There is certainly a role for these powerful medications, but many experts believe they are being overused. As a result, too many people have been exposed to PPI side effects for long periods of time.
Part of the problem is that both patients and health professionals like to pull out the big guns for relatively minor problems. Instead of reaching for a PPI at the first twinge of indigestion, there are lots of simpler solutions that actually work a lot faster than a proton pump inhibitor.
A mild case of heartburn often responds quite well to old-fashioned antacids like calcium carbonate (Tums, Rolaids Extra Strength), bismuth subsalicylate (Pepto-Bismol) or citric acid, sodium bicarbonate plus aspirin (Alka-Seltzer). Speaking of sodium bicarbonate, that is the main ingredient in baking soda, a time-tested heartburn remedy that is about as cheap as any treatment in the drugstore.
PPI Side Effects:
Many health professionals still think of acid suppressing drugs as among the safest pills in the pharmacy. That is why it has been such a hard pill for them to swallow to accept the growing evidence that there are serious PPI side effects.
Infections:
Acid-suppressing drugs have been linked to an increased risk of infections. These may include pneumonia as well as Clostridium difficile (C. diff) overgrowth in the large bowel (Expert Review of Clinical Pharmacology, Jul., 2013). C. diff infections can cause hard-to-treat diarrhea that may sometimes become life threatening.
Malabsorption of Nutrients & Fractures:
Another concern is reduced absorption of nutrients such as calcium, magnesium, zinc and vitamin B12. Long-term use of PPIs has been linked to an increased risk of fractures, which might be due in part to mineral deficiency (Journal of Nutrition, Health and Aging, Jan., 2016).
Kidney Damage:
A recent study has also raised the specter of chronic kidney disease (JAMA Internal Medicine, Feb. 2016).  Researchers reviewed records from more than 10,000 people. Those taking PPIs were 20 to 50 percent more likely to be diagnosed with chronic kidney disease than nonusers during the decade covered by the study.
Heart Attacks:
Totally unexpected PPI side effects include cardiovascular complications. An article in Circulation (online, July 3, 2013) noted that these acid suppressors may reduce the flexibility of blood vessels by slowing the production of nitric oxide. Nitric oxide is a natural chemical that is crucial for keeping blood vessels supple and keeping blood pressure under control.
Another study uncovered a possible association between PPI use and vascular calcifications in big arteries (Drug Safety, Aug., 2013).
Finally, a study in the journal PLoS One (June 10, 2015) described an association between PPIs and heart attacks.
The New Elephant in the Room: Dementia
Somewhat to our surprise, the American public has not seemed overly concerned about PPI side effects such as fractures, infections, kidney disease or even heart attacks. But a new German study published in JAMA Neurology (online, Feb. 15, 2016) reporting an association with dementia has caught a lot of people's attention.
The idea that a medication used for heartburn might increase the relative risk of Alzheimer's disease is a pretty scary proposition, even if the absolute risk is small.
More details on the new study can be found at this link.
What About Stomach or Esophageal Cancer?
Many health professionals are convinced that PPI side effects are minor, if they exist at all, and the benefits are impressive, especially for preventing cancer. They justify the continued long-term use of acid-suppressing drugs on the grounds that they protect people from developing stomach or esophageal cancer. Some people with Barrett's esophagus (tissue abnormalities) have been told that if they stop PPIs they will almost definitely get hard-to-treat esophageal cancer. That is a very scary proposition.
Despite the widespread use of these medications, there has been a dramatic 500 percent rise in the incidence of a deadly esophageal cancer called adenocarcinoma (Cancer Epidemiology, Biomarkers and Prevention, July, 2015).  A large Danish epidemiological study reported that use of PPIs among patients with Barrett's esophagus did not appear to protect them from cancer. Instead, long-term use of these drugs was actually linked to adenocarcinoma (Alimentary Pharmacology and Therapeutics, May, 20014).
Such a finding is heretical and defies conventional medical wisdom. But a review in the journal Expert Opinion on Drug Safety (Jan. 2016) points out that people taking PPIs compensate for low acid by making more of a compound called gastrin. Excessive gastrin may make some patients with Barrett's esophagus more susceptible to adenocarcinoma. No one should ever stop taking prescribed medication without discussing the implications of the new research with a physician. Stopping PPIs suddenly can lead to rebound hyperacidity for weeks. This may result in unbearable heartburn pain.
We have written about these complicated matters in detail in our book, Best Choices from The People's Pharmacy. It is available online at PeoplesPharmacy.com.
Anyone who is using a nonprescription PPI such as Nexium 24HR or Prilosec OTC should follow the instructions on the label: "Do not take for more than 14 days or more often than every 4 months unless directed by a doctor."
Share your own PPI story below and please vote on this article. You may also find our post to "Getting Off Omeprazole" of interest.