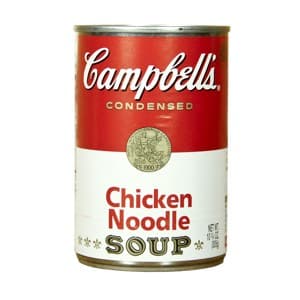 Bisphenol A, a compound in many clear hard plastics, is known to be an endocrine disruptor in animals. There is concern that early exposure to BPA could alter development in human babies. Exposure to this compound has been linked to heart disease (Circulation, March 27, 2012), diabetes, wheezing or asthma (JAMA Pediatrics, Dec., 2014), and possibly even prostate cancer later in life. How can you find products that are BPA-free?
BPA in the Linings of Cans:
BPA used to be an important component in items such as food containers, water bottles and baby formula bottles. Consumers have been trying to find products that would limit their exposure to BPA; most of these products have now been reformulated so that they are BPA-free.
Good News-Soup Cans to Become BPA-Free:
Nonetheless, anyone who eats canned soup has been exposed to measurable doses. There is BPA in the linings of most cans in the US, but the Campbell's Soup Company has just announced that by mid-2017 its cans will be BPA-free.
This is good news for consumers, since research has shown that eating canned soup can boost urinary levels of BPA within a week (JAMA, Nov. 23/30, 2011). Shoppers may also want to know what compounds are being used instead of BPA, since recent laboratory research in cell cultures has shown that bisphenol S, often used as a substitute, encourages fat cells to proliferate and store away fat (Endocrinology, online March 22, 2016).