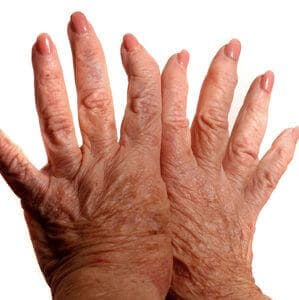 Arthritis creates such dilemmas for its sufferers. Some medications alleviate pain reasonably well, but many or most of them have serious side effects. Narcotics cause addiction if they are used for extended periods; so do tramadol (Ultram) and pregabalin (Lyrica), which are sometimes prescribed for painful joints. NSAIDs may ease joint pain temporarily, but they can cause digestive problems, harm the kidneys or raise the risk of heart attacks. Could you take MSM for joint pain?
Trouble with Diclofenac:
Q. I have had arthritis for years and was taking diclofenac. However, my doctor took me off of it because it started to affect my kidneys.
When the joints in my thumbs started to swell so I couldn't even open a soft drink bottle, I began looking for some help. Lucky for me, I found MSM crystals.
After taking MSM for three days, the swelling in my thumbs went down. It's been a few months and I am now able to walk three miles a day and have had other positive results. For example, my hair and my nails have improved.
I know that this won't cure arthritis, but it seems to have slowed its progression.
What Is MSM?
A. MSM (methylsulfonylmethane) is a natural compound that has been used for relieving arthritis pain. European scientists have studied MSM for joint pain more thoroughly than American researchers. For example, one Italian study of 120 people with arthritis in their knees found that it performed well in combination with boswellic acid (International Journal of Immunopathology and Pharmacology, March, 2016).  A small Israeli study also found benefit with MSM for joint pain over three months (BMC Complementary and Alternative Medicine, June 27, 2011).
Reader Satisfied with MSM for Joint Pain:
Q. I have arthritis, and my insurance would not pay for the prescription my doctor wrote. When I asked my pharmacist for a supplement to help my symptoms, he suggested glucosamine sulfate plus chondroitin sulfate plus MSM.
I took this twice a day for two weeks and then as my pain eased, I went to one a day. I couldn't believe how well it helped my arthritic symptoms.
A. Thank you for sharing your experience. We have heard from other readers who have also found these dietary supplements helpful for joint pain. A small randomized controlled trial showed that the combination of glucosamine-chondroitin (GC) with MSM (methylsulfonylmethane) was better than placebo or GC alone (Acta Medica Indonesiana, April, 2017). MSM affects several different anti-inflammatory pathways (International Journal of Molecular Sciences, Nov. 29, 2021).
We have heard previously that MSM might help nails and hair, although we could not find any studies to support this claim. It does seem to be fairly safe, however. One study suggests that people who take MSM supplements have fewer facial wrinkles (International Journal for Vitamin and Nutrition Research, July 2022).
You'll find suggestions for many nondrug approaches to ease joint pain in our eGuide to Alternatives for Arthritis. You might be able to use one or two in combination with MSM to get relief.