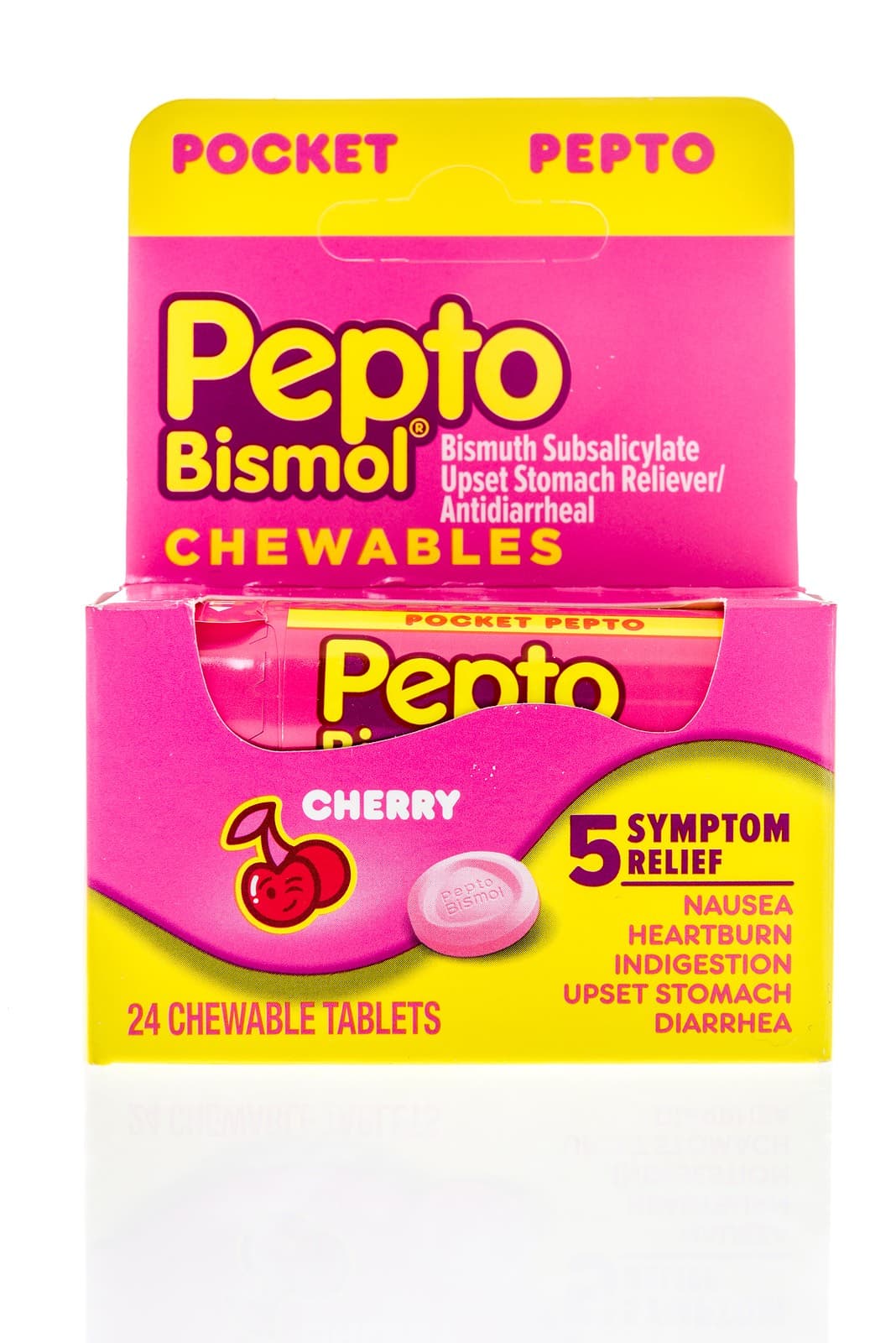 Winneconne, WI – 26 April 2019: A package of Pepto Bismol medicine for diarrhea, nausea, heartburn, indigestion on an isolated background
When you're on a business trip or a long-delayed vacation, the last thing you want is to be stuck in a hotel room suffering with the traveler's diarrhea for a few days. Decades ago I was teaching pharmacology to second-year medical students and Terry was doing field work for her doctoral degree in medical anthropology in Oaxaca, Mexico. Despite our caution, we often experienced digestive tract problems. Eventually our systems did adapt, but it took more than a year. When you are on a trip, you do not have the "luxury" of time.
An article in the respected journal JAMA (Jan. 6, 2015) actually concludes:
"Diarrhea remains a common problem for international travelers. Persons intending to travel to at-risk countries should be counseled regarding prevention measures and may be given a travel pack that includes medications for self-treatment should they become ill."
Pepto Bismol and Oil of Oregano to Prevent Traveler's Diarrhea:
Q. I have traveled in Mexico and the Amazon. By taking Pepto Bismol with oil of oregano capsules two times a day, I have avoided traveler's diarrhea. Your readers might find this helpful when traveling.
A. Oil of oregano contains carvacrol and thymol, among other compounds. These agents actively inhibit several pathogenic bacteria (Molecules, March 29, 2023).
We have not seen studies of oil of oregano for preventing traveler's diarrhea. However, scientists have established that Pepto Bismol is more effective than placebo for this purpose (Digestive Diseases and Sciences, July 2021).
The Cleveland Clinic website suggests that people who plan to use oil of oregano to prevent traveler's diarrhea should check with their doctors first regarding any possible interactions or contraindications. Exercising caution about what you eat and drink when you travel is the first step in preventing serious problems due to diarrhea.
How Can You Avoid Traveler's Diarrhea?
Q. I am excited about a service project trip I am doing with my church group during summer vacation. We will be traveling to three communities in Central American countries: Nicaragua, El Salvador and Honduras.

I am a bit worried about travelers' diarrhea, though, since these communities are off the beaten path. Is there anything I can take with me that would help?
A. Travelers' diarrhea affects one to three travelers out of five, depending on the region (Current Opinion in Infectious Diseases, Oct. 2010). Experts sometimes recommend packing an antibiotic for self treatment (azithromycin, for example) if the problem arises. You would need to discuss this with your doctor before you leave, however.
It may be tempting to buy an antibiotic like azithromycin without a doctor's prescription. We know that in Mexico it is possible to purchase antibiotics such as amoxicillin, Augmentin, azithromycin, penicillin, Keflex, Flagyl and Z-Pack (azithromycin) over the counter. We discourage such an approach.
Some folks cannot tolerate azithromycin. Side effects include severe allergic reactions, dangerous heart rhythm disturbances, liver toxicity and digestive upset. Since that is what you are trying to prevent, such a powerful antibiotic may be more trouble than it is worth.
Pepto Bismol Against Traveler's Diarrhea:
Pepto Bismol is an old standard in diarrhea treatment, especially for travelers in a foreign land. According to the medical literature, bismuth subsalicylate (the ingredient in Pepto Bismol) appears to offer some protection against traveler's diarrhea (Antimicrobial Agents and Chemotherapy, April, 1986). The authors report that people taking two 262 mg tablets twice daily were 35 percent less likely to report diarrhea.
According to this research, the drug appears almost as good as high-potency, expensive, prescription antibiotics in some situations. Bismuth subsalicylate is active against a range of microorganisms that cause diarrhea (Gut Microbes, online, April 22, 2015).
More Details About Pepto Bismol for Traveler's Diarrhea:
Q. Now that COVID is becoming less of a problem, my husband and I are looking forward to a long-delayed trip to Mexico. I know that a daily dose of Pepto Bismol is recommended when traveling to certain countries, but I can't recall the correct dosage. Can you help?
A. A study published in JAMA (March 13, 1987) reported that two Pepto Bismol tablets four times a day was 65 percent effective at preventing travelers' diarrhea. One tablet four times daily was 40 percent effective. A meta-analysis of 14 clinical trials confirms that bismuth subsalicylate (Pepto Bismol) triples your chance of avoiding travelers' diarrhea (Digestive Diseases and Sciences, July 2021). (Most of the authors of this analysis work for Procter & Gamble, maker of Pepto Bismol). You'll still need to be cautious about what you eat and drink.
Keep in mind that Pepto Bismol will probably turn your stool black. That looks alarming, but if you are well, it should not be dangerous
Which Antibiotic Is Best for Traveler's Diarrhea?
We cannot second-guess a physician who is knowledgeable about infectious diseases abroad, especially when it comes to infectious diarrhea. A lot depends upon where you are traveling.
A broad spectrum fluoroquinolone antibiotic such as ciprofloxacin (Cipro) or levofloxacin (Levaquin) used to be the treatment of choice for prevention or treatment of traveler's diarrhea. But we have become gun shy about this category of drugs. A great many visitors to this website have reported serious complications with these medications, sometimes after only one or two doses. And occasionally the adverse reactions persist for a long time. Here is a link to some scary stories.
As described above, azithromycin is not appropriate for everyone. People who are prone to certain irregular heart rhythms cannot take this kind of antibiotic. There are studies, though, that suggest azithromycin is comparable to a fluoroquinolone for traveler's diarrhea. One group of researchers concluded that:
"A new one-two punch against traveller's diarrhea: azithromycin plus loperamide."
What's Loperamide?
Once available only by prescription, loperamide finally received FDA approval and became available over the counter as Imodium A-D in 1988. The drug works by slowing down intestinal contractions and reducing fluid loss. Side effects are rare and the drug can even be given to children six years and older. (Do not give to younger children without medical supervision. Poisoning is possible.)
Potential adverse reactions include constipation, dry mouth, nausea, vomiting, drowsiness, and skin rash. Do not drive after taking Imodium, as alertness may be impaired.
Prevention Pays!
Avoiding Montezuma's revenge is of course most desirable. The classic advice is to avoid the water if you are unsure of sanitary conditions. That means no ice in beverages and no brushing teeth with tap water.
Fresh vegetables or salads that might have been washed in tap water can also be problematic. That said, you may not always have the luxury of bottled water. That's why you will want to talk to your doctor about a travel pack, just to be on the safe side. Pepto Bismol is available in handy tablet forms. No prescription needed.