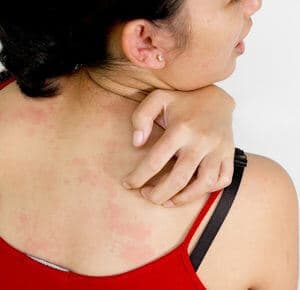 Who would guess that stopping an antihistamine taken for allergies could lead to dramatic hives and itching? Although it may seem improbable, scores of readers report that they developed dreadful itching upon stopping cetirizine (Zyrtec). In some cases, the itching lasted for weeks before disappearing. Apparently, levocetirizine (Xyzal) may also trigger a similar withdrawal syndrome.
Does Stopping Cetirizine Make You Itch?
Q. I stumbled across your site while looking for withdrawal symptoms of cetirizine. I took this medication for years to treat severe allergy problems.
Recently I ran out of the med. I was waiting on the shipment and I started feeling bad all over: tired, depressed and itching like crazy. I assumed that the itching was my allergies asserting themselves because I had not taken the med.
This morning I woke up to itching on my upper abdomen, which was very red. I made a quick trip to the store and got some cetirizine. I took one pill, and in about two hours the itching was subsiding.
Not Crazy!
I am glad to know I'm not crazy after all. What I read at PeoplesPharmacy.com was that cetirizine withdrawal was causing my problem. Now I would like to know what OTC allergy med I can take.
A. Cetirizine (Zyrtec) and levocetirizine (Xyzal) are popular over-the-counter allergy medicines. However, stopping either one abruptly may result in unbearable itching (Ekhart, van der Horst & van Hunsel, Drug Safety – Case Reports, Dec. 2016). We have heard from hundreds of people who have experienced severe itching after stopping cetirizine.
Most other OTC antihistamines do not seem to trigger this type of withdrawal reaction, though some people may be especially sensitive. As an experiment, you might try loratadine (Alavert, Claritin) or fexofenadine (Allegra) to see if they help your allergy symptoms without making you itch when you stop.