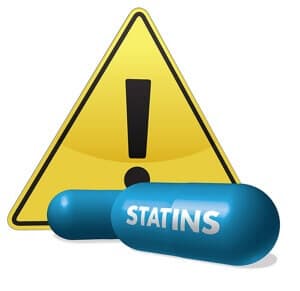 Current guidelines from heart experts insist that virtually every man over the age of 63 and every woman over 70 should be on statin-type cholesterol lowering drugs, regardless of risk factors. What they don't tell you is how little actual benefit (in terms of longevity) a statin buys you.
Many health professionals are now convinced that drugs like like atorvastatin, lovastatin, pitavastatin (Livalo), pravastatin, rosuvastatin (Crestor) or simvastatin save lives, but for how long?
How Long Will Statins Prolong Your Life?
When a doctor tells you a medication is effective for what ails you, there is rarely a discussion of actual outcomes you as a patient might really care about. Many medications can lower what are called "surrogate endpoints" such as blood sugar, blood pressure or LDL cholesterol. But the the ultimate outcome questions from a patient's perspective are: "will this drug improve the quality of my life and prolong my life?"
A new study of statins in BMJ Open (Sept. 24, 2015) titled "The Effect of Statins on Average Survival in Randomized Trials, An Analysis of End Point Postponement" attempts to answer the question about how effective statins are at prolonging life. Surprisingly, this is the very first analysis of "postponement of death as the primary outcome."
What the study did:
Analyzed all RCTs (randomized controlled trials) involving a statin vs. placebo in which the investigators actually collected data about postponement of death.
Assessed six studies that involved otherwise healthy patients without a history of heart disease (primary prevention).
Assessed five studies that involved patients who had already experienced a heart attack or were diagnosed with clear heart disease (secondary prevention).
What the researchers found:
"Death was postponed between -5 and 19 days in primary preventions trials and between -10 and 27 days in secondary prevention trials."
"The median postponement of death for primary and secondary prevention trials were 3.2 and 4.1 days, respectively."
Conclusions:
"The survival gains we found are surprisingly small. The highest value was 27 days, found in the 4S study, achieved by 5.8 years of simvastatin therapy in participants with a history of unstable angina or myocardial infarction. Experience from studies of preferences, when presented with similar scenarios, shows that as many as 70% of lay persons would not accept such a treatment."
The researchers go on to suggest that "statins should be prescribed according to the prevailing guidelines." But they also point out that if patients experience unpleasant statin side effects, especially muscular problems, "physicians should not be too insistent on the patient continuing them. Also, for patients whose life expectancy is short, the benefit of statin therapy in terms of survival gain may be quite limited."
Statin Side Effects:
There are many health professionals who don't believe believe that statins really cause side effects. Find that hard to swallow? Here is an analysis of statin side effects in the European Journal of Preventive Cardiology (April, 21, 2014):
"Clinicians often assume symptoms occurring with statins are caused by statins, encouraging discontinuation. We test this assumption and calculate an evidence-based estimate of the probability of a symptom being genuinely attributable to the statin itself."
Conclusions:
"Only a small minority of symptoms reported on statins are genuinely due to the statins: almost all would occur just as frequently on placebo."
These physicians went way past the idea that statin side effects are infrequent, as in a "minority" of cases. They emphasized that this is a small minority. In other words, most statin side effects are probably psychosomatic, brought on by suggestion. Remember, this conclusion comes primarily from industry sponsored research.
Epidemiological studies suggest that the rate of statin side effects is much higher. One group of investigators noted that 5 to 20 percent of patients stopped statins because of adverse reactions such as muscle pain, muscle weakness, brain fog, cognitive dysfunction, cataracts and peripheral neuropathy (Current Opinion in Rheumatology, Nov. 2013).
Real Patients with Real Stories:
Although many health professionals would like to believe that statins don't cause side effects, visitors to this website would beg to disagree. Here are just a few examples of the thousands of reports we have received about adverse drug reactions from statins:
Steph:
"I have been prescribed statins and have been on them for several years. I have severe muscle aches and cramps, joint pain, pain in both butt cheeks and shoulders. I have trouble with everyday care such as brushing hair, closing hatchback, walking, standing, etc. I thought I had arthritis!

"A chiropractor suggested it could be statin use and I didn't believe it until I stopped taking the statins and noticed significant improvement. My primary care doctor wants me to continue use but quality of life is so impaired on them that I am now seeking other advice and options."
Amy:
"I was taking lovastatin for years and it controlled my cholesterol levels.

"The last year I was experiencing severe neuropathy in my legs and feet. It was an extreme pins and needles feeling! I was tested by my neurologist and he diagnosed me as having neuropathy. I was going to be treated for it. Doing some research I discovered that some statins do cause pain such as what I experienced.

"The pharmacist agreed with side effects I was experiencing although he said it was unusual. I discussed this with my cardiologist who disagreed.

I discontinued taking the medication and felt better within weeks. My cardiologist said was a coincidence; my neurologist said it was a coincidence. I would like to find an alternative but in the meantime I'm sticking with my decision."
Jay:
"After two years of statin use and side effects ranging from total disorientation, sleep disturbances, muscle aches and central sleep apnea, I stopped taking statins. Feeling great but wonder how many others have suffered from central sleep apnea (ie, brain does not signal body to breathe) from statin use."
L.A.B:
"Statins have changed my father's life – for the worse. He was prescribed cholesterol medication at 72 (when his cholesterol level was 195), and within a year he's gone from active and vital to easily exhausted and old. It makes me so sad."
M.J.:
"I took several different cholesterol-lowering drugs. My doctor finally settled on Lipitor. I took it for two years then developed intense leg muscle pain. I told my doctor who didn't seem concerned. I changed doctors and went off the Lipitor and the pain went away. I also had elevated blood sugar."
D.X.C.:
"I was placed on statins several years ago and after a few months experienced muscle and nerve problems which stopped my daily walking. I also developed memory problems attributed to the statin.

"Now, with a new doctor, I was prescribed a newer statin with the promise it was a better drug. After 3 to 4 days on the drug my leg muscles became weak, my back muscles froze up during walking and I stopped the drug immediately. Several days later I'm now back to feeling really good. Why don't doctors listen to us?"
Bottom Line from The People's Pharmacy:
The new research cited at the top of this article suggests that statins prolong life a few days (if you are otherwise healthy). "Few" in this case would be roughly 5 to 19 days. This was based on the length of the primary prevention studies.
Some cardiologists will be quick to point out that these studies may have only been for a couple of years and people are expected to take statins for a long time. The trouble with that argument is that it is based on belief, rather than data. We live in an era of "evidence-based medicine." If health professionals want us to accept that assertion, they need to provide actual data.
In the case of secondary prevention (where people have experienced a heart attack or been diagnosed with heart disease), the best results come from what is called the 4S study involving simvastatin given for 5.8 years. This was the first study to show that statins could offer a real benefit. At the end of that study the drug improved survival over placebo by the grand total of 27 days.
So, when people with pretty serious heart problems took simvastatin for nearly six years they lived almost one month longer than those on placebo. That's something, but not nearly as impressive as most people have been led to believe.
We do think that people who have experienced a heart attack or have a stent may benefit from a statin as long as the side effects of the drug are not intolerable. If someone develops diabetes because of a statin or cannot exercise because of muscle pain and weakness, the benefits become less obvious, especially if the drug doesn't dramatically prolong life. You may wish to discuss this new study with your health professional to get her reaction. Here is a link to the article so you can print it and have a conversation about the data.
Tell Us Your Story
Please share your own experience on a statin. Does an extra month of life after six years of drug use seem worthwhile? We would love to know your thoughts in the comment section below. We would also be grateful if you would vote on this article at the top of the page. Should you wish to learn more about other ways to manage risk factors you may find our Guide to Cholesterol Control and Heart Health worthwhile.