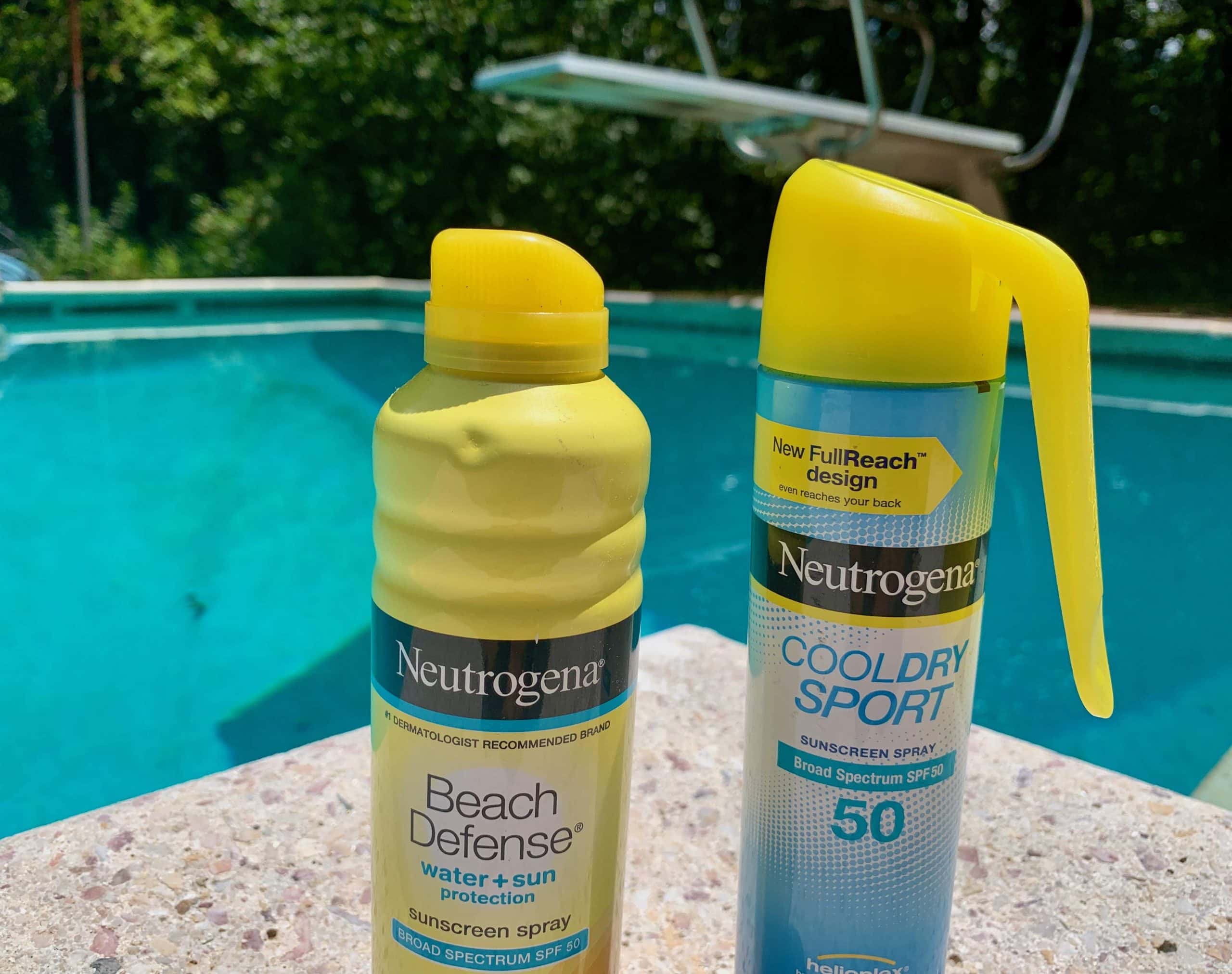 Sunscreens have come under increasing scrutiny ever since FDA research revealed that ingredients in these skin creams can be absorbed into the body. On July 14, 2021, the Johnson & Johnson drug company announced that it was yanking "…all lots of five NEUTROGENA® and AVEENO® aerosol sunscreen product lines to the consumer level. Internal testing identified low levels of benzene in some samples of the products. Consumers should stop using the affected products…" How could it be that such prominent brands of sunscreens are contaminated with benzene or another human carcinogen?
The Latest Problem–Octocrylene:
Benzene, discussed below, sparked the first alarms. Now, an independent laboratory (Haereticus Environmental Laboratory) has identified benzophenone, a potential carcinogen, in several sunscreens. The ingredient octocrylene appears to be the source. The researchers have asked the FDA to remove from sale all products made with this ingredient. They worry that benzophenone may disrupt hormones as well as contribute to cancer risk. The FDA has not taken action on this request. Nor have the manufacturers of these products recalled them.
The Never-Ending Recalls!
Are you getting fed up with stories about drug contamination? We certainly are. First it was all about recalls of blood pressure meds containing carcinogens called nitrosamines. Then the heartburn medicine ranitidine (Zantac) was found to contain a probable carcinogen called NDMA. Some metformin products prescribed for diabetes also had nitrosamines. Then, the same company that discovered so many problems with our drug supply also discovered that certain sunscreens are contaminated. The culprit: BENZENE!
What Is Benzene?
According to the American Cancer Society (ACS):
"Benzene is among the 20 most widely used chemicals in the United States. It is used mainly as a starting material in making other chemicals, including plastics, lubricants, rubbers, dyes, detergents, drugs, and pesticides."
The ACS goes on to say:
"Benzene is known to cause cancer, based on evidence from studies in both people and lab animals. The link between benzene and cancer has largely focused on leukemia and other cancers of blood cells."
Valisure Finds Some Sunscreens Are Contaminated:
Valisure has been testing pharmaceuticals for contaminants for a few years. This pharmacy testing service also detected benzene in hand sanitizers. It found NDMA in ranitidine (Zantac) and metformin.
We wish we could say that the FDA discovered these problems. Instead, we have had to rely on an independent testing lab to alert us to serious lapses in FDA oversight.
Popular Sunscreens Are Contaminated!
In a test of numerous sunscreen products, Valisure found that a surprising number contain relatively high levels of benzene, an industrial solvent. Sunscreen ingredients may be absorbed through the skin. Therefore, the presence of benzene at levels much higher than the permitted 2 ppm is of serious concern.
"Valisure, a pharmacy dedicated to batch testing medications before they reach consumers, found in a recent test that 78 different sunscreen and after-sun care products contained benzene, a potential carcinogen.

"According to the U. S. Center for Disease Control and Prevention (CDC), the World Health Organization (WHO), U.S. Department of Health and Human Services, and various other regulatory agencies, benzene is known to cause cancer in humans. The National Institute for Occupational Safety and Health (NIOSH) also defines benzene as a carcinogen and exposure can include 'inhalation, skin absorption, ingestion, and skin and/or eye contact.'"
Where Is the FDA?
Valisure submitted a Citizen Petition to the FDA on May 24, 2021, requesting recall of contaminated sunscreen and after-sun products.
Here are just a few excerpts from the Citizen Petition notifying the FDA that some sunscreens are contaminated with benzene:
"Sunscreens are considered drugs that are regulated by the U.S. Food and Drug Administration (FDA). Valisure has tested and detected high levels of benzene in specific batches of sunscreen products containing active pharmaceutical ingredients including avobenzone, oxybenzone, octisalate, octinoxate, homosalate, octocylene and zinc oxide."

"The presence of this known human carcinogen in sunscreen products widely recommended for the prevention of skin cancer and regularly used by adults and children in large volumes makes this finding especially troubling.
'This Petition requests that the Commissioner take the following actions:
1. "request a recall of identified batches of sunscreen products on the basis that, due to contamination with a known human carcinogen, these products are adulterated under Section 501 of the FDCA (21 U.S.C. § 351) and misbranded under Section 502 of the FDCA (21 U.S.C. § 352)…"
You can read the complete petition at this link.
Valisure is accepting sunscreen products for analysis at no cost: Sunscreen Crowdsourcing Study Link
The J&J July 14, 2021, Recall:
Johnson & Johnson announced on July 14, 2021 that it was recalling the following products:
NEUTROGENA® Beach Defense® aerosol sunscreen,
NEUTROGENA® Cool Dry Sport aerosol sunscreen,
NEUTROGENA® Invisible Daily™ defense aerosol sunscreen,
NEUTROGENA® Ultra Sheer® aerosol sunscreen, and
AVEENO® Protect + Refresh aerosol sunscreen.
"Consumers should stop using these specific products and appropriately discard them. Consumers may contact the JJCI Consumer Care Center 24/7 with questions or to request a refund by calling 1-800-458-1673. Consumers should contact their physician or healthcare provider if they have any questions, concerns or have experienced any problems related to using these aerosol sunscreen products. JJCI is also notifying its distributors and retailers by letter and is arranging for returns of all recalled products."
The FDA Reacts to the J&J Recall:
As far as we can tell, the FDA did not tell J&J that some of its sunscreens are contaminated. The agency did react to the voluntary action taken by Johnson & Johnson, though.
It basically resent the J&J announcement:
"Health professionals and patients are encouraged to report adverse events or side effects related to the use of these products to the FDA's MedWatch Safety Information and Adverse Event Reporting Program:
Complete and submit the report online.

Download form or call 1-800-332-1088 to request a reporting form, then complete and return to the address on form, or submit by fax to 1-800-FDA-0178."
Did You Buy J&J Sunscreens? Want a Refund?
If you bought any of the affected sunscreens, J&J says you can request a refund. Here is the official offer:
"Consumers may contact the JJCI Consumer Care Center 24/7 with questions or to request a refund by calling 1-800-458-1673. "
Products Without Benzene?
Because many sunscreens do not contain benzene, this compound is not deemed essential for their manufacture. The petition from Valisure quotes experts that "there is probably no safe level of exposure to benzene."
Here are just a few products that Valisure reported did not have detectable benzene:
Avon Skin-So-Soft Bug Guard Plus Sunscreen Lotion
Badger Cream Kids Broad Spectrum Natural Mineral Sunscreen
Banana Boat Spray Simply Protect Sensitive Mineral Enriched Sunscreen
Blue Lizard Australian Sunscreen Lotion Baby
Burt's Bees cream After Sun Soother
California Baby Lotion Super Sensitive Mineral Sunscreen Lotion
CVS Clear Spray Sunscreen
Equate Baby Broad Spectrum Sunscreen
Equate Sport Sunscreen Broad Spectrum
Equate Spray Kids Broad Spectrum Sunscreen
Hawaiian Tropic Sheer Touch Lotion Sunscreen
Heliocare by Cantabria Labs Ultra Gel 90 Sunscreen
Neutrogena Age Shield Face Sunscreen
Neutrogena Lotion Ultra Sheer Dry-Touch Sunscreen
The whole list from Valisure can be found in Attachment A at this link.
Is Face Moisturizer Contaminated?
Q. I just read that some sunscreens are being recalled, including Neutrogena Beach Defense and Neutrogena Ultra Sheer. Does this mean that my Neutrogena face moisturizer (SPF 50) might also be contaminated?
A. The Johnson & Johnson company has recalled five aerosol sunscreens including Neutrogena brand Beach Defense, Cool Dry Sport, Invisible Daily and Ultra Sheer. Also included is Aveeno Protect + Refresh aerosol sunscreen. Your Neutrogena face moisturizer has not been recalled. We have seen no indication that face moisturizers with sunscreens are contaminated with benzene.
Are You Concerned That Some Sunscreens Are Contaminated?
We would love to get your feedback in the comment section below. Are you getting tired of reading that medications are contaminated? What about reading that hand sanitizers are contaminated? We are certainly getting tired of reading that sunscreens are contaminated! Why hasn't the FDA been more proactive? Why didn't the FDA discover these problems?
If you think this article is worthy of sharing with friends and family, please scroll to the top of the page and use the email, Facebook or Twitter link. Thank you for supporting our work.