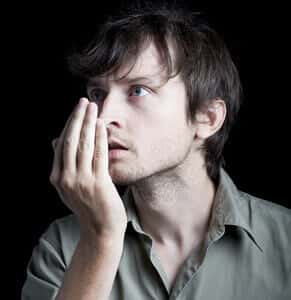 Q. I have a problem with terrible bad breath after eating anything with dairy in it, and also anything with sugar. I have had this problem since my early twenties and am now in my sixties.
My husband says it is so bad that he can sometimes smell it from his side of our king-size bed. This is right after brushing, flossing and rinsing with mouthwash before bedtime.
If I stay away from sugar and dairy, the smell goes away completely after four or five days. It starts again within 30 to 45 minutes of eating the offending foods.
We eat out frequently with our daughter and son-in-law, but it is very difficult to avoid problem foods when we do. Even when I explain it to the waiter, I still sometimes find dairy or sugar in my food. I would be blessed to find a cure. Otherwise, I'm pretty much limited to meat and vegetables and I get tired of that after a while.
A. You are the third person who has told us that dairy products such as milk or ice cream cause them bad breath. We could find no research in the medical literature that addresses this symptom, but we are beginning to believe that it might be more widespread than doctors recognize.
One woman discovered that Lactaid (lactase enzyme pills) solved her problem by breaking down milk sugar in dairy products. Intolerance to milk sugar (lactose) is fairly common, though the usual symptoms reported are bloating, gas and diarrhea rather than bad breath.
The difficulty with sugar is trickier to solve. Table sugar is a combination of glucose and fructose. Fewer people seem to have trouble digesting these simple sugars, so there are no enzyme pills to take. If sugar is contributing to your halitosis, avoidance really is the best strategy. We recognize that this is much easier said than done because sugar is in many processed foods.